Bible Study Magazine—January–February 2015 Issue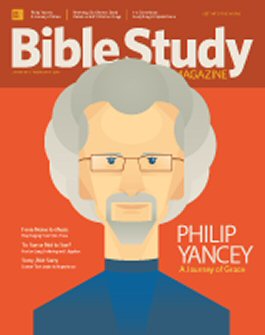 Bible Study Magazine—January–February 2015 Issue
Overview
Get Bible Study Magazine now by purchasing the January–February 2015 back issue for $3.95. That's 20% off the newsstand price of $4.95!
Bible Study Magazine is a print magazine (not an emagazine) published by Lexham Press. Six times a year, Bible Study Magazine delivers tools and methods for Bible study as well as insights from respected teachers, professors, historians, and archeologists.
Read pastor profiles, author interviews, and stories of individuals whose thoughtful engagement with Scripture has shaped their thinking and defined their ministries. Bible Study Magazine reveals the impact of God's Word in their lives—and the power of Scripture in yours.
Each Issue of Bible Study Magazine Includes:
Feature Stories
Discover new ways to connect the Bible with your ministry and life through in-depth interviews and articles from the biggest names in the church and biblical scholarship.
Bible Study Tips
Explore the Word—thoughtful and engaging authors tackle the tough passages in Scripture, explain difficult concepts, and confront complex interpretations in a way that helps the Gospel make sense in your life.
On the Cutting Edge
Keep up to date on the latest news in biblical research, including archaeological and historical findings.
A New Kind of Bible Study
Encounter God by yourself or with other believers with an ongoing Bible study in each issue.
On Teaching
Get advice on how to preach or teach the Bible in any setting from well-known pastors and teachers who use the Bible every day.
Tool Box
Learn how to effectively use the latest Bible study tools with our how-to guides.
In the News
Keep informed about the latest news in biblically related topics, discoveries, and events.
Thoughts from the Ancients
Read the Bible together with those who have come before you, and learn from the wisdom of the early church—in its own words.
Word Studies
Get a close-up view of the Bible! Each issue contains insights about specific words found in the Bible and tutorials on how to do word studies.
If Only Someone Would Explain It to Me
Enrich your understanding of the Bible with explanations of biblical and theological concepts by top scholars.
Did You Know?
Discover interesting facts about the place of the Bible in the contemporary and the ancient world.
What They Don't Tell You in Church
See things you never noticed in biblical passages you have read dozens of times.
Biblical Humor
The funniest stories and the best comics related to the Bible, useful for any setting.
Book Reviews
Stay on top of the latest books about Bible study. Each issue contains reviews of books and commentaries to equip you in your study of God's Word.
Excerpts from the January–February 2015 Issue!
Philip Yancey: A Journey of Grace
Writer and speaker Philip Yancey grew up thinking his church was a safe place. His family was deeply involved in the community. And he was saturated with Scripture, memorizing Old Testament stories and attending Sunday school and church camps. But as a young adult, he began to see the signs of an insular and unhealthy church life. "The attitude was one of keeping away from sinners to avoid being polluted by them. It was a very defensive mentality." However, Yancey found that his early exposure to the Bible brought him back to faith. "The Bible corrected what I had picked up in that unsafe church. As I began to study Jesus, I realized that he didn't have that insular approach at all. He was accused of hanging around sinners all the time. It seems like the least likely people were most attracted to Jesus, but the uptight religious people were threatened by him."—Jessi Strong
Rewriting Our Stories
Praying for direction, pastor David Kasali moved back to his war-torn home country of Democratic Republic of Congo to begin a ministry. "One of our goals is to train a new generation of Christian leaders who will serve God in church, in community, and in society. We need to raise up sharp Congolese minds who can address challenges from a difficult perspective and give answers to questions we are facing. It takes Christians who are intentionally prepared and ready to serve as nurses, teachers, politicians, businessmen, and communicators. Let them be agents of transformation." So to train the next generation of leaders and to give the Congo Initiative visibility and credibility, they decided to start a university despite the chaos surrounding them.—Jessi Strong
Not Your Average Bible Study—Lights in the Darkness: 8 Weeks in 1–3 John
Friends of mine are preparing a guest room in their home for a man leaving prison after seven years. He has a complicated past, a felony record, and a tattooed face. My friends have walked with this man through the end of his years as a gang leader and then a prisoner. They have walked with him along the path of a new calling: prison pastor and involved father. And now, with the support of their community, they are offering him a home—their home. Their actions remind me of the celebrated recipients of 2 and 3 John who are found "walking in the truth" (2 John 1:4; 3 John 1:3).—Carrie Sinclair Wolcott
Special Section—Everything is Upside Down: 1 and 2 Corinthians
The Golden Calf (Then and Now)
"Do not deceive yourselves. If you think that you are wise in this age, you should become fools so that you may be wise" (1 Cor 3:18). For anyone well-versed in Old Testament Wisdom literature, these words are jarring. Entire sections of Proverbs compare the way of the fool unfavorably to the way of Wisdom (Prov 1-2; 9). Why would Paul equate the two?—Mason Slater
Striking the Right Tone
Communication relies on much more than words: When we talk face to face, we rely on inflection and body language to grasp the speaker's full meaning. Written communication, then, can be much more difficult to interpret, even when we know the writer. An unexpected word, a shift in tone, even a "wink" in an email can be jarring or confusing; we have to put more thought into understanding what the writer means to convey.—Derek Brown
We have a limited supply of back issues of the January-Febuary 2015 Bible Study Magazine. Get your copy while you still can!
Key Features
Philip Yancey: A Journey of Grace
From Noise to Music: Stop Singing Your Own Tune
To Sue or Note to Sue? Paul on Long-Suffering and Litigation
Sorry, Not Sorry: Sorrow That Leads to Repentance
Product Details
Title: Bible Study Magazine—January–February 2015 Issue
Editor-in-Chief: Rebecca Van Noord
Academic Editor: Michael S. Heiser
Art Director: Christine Gerhart
Graphic Designers: Jim LePage, Patrick Fore, and Josh Warren
Advertising Sales: Chris Cano and Kevin Bratcher
Marketing: Dan Pritchett, Phil Gons, Katie Monsma, and Scott Lindsey
Series: Bible Study Magazine
Publisher: Lexham Press
Resource Type: Magazine
Topic: Biblical Studies