The C.S. Lewis Collection (30 vols.)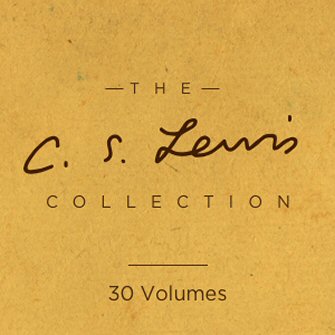 Due to rights limitations, we are unable to sell these resources individually.
Overview
C.S. Lewis, the beloved writer of such Christian classics as Mere Christianity and The Screwtape Letters, has come to Logos! Analyzing such wide ranging subjects as the idea of love in medieval literature or the reign of relativism among the post-Christian West, Lewis' works have touched audiences of all ages and backgrounds. Beginning life as a student with a knack for storytelling, he went on to Oxford to study classical literature. Although an atheist, Lewis eventually embraced Christianity and began writing about the Christian faith.
The C.S. Lewis Collection presents his finest material, including Miracles, The Weight of Glory, A Grief Observed, and his science fiction epic The Space Trilogy. His various writings on literature and language are also featured, such as his famous work The Allegory of Love, a study on courtly love in the Middle Ages. The C.S. Lewis Collection also contains his collected letters, spanning over 3,000 pages, and various devotional resources that gather the best of Lewis' writing in one place.
In Logos Bible Software, Lewis' insights and observations are integrated with your library. Whether you are a C.S. Lewis scholar or simply an admirer, Logos Bible Software helps you better understand his writings with powerful features and search capabilities. For instance, we have tagged his collected letters by author, recipient, and date. Thus, if you wanted to read every letter from Lewis to Tolkien in the 1950s, simply search with this criteria and Logos compiles all the relevant letters. Important terms in Lewis' works link to dictionaries, encyclopedias, and a wealth of other resources in your digital library. Perform powerful searches to find exactly what you're looking for, such as every mention of "glory" or "joy". Take the discussion with you using tablet and mobile apps. With Logos Bible Software, the most efficient and comprehensive research tools are in one place, so you get the most out of your study.
Key Features
Delivers C.S. Lewis' greatest works
Offers commentary on the doctrine of God, evil, suffering, and the nature of truth
Contains the complete collection of Lewis' letters
Product Details
About C.S. Lewis
Clive Staples Lewis (1898 – 1963) was one of the intellectual giants of the twentieth century and arguably one of the most influential writers of his day. He was a fellow and tutor in English Literature at Oxford University until 1954, when he was unanimously elected to the chair of Medieval and Renaissance Literature at Cambridge University, a position he held until his retirement. He wrote more than 30 books, allowing him to reach a vast audience, and his works continue to attract thousands of new readers every year. His most distinguished and popular accomplishments include Out of the Silent Planet, The Great Divorce, The Screwtape Letters, and the universally acknowledged classic Mere Christianity.