Reformed Dogmatics (5 vols.)
A Foundational Work
Geerhardus Vos' Reformed Dogmatics represents the early theological thought of one of the premier Reformed thinkers of the nineteenth and twentieth centuries. Originally self-published in five volumes in 1896 under the title Gereformeerde Dogmatiek (also known as Dogmatiek), this important piece of Reformed theology has never been available to an English audience.
Geerhardus Vos is perhaps best known to English speakers for his books Pauline Eschatology, published in 1930, and Biblical Theology: Old and New Testaments, published in 1948. Vos' strong grounding in biblical scholarship and biblical theology makes his Reformed Dogmatics unique, bringing a fresh biblical perspective. Though this five-volume set is systematic in nature, Geerhardus Vos brings the skills and acumen of a biblical theologian to the task.
Praise for Reformed Dogmatics
Like books, people can become 'classics.' Great in their day, but richer and more fulfilling with time. Not yet a classic, Vos's never-before-published Reformed Dogmatics is more like a lost Shakespeare play recently discovered. There seems to have been a flurry in recent years of systematic theologians writing with an eye for biblical theology. With this series we now have a biblical theologian writing a systematic theology. Thanks to Lexham Press for giving us such a long-awaited but impressive access to this much-discussed gem.
—Michael Horton, Prof. of Theology and Apologetics, Westminster Seminary California
The state of access to deep, historic, orthodox Reformed theology has progressed exponentially in the last decade or so. Resources previously inaccessible to many have now become available to a vastly wider audience. In my view, the capstone of this accessibility is in this masterful work of Geerhardus Vos. Vos has the singularly unique accumen and ability to summarize and state concisely some of the deepest truths of Reformed theology. These volumes will now be my first recommendation to anyone who wants to understand the riches of the Bible's teaching in a compressed and clear way. Thanks to Richard B. Gaffin Jr., to the translators, and to Lexham Press for putting this work into our hands.
—K. Scott Oliphint, Prof. of Apologetics and Systematic Theology, Westminster Seminary California
This translation of Vos' Dogmatiek is the last link in access to his magnificent oeuvre. English readers will now be able to match the Princetonian's commitment to historic Reformed doctrinal orthodoxy with his pioneering work in redemptive-historical biblical theology. The interaction is refreshing as well as pace-setting. Kudos to publisher and translator alike for undertaking this project.
—James T. Dennison, Jr., Academic Dean and Prof. of Church History and Biblical Theology, Northwest Theological Seminary
Product Details
Title: Reformed Dogmatics
Author: Geerhardus J. Vos
Translator and editor: Richard B. Gaffin Jr.
Publisher: Lexham Press
Volumes: 5
Individual Titles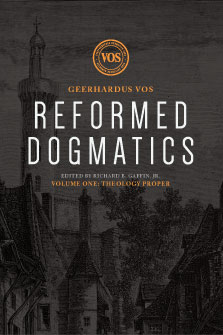 Reformed Dogmatics: Theology Proper
Author: Geerhardus J. Vos
Translator: Richard B. Gaffin
Publisher: Lexham Press
Publication Date: 2013
Volume one of Vos' Reformed Dogmatics covers the Doctrine of God, including his knowability, his names, being, and character. Vos discusses the Trinity and its evidence in Scripture and its theological development in the church fathers. Also examined are God's acts and our knowledge of them, creation, predestination, and the providence of God.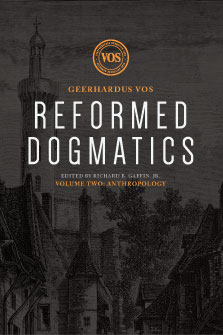 Reformed Dogmatics: Anthropology
Author: Geerhardus J. Vos
Translator: Richard B. Gaffin
Publisher: Lexham Press
Publication Date: 2014
The second volume of Reformed Dogmatics examines anthropology, with a focus on the nature of humanity, sin, and the covenant of grace. He begins his examination of human nature with the question: What does scripture say about the nature of humanity? From there, Vos examines the relationship between the body and the soul. In hamartiology, Vos surveys various philosophical perspectives on sin and investigates the claims of Scripture. The volume concludes with a lengthy study of God's covenants with humanity through the Old Testament culminating with the New Covenant.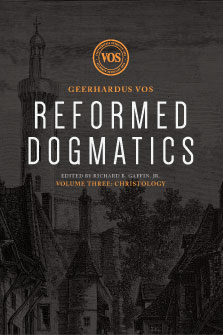 Reformed Dogmatics: Christology
Author: Geerhardus J. Vos
Translator: Richard B. Gaffin
Publisher: Lexham Press
Publication Date: 2015
The focus of volume three is Christology. It covers the Person of Christ which includes his two natures and the incarnation, and then also the work of Christ: his death and resurrection, the nature of his sacrifice, and his office as priest and mediator.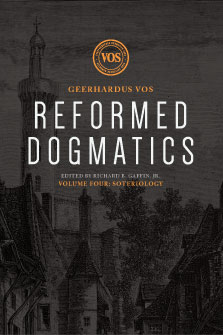 Reformed Dogmatics: Soteriology
Author: Geerhardus J. Vos
Translator: Richard B. Gaffin
Publisher: Lexham Press
Publication Date: 2015
Volume four covers Soteriology, continuing and building on Vos' examination of the work of Christ. He discusses the nature of salvation, evidence of salvation in the Holy Spirit and the Church, and the order of salvation (the Ordo Salutis).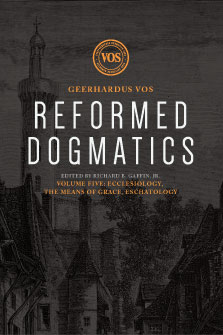 Reformed Dogmatics: Ecclesiology, the Means of Grace, Eschatology
Author: Geerhardus J. Vos
Translator: Richard B. Gaffin
Publisher: Lexham Press
Publication Date: 2016
The fifth and final volume of Reformed Dogmatics presents Geerhardus Vos' views on Ecclesiology, the Sacraments and Eschatology. He deals with the nature of the church and its purpose. Vos' discussion of the Means of Grace goes beyond merely the sacraments of baptism and the Eucharist into issues of the Gospel Proclamation as well. Lastly, he concludes with his examination of eschatology both in the sense of "things to come" and also in the sense of the current state of the church as existing in the "already, but not yet."
About Geerhardus Vos
Geerhardus J. Vos, born in 1862, was a Dutch American theologian. He was the first alumnus of Calvin College (then Theological School) to earn a doctoral degree. Vos studied Old Testament at Princeton Seminary and graduated with honors. He then went on to do doctoral work in Semitics at the University of Berlin for one year, followed by two years at the University of Strasburg. He returned to teach at Calvin in 1888, but accepted an invitation to hold Princeton's new Chair of Biblical Theology in 1892. He held the chair until his retirement in 1932. During his time at Princeton he taught some of the great Reformed minds of the 20th century, including John Gresham Machen and Ned Bernard Stonehouse. Vos was also an essential catalyst in the establishment of Biblical Theology as a discipline. He passed away in 1949. Vos' thinking and scholarship in theology has influenced Cornelius Van Til, John Murray, Richard B. Gaffin Jr., and Herman Ridderbos.
About Richard B. Gaffin Jr.
Richard B. Gaffin Jr. is Professor of Biblical and Systematic Theology, Emeritus, at Westminster Theological Seminary, where he has taught since 1965. An ordained minister in the Orthodox Presbyterian Church, he has authored and edited a number of biblical and theological works, including Redemptive History and Biblical Interpretation: The Shorter Writings of Geerhardus Vos.
More details about this resource