Mobile Ed: Bryan Chapell Preaching Bundle (2 courses)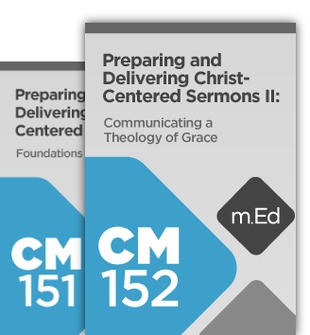 Mobile Ed: Bryan Chapell Preaching Bundle (2 courses)
•
Runs on Windows, Mac and mobile.
Overview
"An expository sermon seeks to say what God says. We identify what is in the text, we explain its meaning, and then we apply it to the lives of God's people."
In these courses on expositional preaching, Dr. Bryan Chapell teaches you how to prepare and deliver sermons that are grounded in the biblical text. He shows you how to be faithful to the text and points out things that can get in the way. He also emphasizes the importance of sermon application, and how to communicate God's truth in a way that brings hope and stirs God's people to action.
With decades of experience as a seminary professor and president, pastor, and preaching coach, Dr. Chapell is one of the most engaging instructors you will ever come across. In the Mobile Ed format, his courses are both comprehensive and concise. Each 5-10 minute segment is taught with clarity and a specific goal. If you want to transform your preaching, these courses are essential.
Individual Courses

In this course, Dr. Bryan Chapell teaches you how to structure and deliver an expository sermon. Learn how to select a biblical text, form an outline, use illustrations and applications appropriately, and communicate in a way that people will grasp and remember. These methods focus on helping God's people understand God's Word and its application to their lives.
Contents:
Word and Witness
What's the Big Idea
Text Selection and Interpretation
The Road from Text to Sermon
Outlining and Arrangement
Proposition and Main Points
Sermon Divisions and Development
Classifications of Messages
Exposition: Components and Proportions
Illustrations that Empower Exposition
Application
Introductions
Conclusions

In this course, Dr. Bryan Chapell looks at the theology of grace that runs through Scripture and culminates in Jesus Christ. He explains how seeing the Bible through a redemptive lens can help you preach in a way that brings hope and motivates people to serve Christ.
The goal of preaching is to excavate the grace of God that is giving people hope, so that they are now motivated by love for Him rather than dread of Him or desire to satisfy Him who cannot be satisfied. If they understand that they're already made right with Him by the grace of God, then they have hope. The hope gives them love, and in love for Him, they will seek to serve Him with greater energy, strength, effort, than anything else we can provide.
Dr. Chapell shows you how to use this redemptive approach in your sermons, particularly in sermon application. Building on these concepts, he then teaches you to preach through different biblical genres such as history and law, poetry and prophecy, and others.
Contents:
A Redemptive Approach to Preaching
Developing Redemptive Messages
Preaching Christ-Centered Application
Using Redemptive Lenses to Preach the Whole Bible as Christian Literature
Product Details
Title: Mobile Ed: Bryan Chapell Preaching Bundle
Instructor: Bryan Chapell
Publisher: Lexham Press
Publication Date: 2015
Product Type: Logos Mobile Education
Resource Type: Courseware, including transcripts, audio, and video resources
Courses: 2
Video Hours: 21
About Bryan Chapell
Dr. Bryan Chapell is the senior pastor of Grace Presbyterian Church in Peoria, Illinois and president emeritus at Covenant Theological Seminary in St. Louis, Missouri, where he has served in leadership capacities since 1985. Dr. Chapell is an internationally renowned preacher, teacher, and speaker, and the author of many books, including Christ-Centered Worship, Each for the Other, Holiness by Grace, Praying Backwards, The Hardest Sermons You'll Ever Have to Preach, and Christ-Centered Preaching, a preaching textbook now in multiple editions and many languages that has established him as one of the nation's foremost teachers of homiletics. He and his wife, Kathy, have four children.
Getting the most out of Mobile Ed
Logos Mobile Education is a highly effective cross-platform learning environment that integrates world class teaching with the powerful study tools and theological libraries available in Logos Bible Software. Every course provides links to additional resources and suggested readings that supplement the lecture material at the end of every transcript segment.