A Popular Account of the Ancient Egyptians (2 vols.)
A Popular Account of the Ancient Egyptians (2 vols.)
•
Runs on Windows, Mac and mobile.
Overview
A Popular Account of the Ancient Egyptians, perhaps more than any other book, introduced the Western world to the study of ancient Egypt. Widely regarded as "the Father of Egyptology," John Gardner Wilkinson documents the history and remains of ancient Egypt and the state of modern Egypt in this thorough study. These books were influential in transforming Egyptology from amateur history into a legitimate and respectable scholarly discipline.
A Popular Account of the Ancient Egyptians is packed with 500 images and illustrations, along with detailed observations on the history, culture, and geography of both ancient and modern Egypt. As one of the earliest European accounts of Egypt, Wilkinson's drawings, illustrations, and observations offer unique and unparalleled access to the archaeological remains of ancient Egypt—these illustrations are among the few in the world pre-dating the rise of tourism to Egypt from the outside world. This 2-volume set gives you rare access to the original and undisturbed artifacts of ancient Egypt, using the tools of your digital library!
This engaging read will be of interest to historians, and the vivid narrative accounts and the hundreds of illustrations make this ideal for teachers and students, as well as anyone interested in the history of Egypt. The prominence of Egypt in the Old Testament narrative also makes this book particularly useful for biblical scholars.
Key Features
496 illustrations with detailed captions and descriptions
Detailed descriptions of historical sites and archaeological remains in their undisturbed state
A 40-page index
Praise for the Print Edition
John Gardner Wilkinson was one of those rare but highly influential scholars with the ability to carry out important basic research while simultaneously possessing the knack of fascinating the general public with more popular accounts of his discoveries.
—Brian M. Fagan
Not many scholars are also artists, and few artists are also distinguished for scholarship; but Sir Gardiner Wilkinson was both scholar and artist.
—Amelia B. Edwards, The Manners and Customs of the Ancient Egyptians
. . . is of so much importance that no student of ancient Egypt can afford to neglect it. As a representative of the manners and customs of the Egyptians, it has no superior.
—Adams Charles Kendall, A Manual of Historical Literature
. . . A fine collection of archaeological knowledge and art.
—Journal of Sacred Literature
This work is beautifully brought out, and illustrated on every page and is. . . the most perfect work of its kind which has appeared. It is invaluable to the student of antiquity. . .
—Morning Post
One of those works which will last as long as literature exists, and attain increased reputation in every succeeding age, for the variety of its information and the accuracy of its details.
—Bell's Messenger
Product Details
Title: A Popular Account of the Ancient Egyptians (2 vols.)
Author: John Gardner Wilkinson
Publisher: John Murray
Volumes: 2
Pages: 875
Individual Titles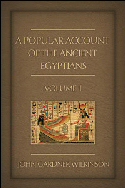 A Popular Account of the Ancient Egyptians, Vol. 1
Author: John Gardner Wilkinson
Publisher: John Murray
Publication Date: 1890
Pages: 419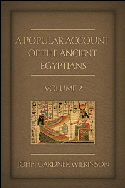 A Popular Account of the Ancient Egyptians, Vol. 2
Author: John Gardner Wilkinson
Publisher: John Murray
Publication Date: 1890
Pages: 438
About John Gardner Wilkinson
John Gardner Wilkinson was born in 1797. He was sent by his parents to Exeter College, Oxford in 1816, but he left Oxford after his third year with plans to join the military. He traveled through Europe until 1821, when he left for Egypt. He lived and traveled in Egypt until 1833, writing and publishing reflections on his travels. He returned to England in 1833 and was elected a fellow of the Royal Society. He was knighted in 1839. He made two return trips to Egypt throughout his lifetime, and published numerous volumes on the history, geography, and culture of Egypt, as well as articles and books on hieroglyphics and papyri. He died in 1875.
Sample Pages from the Print Edition
More details about these resources