Select Works and Studies on Plotinus (10 vols.)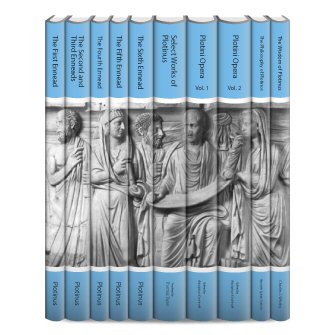 Select Works and Studies on Plotinus (10 vols.)
•
Runs on Windows, Mac and mobile.
$30.00
Reg.: $99.95
Print: $193.78
* Projected price. Future bids may change this price.
Place Your Bid!
Click on the highest price you'd pay. If the final price is lower, that's what you'll pay.
Overview
Gain a deeper understanding of philosophy through the ages by studying Plotinus—the founder of Neoplatonism.
Plotinus explored the nature of virtue, happiness, reason, body, and soul. His philosophical investigations developed a complex spiritual cosmology, which centers upon a creator-being whom he refers to as the One. According to his theory, all of life engenders from the One—including the One himself, which Plotinus describes as "the light before the light." Ultimately, he believed that human beings should reject the material world and seek the higher realm of spirituality, culminating in a reunion with the One. Today, we know of Plotinus' philosophy through the Enneads, a collection of his writings which his student Porphyry compiled and edited.
Through reading Plotinus, you'll gain insight into the development of philosophy in the western world. Neoplatonism influenced many great thinkers, including Augustine of Hippo, Boethius, Thomas Aquinas, Moses Maimodides, and Hegel.
Logos allows you to study Plotinus with unparalleled depth and efficiency. See Greek gloss and morphology with a click. Gather further clarification by instantly jumping to lexicons and dictionaries. Compare the Enneads' Greek text and English translations, scrolling side by side in sync. Logos applies the most advanced tools to the best texts, so you get the most out of your study.
Key Features
Presents Plotinus' Enneads in Greek
Includes two English translations of the Enneads
Offers two analyses of Plotinus' philosophy and wisdom
Praise for Plotinus
Plotinus's philosophy stands out as one of the major cultural accomplishments of the late antiquity.
—Paul Kalligas, assistant professor of ancient philosophy, National and Kapodistrian University of Athens
The Enneads are the primary and classical document of Neoplatonism.
—Adolf von Harnack, theologian
Product Details
Title: Select Works and Studies on Plotinus
Volumes: 10
Pages: 2,524
Language: English and Greek
Resource Type: Monographs
Topic: Ancient Philosophy
Individual Titles
About Plotinus
Plotinus (204–270 AD), the founder of Neoplatonism, was born in Lycopolis, Egypt. In his 20s he travelled to Alexandria where he studied philosophy under Ammonius Saccas until 242. For the next two years, he studied Persian and Indian philosophy. Plotinus then traveled to Rome where he established a school of philosophy and taught for 20 years. His work influenced many great thinkers including Augustine of Hippo, Boethius, Thomas Aquinas, Moses Maimodides, and Hegel.