Mobile Ed: BI100 Learn to Study the Bible (4 hour course)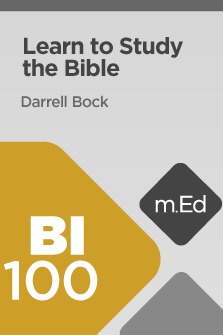 Mobile Ed: BI100 Learn to Study the Bible (4 hour course)
•
Runs on Windows, Mac and mobile.
Overview
Dr. Darrell Bock, one of the world's foremost biblical scholars, has distilled his decades of research and teaching experience into this single course on how to study the Bible with Logos. This is the ideal companion to your Logos base package.
Dr. Bock begins by teaching you how to read Scripture in four basic steps. Then he teaches you how to study Scripture by understanding the original context and genre it was written in. He describes the social, literary, and historical elements of context; following that, he covers genres, like narrative and biography, and subgenres, like those in the Psalms.
Dr. Bock's teaching is paired with nearly a dozen Logos training videos. You will learn how to use the new features in Logos as you explore the life of the Apostle Peter, uncover the literary context of Ruth, find all of the Davidic Psalms about God's faithfulness, and more. If you want to study the Bible on a deeper level using Logos, and you need a place to start, this course was designed for you.
Learning Objectives
Upon successful completion you should be able to:
Define the different types of Bible study
Summarize the four steps of Bible study
Explain how application works in Bible study
Summarize the things to take into account when considering biblical context
Recognize the genre of key texts from the OT and NT
Use Logos Bible Software to expand and focus your study of a Bible passage
Course Outline
Unit 1: Getting Ready to Study the Bible
Why Bible Study Matters
Types of Bible Study
Types of Contexts
Unit 2: Reading the Passage: Four Steps
Step 1: Observation
Step 2: Interpretation
Step 3: Application
Step 4: Correlation
Getting to the Meaning
Unit 3: Working with Contexts
Historical Context
Social Context
Literary Context
Unit 4: Using Logos
Using Searches to Expand and Focus Your Studies
Midterm Exam
Unit 5: Recognizing Genre
Narrative
Law
Biography
Genealogy
Biblical History: A Closer Look
Poetry: The Psalter
Praise Psalms
Lament Psalms
Imprecatory Psalms
Psalms for Special Occasions
Royal Psalms
New Testament Hymns
Wisdom
Prophets
Epistles
Apocalyptic
Corporate History
Gospels
Subgenres within the Gospels
Unit 6: Putting It All Together
Correlation: Putting Meanings Together
Application: Engaging Your Life with Scripture
Review
Rewards of Bible Study
Final Exam
Product Details
Title: BI100 Learn to Study the Bible
Instructor: Darrell L. Bock
Publisher: Lexham Press
Publication Date: 2014
Product Type: Logos Mobile Education
Resource Type: Courseware, including transcripts, audio, and video resources
Courses: 1
Video Hours: 4
About Darrell L. Bock
Dr. Darrell L. Bock, research professor of New Testament studies and professor of spiritual development and culture at Dallas Theological Seminary, serves as editor-at-large for Christianity Today, and is on the board of Chosen People Ministries and Wheaton College. From 2000 to 2001, Dr. Bock served as president of the Evangelical Theological Society.
He has earned international recognition as a Humboldt Scholar for his work in Luke-Acts, historical Jesus study, biblical theology, as well as with messianic Jewish ministries. He has published articles in the Los Angeles Times and The Dallas Morning News and is a well-known author of over 30 books. His publications include Studying the Historical Jesus: A Guide to Sources and Methods, Jesus according to Scripture, an NIV Application Commentary on Luke, Breaking the Da Vinci Code, and commentaries on Acts and Luke in the Baker Exegetical Commentary on the New Testament (BECNT) series.
Getting the most out of Mobile Ed
Logos Mobile Education is a highly effective cross-platform learning environment that integrates world class teaching with the powerful study tools and theological libraries available in Logos Bible Software. Every course provides links to additional resources and suggested readings that supplement the lecture material at the end of every transcript segment.
This course was produced with screencast videos. These videos provide tutorials showing you how to use Logos Bible Software in ways that are tied directly into the content of the course. We are now producing Activities resources as a replacement for screencast videos. We plan on updating this course to include this additional Activities resource in the future for no extra charge.
More details about these resources