Journal of the Grace Evangelical Society (20 vols.)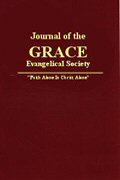 Journal of the Grace Evangelical Society (20 vols.)
•
Overview
Not one of general interest to evangelicals, the Journal of the Grace Evangelical Society is specialized, in that it seeks to promote the truths of the Gospel of grace that are embodied in the statement of faith of the Grace Evangelical Society.
The aim of Grace Evangelical Society is to promote the clear proclamation of God's free salvation through faith alone in Christ alone, which is properly correlated with and yet distinguished from issues related to discipleship.
For a massive collection of journals from world-renowned scholars across a variety of disciplines, check out the Master Journal Bundle.
Key Features
Articles seek to promote truths of the Gospel of grace
Includes hymn and articles
Product Details
Title: Journal of the Grace Evangelical Society (20 vols.)
Publisher: The Grace Evangelical Society
Volumes: 20
Individual Titles
Journal of the Grace Evangelical Society Volume 1
Journal of the Grace Evangelical Society Volume 2
Journal of the Grace Evangelical Society Volume 3
Journal of the Grace Evangelical Society Volume 4
Journal of the Grace Evangelical Society Volume 5
Journal of the Grace Evangelical Society Volume 6
Journal of the Grace Evangelical Society Volume 7
Journal of the Grace Evangelical Society Volume 8
Journal of the Grace Evangelical Society Volume 9
Journal of the Grace Evangelical Society Volume 10
Journal of the Grace Evangelical Society Volume 11
Journal of the Grace Evangelical Society Volume 12
Journal of the Grace Evangelical Society Volume 13
Journal of the Grace Evangelical Society Volume 14
Journal of the Grace Evangelical Society Volume 15
Journal of the Grace Evangelical Society Volume 16
Journal of the Grace Evangelical Society Volume 17
Journal of the Grace Evangelical Society Volume 18
Journal of the Grace Evangelical Society Volume 19
Journal of the Grace Evangelical Society Volume 20