Bloomsbury Academic Culture and History Bundle (173 vols.)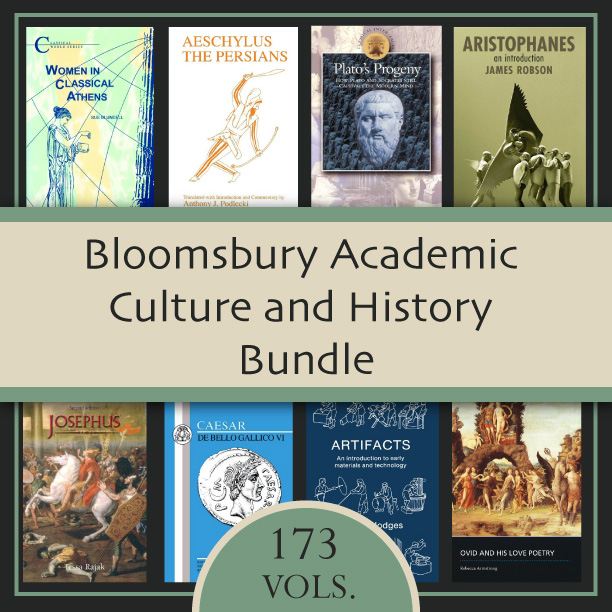 Bloomsbury Academic Culture and History Bundle (173 vols.)
•
Runs on Windows, Mac and mobile.
Overview
Examine the foundations of the Western world, and discover a wealth of resources for your study of antiquity. This library provides the ultimate opportunity to explore the greatest thinkers, artists, and leaders of antiquity. Providing a foundation in classical literature, culture, and language, this bundle makes accessible thousands of pages of expert scholarship and primary texts from the ancient world's first democracy, greatest empire, and earliest nation states.
Experience firsthand the timeless works of Homer, Plato, Aristotle, Sophocles, Virgil, and more—in their original Greek and Latin, as well as select English translations, commentaries, and notes. Access language tools that enable an appreciation of the artistry of these pillars of the Western canon. Go beyond the words themselves and study the cultural context and legacy of Athens, Rome, and Byzantium.
In addition to a wealth of resources on Greek and Latin classics, you'll also get cutting-edge research in Egyptian, Roman, and medieval archaeology. These studies illuminate new facets of the cultures in which the apostle Paul, Plato, Virgil, and Chaucer lived. They also provide handholds for interpreting the latest archaeological evidence and research, making this scholarship useful for the experts and non-experts alike.
Highlights from this panorama of Western civilization include:
Bloomsbury Academic Greek Tragedy Bundle
Bloomsbury Academic Homer Bundle
Bloomsbury Academic Archaeology Bundle
Bloomsbury Academic Greek and Roman Studies Collection
Bloomsbury Academic Medieval Studies Collection
Bloomsbury Academic Religious Studies Collection
Bloomsbury Academic Philosophy Collection
Bloomsbury Academic Greek Prose Reading Course
Noet allows you to study classic texts from across the centuries with unparalleled depth and efficiency. See Greek and Latin gloss and morphology with a click. Gather further clarification by instantly jumping to encyclopedias and dictionaries. An expansive timeline puts artists, philosophers, and soldiers in perspective. Tablet and mobile apps let you take the discussion with you. With the Noet edition, the most efficient and comprehensive research tools are in one place, so you get the most out of your study.
Key Features
Includes 173 volumes (over 35,000 pages) of classic literature and scholarship
Contains a variety of historically important resources for study
Expands the depth of your library in a range of classical academic fields
Product Details
Title: Bloomsbury Academic Culture and History Bundle
Publisher: Bloomsbury
Volumes: 173
Pages: 36,532