Evangelical Exegetical Commentary (EEC) (8 vols.)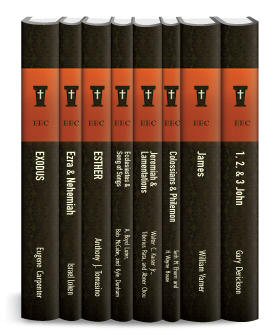 Evangelical Exegetical Commentary (EEC) (8 vols.)
•
Runs on Windows, Mac and mobile.
Overview
The Evangelical Exegetical Commentary is a brand new series written from a distinctly evangelical perspective which incorporates the latest critical biblical scholarship. Published by Lexham Press, this set includes the first eight volumes of the projected 44-volume EEC. Like the Word Biblical Commentary and the Baker Exegetical Commentary, the EEC is written by a team of leading biblical scholars, such as Eugene Merril, Edward Glenny, Michael Stallard, Stanley E. Porter, John Oswalt, William Barrick, Eugene Carpenter, Richard Averbeck, R. Dennis Cole, H. Wayne House, and many others. Learn more at the main Evangelical Exegetical Commentary page.
The publication of the EEC by Lexham Press marks the first time a major Bible commentary series has been published in digital form before its print counterpart—and the first time it has been designed with a digital format in mind. In the Logos editions, these valuable works are enhanced by amazing functionality. Scripture citations link directly to English translations, and important terms link to dictionaries, encyclopedias, and a wealth of other resources in your digital library. Perform powerful searches to find exactly what you're looking for.
Originally intended to be a print edition, the series was canceled. Working with series editor H. Wayne House, Lexham Press revived the project, agreeing to publish an electronic version of the commentary with an accelerated publication timetable. The entire 44-volume set will be available in 2019—an unprecedented publication timetable for a commentary of this magnitude.
Want the best deal on the entire series? Save 55% off the print price by ordering the 44-volume set today! You'll get the eight available volumes now, and each new volume will automatically download when it releases.
Key Features
Academic and evangelical commentary on the entire Bible
Written by expert Biblical scholars
New standard in evangelical research
Product Details
Title: Evangelical Exegetical Commentary (EEC)
Editor: H. Wayne House
Series: Evangelical Exegetical Commentary Series (EEC)
Publisher: Lexham Press
Volumes: 8
Individual Titles
Exodus
Author: Eugene Carpenter
Editor: H. Wayne House
Publisher: Lexham Press
Publication Date: 2012
In the book of Exodus, the promises to the patriarchs begin to reach fulfillment: Yahweh takes a people for Himself and dwells among them as their God. In this volume, Eugene Carpenter interacts with the most current scholarship and analyzes the Hebrew text to trace this important theme through Exodus. Throughout his commentary, Carpenter gives readers his own translation, demonstrates how the theology of Exodus interacts with the rest of the Bible, and offers suggestions for applying Exodus to the Church.
Eugene Carpenter (1943–2012) was Professor of Old Testament, Hebrew, and Biblical Theology at Bethel College. Carpenter served as a pastor and teacher in a variety of church and ministry settings.
Ezra & Nehemiah
Author: Israel Loken
Editor: H. Wayne House
Publisher: Lexham Press
Publication Date: 2011
The Evangelical Exegetical Commentary series, written from an evangelical perspective, incorporates the latest in biblical scholarship. It combines historical, literary, and theological explanations with ideas for applying the Bible to everyday life.
By analyzing Ezra's and Nehemiah's elements of narrative and the historical backgrounds, Israel Loken explains how and why God's people rebuilt Jerusalem and changed their way of worship. Loken examines the views of other scholars before drawing persuasive conclusions about what convinced God's people to follow Him, once again, with their entire beings. Loken then tells us what the characters and events in Ezra and Nehemiah teach us about worship, life, and God. This rare combination makes this contribution both scholastic and applicable.
Israel Loken is chair of the Bible and theology departments at the College of Biblical Studies in Houston, Texas. He regularly leads tours to Israel.
Esther
Author: Anthony J. Tomasino
Editor: H. Wayne House
Publisher: Lexham Press
Publication Date: 2013
The story is a familiar one, made popular by Sunday School teachers, novels, and movies: her people threatened with extinction, Queen Esther must summon the courage to approach the Persian King Xerxes in order to save the Jews. But what is the real message of Esther? In this commentary, Anthony Tomasino closely examines the Hebrew text to explore the motifs of feasting, sovereignty, assertiveness, and reversal in the book of Esther. He also explores its connection with the celebration of Purim, the theme of the invincibility of the Jews, and the conspicuous absence of any mention of God.
Anthony J. Tomasino is director of the biblical studies program and associate professor of Bible, Old Testament and Hebrew at Bethel College. He is the author of Written Upon the Heart: The Ten Commandments for Today's Christian and Judaism before Jesus: The Events and Ideas that Shaped the New Testament World.
Ecclesiastes & Song of Songs
Authors: A. Boyd Luter, Bob McCabe, and Kyle Dunham
Editor: H. Wayne House
Publisher: Lexham Press
Publication Date for Song of Songs: 2013
Estimated Publication Date for Ecclesiastes: TBA
The biblical book that deals most extensively with romantic and sexual wisdom is the Song of Songs. In this commentary, A. Boyd Luter argues that the Song contains an inverted parallel structure that divides it into seven sections, taking a young couple from their initial longings and expressions of affection for each other, to their wedding day, and on to the various struggles that threaten to derail their love. For each section, Luter comments on the text and background of the Song and provides helpful suggestions for how it might be preached and applied today.
Ecclesiastes is not yet published, it will automatically download as soon as it is available.
A. Boyd Luter is adjunct online professor of New Testament at Liberty Baptist Theological Seminary. He has authored several books, including Looking Back, Moving On, God behind the Seen: Expositions of the Book of Ruth and Esther, and Inspired Preaching: A Survey of Preaching in the New Testament. Luter has written numerous articles and book reviews for various publications, including Bibliotheca Sacra, Journal of the Evangelical Theological Society, Faith and Mission, Journal of Pastoral Practice, and Criswell Theological Review.
Bob McCabe is professor of Old Testament at Detroit Baptist Theological Seminary. Prior to teaching at DBTS, he taught for four years at Tennessee Temple University. He has contributed articles to the Detroit Baptist Seminary Journal, Southern Baptist Journal of Theology, The Sentinel, and Frontline.
Kyle Dunham is the associate professor of Old Testament at Virginia Beach Theological Seminary. He also has taught as a faculty associate at The Master's Seminary and Northland International University. His scholarly interests include Israelite wisdom literature, Old Testament theology, and hermeneutics. He is a member of the Evangelical Theological Society and the Society of Biblical Literature.
Colossians & Philemon
Authors: Seth M. Ehorn and H. Wayne House
Publisher: Lexham Press
Publication Date for Philemon: 2011
Estimated Publication Date for Colossians: TBA
In this volume, Seth M. Ehorn takes the uncommon stance that slavery is not the central issue of Philemon; instead, God's providential work is. According to Ehorn, this is seen in the themes that Paul addresses throughout his letter: reconciliation, forgiveness, love, and faithfulness—attributes that Christ exhibited. Ehorn adopts the view that Paul wrote to his friend, Philemon, on behalf of Onesimus, Philemon's runaway slave. As a "friend of the master," Paul reminded Philemon of his Christian character, suggesting that he should continue to act accordingly. By using and interacting with various interpretive approaches (such as discourse, rhetorical, epistolary, and sociological), Ehorn shows how Paul embodied Christ's actions and how we can do the same.
Colossians is not yet published, it will automatically download as soon as it is available.
Seth M. Ehorn is currently a doctoral candidate studying New Testament language, literature, and theology at the University of Edinburgh, New College. Prior to New College, he completed an MA in biblical exegesis at Wheaton College Graduate School in Illinois where he was awarded the Merrill C. Tenney Award for New Testament studies. He has contributed several articles to the Baker Illustrated Bible Dictionary (forthcoming) and written many book reviews in academic journals.
H. Wayne House is distinguished research professor of biblical & theological studies at Faith Evangelical Seminary, Tacoma, Washington. He is the author of Charts of Contemporary Cults, Sects, and Religious Movements, Charts of Christian Theology and Doctrine, and Divorce and Remarriage: Four Christian Views.
James
Author: William Varner
Editor: H. Wayne House
Publisher: Lexham Press
Publication Date: 2012
Expanding on his previous work on James, William Varner offers fresh exegetical and practical insight into one of the earliest writings of the New Testament. With a thorough introduction, Varner lays a firm foundation for his commentary on the text of James. Each section of the commentary includes an introduction to the pericope, the Greek text with textual notes, Varner's own translation of the Greek, the commentary proper, a note on the biblical theology of the passages, and a section offering practical points of application and devotional notes. The end of each pericope also offers the reader a bibliography for further study.
Will Varner has provided a highly valuable and well-needed contribution to the exposition of the book of James in his new commentary on James for the Evangelical Commentary series. His reasoning is clear, cogent and very welcome to the church's great heritage in this precious epistle.
—F. David Farnell, professor of New Testament, The Master's Seminary
Varner's commentary is so complete one can get by with this commentary alone! It sketches the significance of the man James, sketches the exegetical options, sorts out primary evidence, examines each text in light of larger themes in biblical theology, draws even-handed and compelling conclusions, and so puts on the plate all we need to read, interpret, and live the message of James.
—Scot McKnight, professor of New Testament, Northern Seminary
In this installment of a first-ever detailed exegetical commentary written first for digital publication, William Varner sets a high standard with his comments on James under numerous headings. After a thorough introduction highlighting the importance of James, the half-brother of Jesus, as the leader of the early Christian church in Jerusalem, the commentary expounds short sections of text with introductions, translations, textual-critical notes, biblical theology, devotional insights and potential sermon points often nicely alliterated, all sandwiched around detailed clause-by-clause explanation of the text. Particularly helpful are the grammatical categorizations, fully conversant with verbal aspect theory and discourse analysis, and the voluminous knowledge of and interaction with other scholars. Time and again Varner helps the reader sift through complex exegetical conundra clearly, always coming to plausible and usually to persuasive conclusions. A must for any serious scholar, preacher or teacher of this often neglected epistle!
—Craig L. Blomberg, distinguished professor of New Testament, Denver Seminary
Will Varner's James is marked by all the characteristics that make for an excellent commentary on Scripture: careful attention to the text, wide-ranging research, comparison with other ancient texts, and concern for theological and practical application.
—Douglas Moo, Wessner Chair of Biblical Studies, Wheaton College. Chair, Committee on Bible Translation
While the homily we know as James has not been neglected in recent NT scholarship, there is always room for another detailed interaction with this document written to Jewish Christians, not least because it may well be the earliest NT document we have. William Varner presents us with an up-to-date, detailed, helpful analysis of James which interacts with a wide range of scholarship, ancient and current, and gives us a new reason to affirm once again that Luther, and James' other cultured detractors, were wrong to neglect, parody, or pit James over against Paul.
—Ben Witherington III, Amos Professor of New Testament for Doctoral Studies, Asbury Theological Seminary
I'm no Jacobean expert, but Varner has produced a fine commentary, with a very readable introduction and sober comments throughout. He seems very much on board with Hengel and Bauckham in attributing a significant role to James in the early church. Each section has an introduction, outline, original text, textual notes, ESV translation, commentary, biblical theology comments, and a devotional/application section. A fine commentary to add to your Logos collection!
—Michael Bird, lecturer in theology and New Testament, Crossway College, Brisbane, Australia
William Varner is professor of Bible and Greek at The Master's College, where he also serves as the director of The Master's College semester in Israel. He is the author of several books, including The Chariot of Israel: Exploits of the Prophet of Elijah. In addition to his scholarly work, Varner is pastor of the Sojourners Fellowship at Grace Community Church, where he serves alongside John MacArthur.
1, 2, & 3 John
Author: Gary Derickson
Editor: H. Wayne House
Publisher: Lexham Press
Publication Date: 2012
In this volume, Gary Derickson explores how John communicates his pastoral concerns in his three epistles. Interacting with the most recent scholarship, Derickson focuses on John's message and concerns rather than following the common theory of a Johannine school and secessionist polemic. He distinguishes pastoral and polemical elements within John's message and recognizes John's own assessment of his readers' faith. By encouraging his readers to express God's love through being actively involved in each other's lives, John shows that he is not concerned with how we possess eternal life but with how we express it as we relate to God.
Gary Derickson is ministry division chair at Corban University. He has published articles in Bibliotheca Sacra, ETS Studies Series, The Master's Seminary Journal, and The Journal of the Grace Evangelical Society. He contributed to The Nelson's Complete Study Bible and is co-author of The Disciplemaker: What Matters Most to Jesus.
Jeremiah & Lamentations
Authors: Walter C. Kaiser Jr., Tiberius Rata, and Abner Chou
Editor: H. Wayne House
Publisher: Lexham Press
Estimated Publication Date for Jeremiah: January 1, 2016
Publication Date for Lamentations: 2014
This EEC volume on Lamentations examines the language of intense lament and loss over Jerusalem. Old Testament expert Dr. Abner Chou provides detailed discussions of the authorship, date, and historical background, as well as textual and genre issues. Before beginning verse-by-verse commentary, Chou provides context for key theological issues present in the book, making it a comprehensive and valuable work for any study of Lamentations.
Jeremiah is not yet published, it will automatically download as soon as it is available.
Walter C. Kaiser Jr. is president emeritus and Colman M. Mockler Distinguished Professor of Old Testament of Gordon-Conwell Theological Seminary. He served as president of Gordon-Conwell from 1997–2006, and he taught at Wheaton College and Trinity Evangelical Divinity School prior to moving to Gordon-Conwell.
Tiberius Rata, a native of Romania, is the chair of the Biblical Studies Department and professor of Old Testament studies at Grace College and Theological Seminary, Winona Lake, Indiana. He is a member of the Evangelical Theological Society and the Institute for Biblical Research and has presented papers at the national conventions of the Evangelical Theological Society.
Abner Chou is assistant professor of biblical studies at The Master's College and Seminary. He has been involved in research for commentaries, books, and journal articles, and has contributed papers to the Evangelical Theological Society.
More details about these resources