The Grave Robber: How Jesus Can Make Your Impossible Possible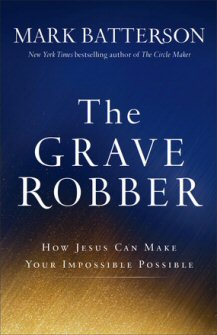 The Grave Robber: How Jesus Can Make Your Impossible Possible
•
Baker 2014
Runs on Windows, Mac and mobile.
Your Custom Discount
Reg. Price $22.99
Price of Products You Own -$8.00
Your Price $14.99
You Save $8.00 35%
Your Price
What's Pre-Pub?
$14.99
Overview
Do we believe that God still does miracles? Do we expect him to move in miraculous ways in our day to day lives? Maybe we'd like to see miracles, but it's hard to see past our problems. All that is about to change, like water into wine.
"There are miracles all around us all the time," says Mark Batterson, "but you won't see them if you don't know how to look for them."
Now the bestselling author of The Circle Maker reveals the incredible power of the seven miraculous signs of Jesus found in the Gospel of John. Batterson shows how they were not simply something Jesus did in the past, but something he wants to do now, in the present. He shares true stories of people today who are experiencing miracles in their lives. And he brings to light countless miracles, big and small, that we take for granted every day that point us toward the One who healed the sick, calmed the storm, and yes, even raised the dead.
But this is more than a book about miracles. It's a book about the only One who can perform them. Batterson cautions readers, "Don't just seek miracles. Seek Jesus. And if you seek Jesus, miracles will find you."
Nothing has changed since Jesus called Lazarus out of his tomb four days after his funeral. Our impossible situations still double as God's greatest opportunity to reveal his glory. No matter how big the problem is, God is bigger still. Anyone who longs to see God work in miraculous ways today will love Batterson's faith-building, life-giving message.
With Logos Bible Software, this volume is enhanced with cutting-edge research tools. Scripture citations appear on mouseover in your preferred English translation. Important terms link to dictionaries, encyclopedias, and a wealth of other resources in your digital library. Powerful topical searches help you find exactly what you're looking for. Tablet and mobile apps let you take the discussion with you. With Logos Bible Software, the most efficient and comprehensive research tools are in one place, so you get the most out of your study.
Key Features
Examines the miracles in the Gospel of John
Shows how the miraculous can be real today
Considers the role of prayer
Contents
The Day Water Blushed
Miraculous
The Lost Miracles
The Wine Maker
Six Stone Jars
One Nudge
Supernatural Synchronicity
God Speed
The Seventh Hour
The Third Sign
Very Superstitious
Self-Fulfilling Prophecies
The Rule Breaker
Two Fish
Lord Algebra
Count the Fish
The Water Walker
Dare the Devil
Cut the Cable
Never Say Never
The Miracle League
Spit on It
The Grave Robber
Even Now
Risk Your Reputation
One Little Yes
Praise for the Print Edition
In his fresh, engaging manner, Mark Batterson invites us to revisit the messages and miracles of Christ. I am thankful for this wonderful book. Our Christian convictions are only as valid as Christ Himself. Mark reminds us that faith in Jesus is worth the risk.
—Max Lucado, author, You'll Get Through This
Mark Batterson shows us how to open our eyes to the miraculous and, in doing so, truly see that the One who walked on water and raised people from the dead is still working miracles today.
—Rick Warren, founding pastor, Saddleback Church
About Mark Batterson
Mark Batterson is lead pastor of National Community Church, Washington DC.
Sample Pages from the Print Edition