Give Them Grace: Dazzling Your Kids with the Love of Jesus (audio)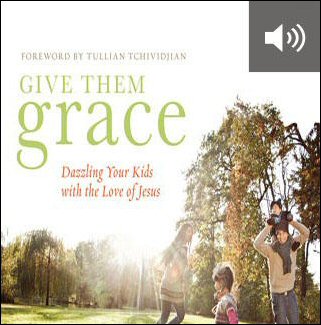 Give Them Grace: Dazzling Your Kids with the Love of Jesus (audio)
•
Runs on Windows, Mac and mobile.
Overview
A guide to help Christians parent their children with grace and an emphasis on the cross.
How are parents to raise children so they don't become Pharisees (legalists) or prodigals (rebels)? It's all about grace-filled, gospel-driven parenting, says the mother/daughter team of Elyse Fitzpatrick and Jessica Thompson. Christian parents, in their desire to raise godly children, can tend toward rule-centered discipline. There is, however, a far more effective method—a grace-motivated approach that begins with the glorious truth of God's love for sinners.
In Give Them Grace, parents will learn how to connect the benefits of the cross—especially regeneration, adoption, and justification—to their children's daily lives. Chapters address topics such as our inability to follow the law perfectly, God's forgiveness and love displayed at the cross, and what true heart obedience looks like. Fitzpatrick and Thompson also discuss discipline, dealing with popular culture, and evangelism as a way of life. Parents will find this book a great resource for raising grace-filled, Jesus-loving kids.
Key Features
Provides a parenting guide derived from gospel teachings
Explores how to simplify and apply theological topics to children's lives
Develops an approach to parenting based on grace rather than strictness
Contents of Print Edition
Foundations of Grace

From Sinai to Calvary
How to Raise Good Kids
This Is the Work of God
Jesus Loves All His Little Prodigals and Pharisees

Evidences of Grace

Grace That Trains
Wisdom Greater Than Solomon's
The One Good Story
Go and Tell Your Father
Weak Parents and Their Strong Savior
Resting in Grace
Product Details
Title: Give Them Grace: Dazzling Your Kids with the Love of Jesus
Authors: Elyse M. Fitzpatrick and Jessica Thompson
Narrator: Tavia Gilbert
Edition: Unabridged
Publisher: christianaudio
Print Publisher: Crossway
Runtime: 6.4 hours
Product Type: Audiobook
Christian Group: Evangelical
Resource Type: Topical
Topic: Children
About the Authors
Elyse Fitzpatrick has been counseling women since 1989. She is a member of the National Association of Nouthetic Counseling, a retreat and conference speaker, and is the head of Women Helping Women Ministries. Fitzpatrick has a certificate in biblical counseling from CCEEF in San Diego and an MA in biblical counseling from Trinity Theological Seminary.
Jessica Thompson is coauthor of the popular parenting book Give Them Grace: Dazzling Your Kids with the Love of Jesus (with Elyse Fitzpatrick). She is a wife, a mother of three, and an active member of her local church.
More details about this resource