Every Man's Battle: Winning the War on Sexual Temptation One Victory at a Time (audio)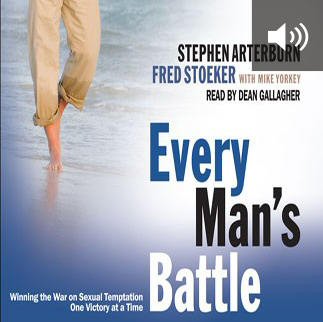 Every Man's Battle: Winning the War on Sexual Temptation One Victory at a Time (audio)
•
Runs on Windows, Mac and mobile.
Overview
The challenge every man faces . . . the fight every man can win!
From movies and television, to print media and the Internet, men are constantly faced with the assault of sensual images. It is impossible to avoid such temptations . . . but, thankfully, not impossible to confront them and gain victory over them!
Millions have found Every Man's Battle the single greatest resource for overcoming the struggle and remaining strong in the face of temptation. With extensive updates for a new generation, this phenomenal bestseller shares the stories of dozens who have escaped the trap of sexual immorality and presents a practical, detailed plan for any man who desires sexual integrity.
Key Features
Offers guidance and advice for men facing sexual temptation
Includes success stories of men who have escaped sexual immorality
Features a section designed to help women understand and support men they love
Contents of Print Edition
Where Are We?

Our Stories
Paying the Price
Addiction? Or Something Else?

How We Got Here

Mixing Standards
Obedience or Mere Excellence?
Just by Being Male
Choosing True Manhood

Choosing Victory

The Time to Decide
Regaining What Was Lost
Your Battle Plan

Victory with Your Eyes

Bouncing the Eyes
Starving the Eyes
Your Sword and Shield

Victory with Your Mind

Your Mustang Mind
Approaching Your Corral
Inside Your Corral

Victory in Your Heart

Cherishing Your One and Only
Carry the Honor!
The Final Step
About the Authors
Stephen Arterburn is the founder and chairman of New Life Ministries—the nation's largest faith-based broadcast, counseling, and treatment ministry—and is the host of the nationally syndicated New Life Live! daily radio program heard on over 180 radio stations nationwide. Steve is also the founder of the Women of Faith conferences, attended by over 3 million women.
Fred Stoeker is coauthor of the best-selling Every Man Series. He is founder and chairman of Living True Ministries and a conference speaker who has counseled hundreds of men and married couples.
More details about this resource