What Did You Expect? Redeeming the Realities of Marriage (audio)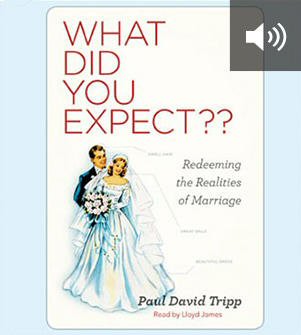 What Did You Expect? Redeeming the Realities of Marriage (audio)
•
Runs on Windows, Mac and mobile.
Overview
Marriage, according to Scripture, will always involve two flawed people living with each other in a fallen world. Yet, in pastor Paul Tripp's professional experience, the majority of couples enter marriage with unrealistic expectations, leaving them unprepared for the day-to-day realities of married life.
This unique book introduces a biblical and practical approach to those realities that is rooted in God's faithfulness and Scripture's teaching on sin and grace. "Spouses need to be reconciled to each other and to God on a daily basis," Tripp declares. "Since we're always sinners married to sinners, reconciliation isn't just the right response in moments of failure. It must be the lifestyle of any healthy marriage."
What Did You Expect? presents six practical commitments that give shape and momentum to such a lifestyle. These commitments, which include honestly facing sin, weakness, and failure; willingness to change; and embodying Christ's love, will equip couples to develop a thriving, grace-based marriage in all circumstances and seasons of their relationship.
Key Features
Introduces a biblical approach to marriage
Provides six commitments for spouses to adopt
Offers advice on how to have a Christ-centered marriage
Contents of Print Edition
What Did You Expect?
Reason to Continue
Whose Kingdom?
Day by Day
Coming Clean: Confession
Canceling Debts
Pulling Weeds
Planting Seeds
Sticking Out Your Neck
Someone to Be Trusted
All You Need Is Love
Ready, Willing, and Waiting
Amazing Grace
Before Dark
Eyes Wide Open
On Your Knees
Worship, Work, and Grace
About Paul Tripp
Paul David Tripp is a pastor, author, and international conference speaker. He is the president of Paul Tripp Ministries and works to connect the transforming power of Jesus Christ to everyday life. This vision has led Paul to write 14 books on Christian living and travel around the world preaching and teaching. Paul's driving passion is to help people understand how the gospel of Jesus Christ speaks with practical hope into all the things people face in this broken world.
More details about this resource