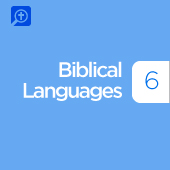 Biblical Languages
Offered exclusively to members our of Academic Program, Biblical Languages allows insightful original-language study with a smart library of ancient texts, lexicons, and grammars, plus tools to dig into Greek, Hebrew, Latin, and Aramaic.
Value of included resources
Select a Base Package Family
Quick Stats
445

Total Resources

2.7M

Links to Bible Passages

(Actual Value: 2,726,840)

103K

Pages of Content

(Actual Value: 103,417)

8.5M

Connections between Resources

(Actual Value: 8,475,804)

70

Visual and Interactive Media Collections
Overview
Offered exclusively to members of our Academic Program. This base package comes with all of Logos 6's intelligent tools and Interactive Media, plus key original-language resources, like the Liddell and Scott Greek–English Lexicon, Theological Lexicons of the Old and New Testaments, and essential texts like the NA28, BHS, and LXX. If you are a student or faculty at one of our partner schools, but find the link disabled, ensure you are logged in, and then apply to our
Academic Program
.
Dynamic Pricing is Not Available with this Product
Do More With Logos 6
Bible Study
Find the right results with one search.
Explore beautiful media.
Link the Bible story with its geography.
Engage the Word with new Interactive Media.
Make connections across biblical events.
Get instant information on biblical topics.
Study Greek and Hebrew—without the degree.
Reveal cultural concepts of the biblical world.
Greek and Hebrew
Search the original languages in your Bible.
Convert Greek and Hebrew.
Discover Paul's thought-flow.
See every lemma's form and frequency.
Connect English ideas to original-language words.
Simplify your lexicons.
See alternate meanings of original-language words.
Explore the Psalms with Interactive Media.
Compare differences across ancient texts.
Learn to read and write Greek and Hebrew.
Preaching & Teaching
Turn your reverse interlinear into a powerful search tool.
Engage your audience with elegant presentations.
Find relevant, high-quality media.
Get quick answers on biblical topics.
Compare original manuscripts.
Connect the Bible to ancient texts.
Explore the Bible's background.
See different meanings for Greek and Hebrew words.
Academic
Discover textual differences across ancient manuscripts.
Expose the structure of Hebrew poetry.
See how the early church interpreted Scripture.
Discover semantic roles for Greek and Hebrew verbs.
Simplify your Greek and Hebrew study.
Connect cultural concepts with ancient literature.
Resource Highlights
Theological Dictionary of the New Testament (TDNT) (10 vols.)
One of the most widely-used and well-respected theological dictionaries ever created, TDNT is indispensable for studies in the Greek New Testament.
Liddell and Scott Greek–English Lexicon (LSJ)
Theological Lexicon of the Old Testament (3 vols.)
A Textual Commentary on the Greek New Testament
System Requirements
Windows
Window 7 SP1
2GB RAM
1024x768 Display
30GB Free Space - Internal HDD/SSD Only (may require additional space depending on your library)
Internet connection (for activation, updates, and some features)
Mac
OS X "Mavericks" 10.9
2GB RAM
30GB Free Space - Internal HDD/SSD Only (may require additional space depending on your library)
Internet connection (for activation, updates, and some features)