Day One Family Focal Point Series Upgrade (3 vols.)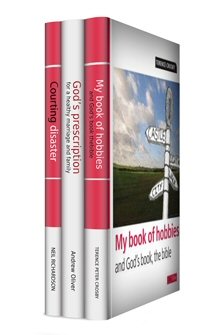 Day One Family Focal Point Series Upgrade (3 vols.)
•
Day One 2005–2007
Runs on Windows, Mac and mobile.
Your Custom Discount
Reg. Price $23.95
Pre-order Price $17.95
Your Price $17.95
You Save $6.00 25%
Your Price
What's Pre-Pub?
$17.95
Reg.: $23.95
Print: $29.50
Overview
Spend some time focusing on family issues with these practical and accessible texts from Day One. The Day One Family Focal Point Series Upgrade is filled with biblical insights into various topics relevant for dating, marriage, and family life in today's world. This collection will help you gain wisdom on important questions concerning dating outside the faith, creating a healthy marriage and family, and spending leisure time. Discover how to look to the Bible to address challenging issues that confront modern families with these concise studies.
In the Logos editions, the Day One Family Focal Point Series Upgrade texts are enhanced by amazing functionality. Scripture citations link directly to English translations, and important terms link to dictionaries, encyclopedias, and a wealth of other resources in your digital library. Take the discussion with you using tablet and mobile apps. With Logos Bible Software, the most efficient and comprehensive research tools are in one place, so you get the most out of your study.
Key Features
Points readers to the Bible for navigating dating, married, and family life
Offers practical discussion of marriage and family issues
Presents three accessible and concise texts
Individual Titles
Courting Disaster encourages readers to please God by submitting our wills to his in our romantic relationships. Neil Richardson's particular focus is the issue of dating between Christians and non-Christians, arguing that Bible teaches that Christians should not go out with non-Christians. In this practical text, Richardson explores the various issues involved. He examines potential motives for pursuing these kinds of relationships, and discusses potential consequences. In addition, he offers some helpful advice to parents of children who might be involved in relationships with unbelievers, and deals with other issues which might arise.
This little book hits the nail on the head! If we are going to call ourselves Christians, then we should submit to the authority of God's holy Word, the Bible . . . . As Neil Richardson has elegantly and biblically defended, the Bible, not our emotions and feelings, must be our guide in these most important areas of life. I recommend this book for singles and parents alike!
—Jobe Martin, author, What God Says about Relationships, Marriage and Family
This book is a thoughtful, practical and—above all—passionate plea for wholehearted discipleship in an area of great relevance for all Christian young people and youth group leaders.
—Christopher Ash, author, Marriage: Sex in the Service of God
Neil Richardson studied English at University College, London, and earned his Post Graduate Certificate of Education at King's College, London. After teaching for five years and then studying at Cornhill Training Course, he is now assistant pastor at Derby Road Baptist Church in Watford, England.
Andrew Oliver argues that changes in modern society have put the family under threat, and that the great need today is to return to biblical principles for family life. In God's Prescription for a Healthy Marriage and Family, he reminds readers that the Bible is God's manual for the people he created in his image, and therefore is filled with instruction regarding this central aspect of life. Oliver provides a helpful guide through the biblical teaching on marriage and family life, and emphasizes the need to follow God's Word if we are to build solid foundations for a healthy family.
Across Europe, and, indeed, the Western world, the crisis in marriage and family life is impacting Christian and non-Christian alike, and Andy Oliver's book provides a timely reminder of God's good purposes for us. His approach is thought-provoking and uncompromising and, while you might not agree with every application, you will benefit greatly from this refreshingly direct and practical introduction to what the Bible teaches.
—Jonathan Lamb, director, Langham Preaching (Langham Partnership International)
Andrew Oliver studied theology at the Irish Baptist College (then situated in Belfast), and has a BD and MTh from Queen's University Belfast and a PGCE from Cambridge University. Since 1999 Andy has been engaged in missionary service and pastoral ministry in Albania, and he is a frequent speaker at university student meetings on behalf of BSKSH (IFES Albania).
We all have different hobbies and things we enjoy doing on our holidays and in our free time. Starting from Proverbs 30, Terence Crosby looks at its writer, Agur, to see what kinds of things he seemed to be interested in, and then takes us on "outings" to experience and learn about some of those interests. From these, he draws lessons about eternal truths and our relationship with God. Visit zoos, learn lessons from insects, hear about the eruption of Mount Vesuvius, go sight-seeing around a town, and watch a cricket match. In each of these adventures, Terence Peter Crosby engages us with pictures of God's wonderful salvation and how to grow in the Christian life.
Enjoy this rich fare, and may God be pleased to bless these pages to many people.
—Clive Anderson, author, Travel with C.H. Spurgeon
Terence Peter Crosby holds a PhD in Classics (Greek and Latin) from London University and was for some time secretary of the Evangelical Library, London.