Bloomsbury Academic Thucydides Collection (4 vols.)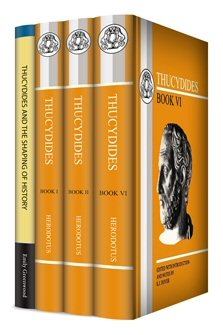 Bloomsbury Academic Thucydides Collection (4 vols.)
•
Runs on Windows, Mac and mobile.
Overview
A pioneering work of historiography, Thucydides' History of the Peloponnesian War is a landmark literary and scholarly achievement documenting the pivot point in the Golden Age of Athenian democracy. It is one of the West's first scholarly histories, examining and recording the slow defeat of the nation its author once fought for. These works offer the scholarly tools—line-by-line commentary, annotated texts, and literary and linguistic analysis—necessary to dig into Thucydides' Greek. They are a great place to either start your classical study, or augment your library with the most advanced tools applied to the best texts.
Thucydides' style differed drastically from that of his predecessor Herodotus. His writing set the tone of historiography for centuries to come—characterized by a strict adherence to chronology, a diminutive role for the divine pantheon, an objective account of events, and a matter-of-fact writing style. These accounts of Greek belligerence—emphasizing the strength found in utilitarian ideals and a coldly rational state with a strong leader—foreshadow the political theory of realists such as Hobbes and Machiavelli. Offering unparalleled detail, Thucydides' History of the Peloponnesian War provides a glimpse into the ancient world—it's a literary and scholarly gem that students, scholars, historians, and classicists will value and enjoy. Get the most out of Thucydides with these scholarly commentaries, notes, texts, and introductions.
Reading Thucydides in Logos brings unparalleled functionality and depth to your study. Study the Greek master alongside a library of other Greek texts and translations. Use Logos' language tools to go deeper into the Greek text and explore Thucydides' challenging Greek. The Timeline provides instant context to the narratives of the Histories. Tablet and mobile apps let you take your study with you. With Logos Bible Software, the most efficient and comprehensive research tools are in one place, so you get the most out of your study
Books I, II, and VI will each be downloaded as two resources: Text and Notes.
Key Features
Includes Greek texts, annotations, and commentary on Thucydides' History of the Peloponnesian War
Introduces Thucydides and his influence on historiography through the centuries
Provides insight into the end of the Athenian Golden Age
About Thucydides
Thucydides was a Greek historian and Athenian general, who was exiled after his failure to save the city of Amphipolis near the beginning of the Peloponnesian War. He used his status as an exile to move freely among Spartan allies during the way, giving him perspective from both sides. He returned to Athens only after its fall in 404 BC, having lived in exile for 20 years. Using his unique insights, he wrote his massively influential History of the Peloponnesian War, pioneering a scientific approach to history that focused on military and political perspectives.
More details about these resources