Bible Study Magazine—May–June 2014 Issue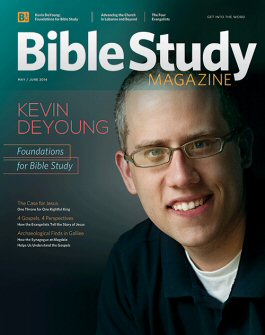 Bible Study Magazine—May–June 2014 Issue
Overview
Get Bible Study Magazine now by purchasing the May–June 2014 back issue for $3.95. That's 20% off the newsstand price of $4.95!
Bible Study Magazine is a print magazine (not an emagazine) published by Lexham Press. Six times a year, Bible Study Magazine delivers tools and methods for Bible study as well as insights from respected teachers, professors, historians, and archeologists.
Read pastor profiles, author interviews, and stories of individuals whose thoughtful engagement with Scripture has shaped their thinking and defined their ministries. Bible Study Magazine reveals the impact of God's Word in their lives—and the power of Scripture in yours.
Each Issue of Bible Study Magazine Includes:
Feature Stories
Discover new ways to connect the Bible with your ministry and life through in-depth interviews and articles from the biggest names in the church and biblical scholarship.
Bible Study Tips
Explore the Word—thoughtful and engaging authors tackle the tough passages in Scripture, explain difficult concepts, and confront complex interpretations in a way that helps the Gospel make sense in your life.
On the Cutting Edge
Keep up to date on the latest news in biblical research, including archaeological and historical findings.
A New Kind of Bible Study
Encounter God by yourself or with other believers with an ongoing Bible study in each issue.
On Teaching
Get advice on how to preach or teach the Bible in any setting from well-known pastors and teachers who use the Bible every day.
Tool Box
Learn how to effectively use the latest Bible study tools with our how-to guides.
In the News
Keep informed about the latest news in biblically related topics, discoveries, and events.
Thoughts from the Ancients
Read the Bible together with those who have come before you, and learn from the wisdom of the early church—in its own words.
Word Studies
Get a close-up view of the Bible! Each issue contains insights about specific words found in the Bible and tutorials on how to do word studies.
If Only Someone Would Explain It to Me
Enrich your understanding of the Bible with explanations of biblical and theological concepts by top scholars.
Did You Know?
Discover interesting facts about the place of the Bible in the contemporary and the ancient world.
What They Don't Tell You in Church
See things you never noticed in biblical passages you have read dozens of times.
Biblical Humor
The funniest stories and the best comics related to the Bible, useful for any setting.
Book Reviews
Stay on top of the latest books about Bible study. Each issue contains reviews of books and commentaries to equip you in your study of God's Word.
Excerpts from the May–June 2014 Issue!
Kevin DeYoung
"The key for pastors is making sure Bible study isn't just a vocational responsibility," says Kevin DeYoung, pastor of University Reformed Church, and author of Crazy Busy and Taking God at His Word. "It's a necessity we have as Christians, and it's what we need today in order to know God better. I have to consistently ask, 'Lord, what do you have to teach me? What sins need to be corrected? How do I need to be encouraged? What do I need to see about Jesus Christ that I haven't seen before?' Hopefully, studying for a sermon is devotional as well, and the process builds up and encourages faith."—Jessi Strong
Advancing the Church in Lebanon and Beyond
Riad Kassis, director of the International Council for Evangelical Theological Education, partners his ministry with diverse organizations to enhance theological education in Bible colleges and seminaries around the world. "In the past, when missionaries came to countries outside of America and Europe, they thought that the gospel message should have one form, one format and one expression. But we believe that while the core of the gospel is the same, the message should be presented in different ways to different audiences. Our main concern is to see theological training that takes the Scriptures seriously and at the same time considers the context where it functions."—Jessi Strong
Not Your Average Bible Study: The Call of Discipleship: 8 Weeks in the Sermon on the Mount
The Sermon on the Mount—Jesus' first major teaching in Matthew's Gospel—tells us what it means to be Jesus' disciple and a member of the kingdom of God. Sitting on the mountainside, Jesus speaks about selflessness, humility and what it means to seek God's righteousness—what we know as the Beatitudes (5:3–12). His disciples should serve as His witnesses to the world and point others toward God (5:13–16). Their standard of righteousness goes beyond what was set forth in the Law (5:17–48).—Miles Custis
Special Section: The Four Evangelists
Mark's Masterpiece
Mark's opening words aren't often heralded for their literary greatness. "As it is written in Isaiah the prophet, 'Behold I send my messenger before your face, who will prepare your way'" (Mark 1:1). Yet these words launch a masterful presentation of the arrival and ministry of Jesus. Starting with this first citation, Mark models his presentation of Jesus after statements found in Isaiah. As the manifestation of God in the form of a mortal man, Jesus will lead Israel out of bondage and establish an earthly kingdom that will, as the prophets foretold, include all nations of the earth.—Michael S. Heiser
John, Gospel of the Incarnation
There is more than one way to tell a story—even the most important story of all. The Gospel writers crafted their individual stories of Jesus using genealogies, prophecies or narratives of historical events to convey His identity and mission. While Matthew demonstrates that Jesus is the heir of the covenant promises of David and Abraham and the fulfiller of ancient messianic prophecies, Mark emphasizes that Jesus is the Messiah of a kingdom even greater than Rome. In his Gospel and Acts, Luke shows that Jesus is the Christ of all nations, whose gospel breaks down barriers between Jew and Gentile, rich and poor, and male and female.—Karen H. Jobes
We have a limited supply of back issues of the May–June 2014 Bible Study Magazine. Get your copy while you still can!
Key Features
Kevin DeYoung: Foundations for Bible Study
The Case for Jesus: One Throne for One Rightful King
4 Gospels, 4 Perspectives: How the Evangelists Tell the Story of Jesus
Archaeological Finds in Galilee: How the Synagogue at Magdala Helps Us Understand the Gospels
Product Details
Title: Bible Study Magazine—May–June 2014 Issue
Editor-in-Chief: John D. Barry
Academic Editor: Michael S. Heiser
Art Director: Sean Fields
Graphic Designer: Kayla Soper
Managing Editor: Rebecca Van Noord
Advertising Sales: Santiago Galeano
Marketing: Dan Pritchett, Phil Gons, Scott Lindsey, and Jonny Heemstra
Publisher: Lexham Press