Bloomsbury Academic Greek Tragedy Bundle (11 vols.)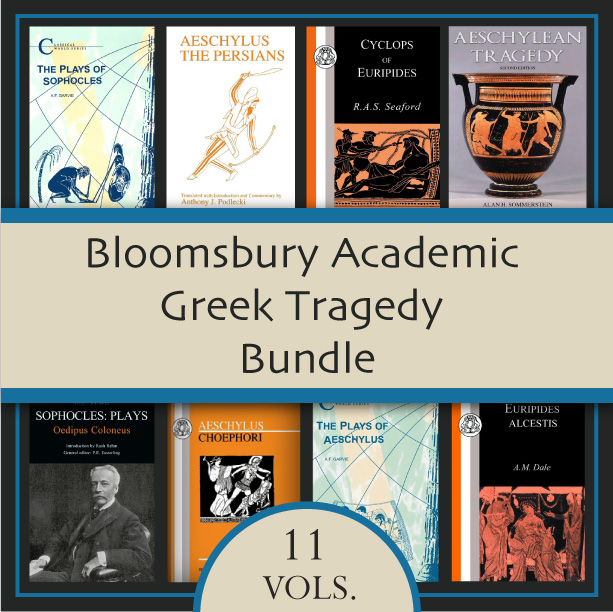 Bloomsbury Academic Greek Tragedy Bundle (11 vols.)
•
Runs on Windows, Mac and mobile.
Overview
The Bloomsbury Academic Greek Tragedy Bundle brings together the most trusted resources for serious study of ancient Greek drama. Featuring the most authoritative translations, line-by-line commentaries, in-depth introductions, and extensively annotated Greek texts, these volumes are a great place to start your classical study or to augment your library with the most advanced tools applied to the best texts.
Fifth-century Athens saw the flourishing of historiography, philosophy, politics, and science with Socrates, Plato, Herodotus, Thucydides, Pericles, and Hippocrates. But some of the most brilliant contributions to this first chapter of the Western canon were artistic. Sophocles, Aeschylus, and Euripides brought all the learning of the age home to Athenian hearts. Literacy in the work of these three playwrights is essential to a full understanding of the Athenian Golden Age and all Western art that followed.
This bundle includes:
The Bloomsbury Academic Sophocles Collection (4 vols.)
The Bloomsbury Academic Aeschylus Collection (4 vols.)
The Bloomsbury Academic Euripides Collection (3 vols.)
The Noet editions of these valuable volumes are enhanced by amazing functionality. Study the Greek tragedians alongside a library of classic literature and philosophy. Important terms link to dictionaries, encyclopedias, and a wealth of other resources in your digital library. Powerful searches help you find exactly what you're looking for. Tablet and mobile apps let you take your study with you. With Noet, the most efficient and comprehensive research tools are in one place, so you get the most out of your study.
Many of the titles in this collection will download as two or three resources, including the Greek text, the English text, and commentary where applicable.
Key Features
Select works from the three great Greek Tragedians: Sophocles, Aeschylus, and Euripides
Trusted translations, line-by-line commentary, and in-depth introductions
Extensively annotated Greek texts
Expert insight into ancient Greek tragedy's structure, context, and reception through the centuries
Individual Titles
Bloomsbury Academic Sophocles Collection
Bloomsbury Academic Aeschylus Collection
Bloomsbury Academic Euripides Collection
No book in English covering all the plays of Euripides has been published since 1967. In the meantime there has been something of a revolution in the way we view classical drama generally, and Euripides in particular. The Plays of Euripides reflects that revolution and shows how Euripides continually reinvented himself. A truly Protean figure, he seems to set out on a new journey in each of his surviving 19 plays. Between general introduction and final summary, James Morwood's analysis identifies the themes that underlie the plays. Morwood concentrates, above all, on demonstrating the extraordinary diversity of this great dramatist.
James Morwood is an emeritus fellow of Wadham College, Oxford and was head of classics at Harrow School for 17 years.
Delve into the original Greek of Euripides with this analysis and commentary on the Greek text from A.M. Dale. Dale provides an extensive introduction to the genre, background, structure, and surviving manuscripts of Alcestis. The original Greek is fully annotated and followed by Dale's line-by-line commentary (including metrical analysis) to this intriguing "pro-satyr" play, the earliest surviving play from the great tragedian.
A.M. Dale was reader in Classics in Birkbeck College, University of London, UK.
Engage the original Greek of Euripides' Cyclops with this introduction and commentary on the Greek text from R.A.S. Seaford. Cyclops is the only example of satyric drama to have survived in its entirety into the modern world. Seaford gives a historical and analytical account of the genre, tracing its origins, development and decline. He examines the place of satyrs in the religious imagination and practice of the Greeks, and the significance of Euripides' divergence from the Homeric model. The line-by-line commentary pays close attention to problems of text, language and interpretation.
R.A.S. Seaford is professor of Classics and ancient history at the University of Exeter, UK.
About the Greek Tragedians
Sophocles (496–406 BC), with Aeschylus and Euripides, was one of the great tragic dramatists of Athens. He is considered one history's greatest poets. The subjects of his plays were drawn from mythology and legend. His plays contain at least one heroic figure—a character whose strength, courage, or intelligence exceeds the human norm, but who also possesses extraordinary pride or self-assurance. This combination of qualities leads to a tragic end for his characters.
Aeschylus (525–456 BC) is the dramatist who made Athenian tragedy one of the world's great art forms. He witnessed the establishment of democracy at Athens and fought against the Persians at Marathon. He won the tragic prize at the City Dionysia 13 times between 499 and 458 BC, and in his later years was victorious almost every time he put on a production.
Euripides (485–406 BC) is one of antiquity's greatest poets. He has been prized in every age for the pathos, terror, surprising plot twists, and intellectual probing of his dramatic creations. He wrote nearly 90 plays, and of these, 18 have come down to us from antiquity.
More details about these resources
Show More