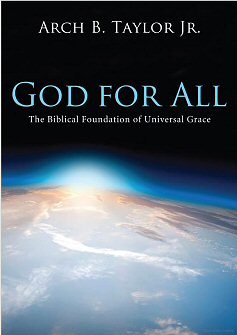 Runs on Windows, Mac and mobile.
Your Custom Discount
Reg. Price $32.95
Pre-order Price $24.95
Your Price $24.95
You Save $8.00 24%
Your Price
What's Pre-Pub?
$24.95
Reg.: $32.95
Print: $45.00
Overview
1 Timothy 2:4 says that "God our Savior desires everyone to be saved." Does God get what God wants? According to author Arch B. Taylor Jr., answers to that question depend on how we read the Bible. In God for All, Taylor's answer is that the Bible is universal: one God is the sovereign creator of everything—especially humanity, the partner God designed to manage creation.
Humans exploited our semidivine status, becoming alienated, and so God chose Israelites/Jews for blessing and the task of reconciling humanity. They exploited chosenness, so God sent Jesus to reveal God's gracious concern for all people. Therefore, all who experience reconciliation share Jesus's partnership with God. Taylor analyzes Bible passages from creation through the Gospels arguing to support his thesis—"We toil and struggle, because we have our hope set on the living God, who is the Savior of all people, especially of those who believe" (1 Tim 4:10).
In the Logos edition, this volume is enhanced by amazing functionality. Scripture citations link directly to English translations, and important terms link to dictionaries, encyclopedias, and a wealth of other resources in your digital library. Perform powerful searches to find exactly what you're looking for. Take the discussion with you using tablet and mobile apps. With Logos Bible Software, the most efficient and comprehensive research tools are in one place, so you get the most out of your study.
Key Features
Provides material well suited for those interested in different ways of approaching Bible text
Focuses on the idea of universal grace—that God is savior of all
Provides a complete survey of the Bible done by the author interwoven with personal experience
Contents
My Spiritual Pilgrimage
The Beginnings of Monotheism
Part One: The Universal Matrix

God and the Creation of Humanity
The Creator and Humans in Relationship
Biblical Creation, Evolution, and Brain Science
The Spread of Population and Sin
The Covenant with Abram

Part Two: Abraham to the Settlement of Canaan

Children of Abraham—Exclusion and Assimilation
Moses, the Name, and the Exodus
Moses and the Sinai Covenant
Covenant as Gift and Obligation
From Sinai to Canaan
The Conquest and Settlement of Canaan

Part Three: The Monarchy from Beginning to End

Like Other Nations: David's Monarchy
Like Other Nations: Solomon's Shadows
The People of YHWH Like Other Nations
The Covenant as Family Relationship
The Prophets and the End of the State

Part Four: From Exile to the Time of Jesus

Exile: Re-Imagining God and Humanity
Return, Rebuild, Retrench
Roman Palestine in the Time of Jesus

Part Five: Jesus of Nazareth

Introduction to Jesus and the Gospels
The Call of Jesus
Jesus' Ministry as Healer and Exorcist
Jesus and the Oneness of God
Jesus Challenges the Domination System
Who Did Jesus Say He Was?

Part Six: Paul, Apostle to the Gentiles

In Quest of Saul/Paul
The Death of Saul and Birth of Paul
Paul's New Understanding of God
Universal Grace in Romans
Paul and the Oneness of God

Part Seven: After Jesus and Paul

The Jesus Movement's Breakout
Jesus of Nazareth in God's Plan
Humanity in God's Plan—1
Humanity in God's Plan—2

Afterword
Praise for the Print Edition
God for All interweaves a complete survey of the entire Christian Bible with the author's personal and denominational pilgrimage. It interprets that Christian Bible—positively, powerfully, and persuasively—with a vision both Christian in its particularity and ecumenical in its universality. Read this book because it offers a profound basis for dialogue between religions. Read this book because it challenges every religion to imagine a God that is for all of the world and for all of the world's peoples.
—John Dominic Crossan, retired professor of comparative religion, DePaul University
This book is a sustained assertion that the God of the Bible is savior of all. The argument is made more poignant because it is filtered candidly through the personal journey of the author to a more inclusive gospel. Readers who are situated in scholastic traditions of theology will find this a welcome invitation to a more gracious God and to a fuller declaration of the good news.
—Walter Brueggemann, professor of Old Testament, Columbia Theological Seminary
Product Details
About Arch B. Taylor Jr.
Arch B. Taylor Jr. is an ordained Presbyterian minister who served for over 30 in Japan and taught Bible at Shikoku Gakuin University.
Sample Pages from the Print Edition