In the Heavenlies: A Commentary on Ephesians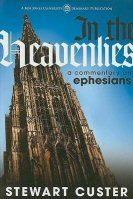 Overview
Perhaps like no other portion of Scripture, Ephesians combines stratospheric theology with real-life application. In this commentary, Stewart Custer shares his passion for the beauty of the book of Ephesians. His combination of theological expertise and practical pastoral concern uniquely qualifies him to write a commentary on this epistle.
Logos gives you the ability to study Christian principles and understand Christian living in the context of modern issues. All Scripture references are linked to your preferred Bible translation, which means you can have your Bible open alongside the books you're reading. Plus, with the advanced search features of Logos Bible Software, you can perform powerful searches by topic or Scripture reference, making Bible study easier than ever before.
Key Features
Presents a detailed commentary on the book of Ephesians
Provides verse-by-verse commentary and detailed notes on the text
Includes an extensive bibliography and indexes for further study
Contents
Ephesians Exposition

Ephesians 1: Redemption and Inheritance
Ephesians 2: New Life and New Citizenship
Ephesians 3: The Mystery and Love
Ephesians 4: Worthy Walk
Ephesians 5: Walk in Love
Ephesians 6: Warfare
Product Details
Title: In the Heavenlies: A Commentary on Ephesians
Author: Stewart Custer
Publisher: BJU Press
Publication Date: 2008
Pages: xxvi, 198
About Stewart Custer
Stewart Custer received a BA and MA in Bible and a PhD in Greek text from Bob Jones University. He began teaching at BJU in 1955 as a graduate assistant in Greek. Besides teaching Biblical theology, methods of Bible exposition, and advanced Greek courses at BJU, Custer was the director of the university's planetarium and produced programs for public viewing. He was chairman of the division of Bible and editor of Biblical Viewpoint, the journal of BJU's school of religion, until his retirement. Dr. Custer has been in demand as an expository preacher, visiting many churches to present a series of expositions on a single book of Scripture or to speak on specific topics such as the fallacies of evolution or the inspiration of the Bible. He currently serves as the pastor of Trinity Bible Church in Greer, South Carolina.
More details about these resources