Schlatter's New Testament Theology (2 vols.)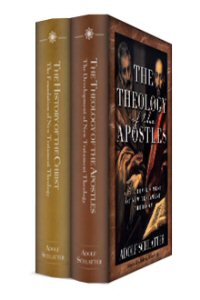 Overview
These two volumes present a distinctly traditional Lutheran perspective on New Testament theology. Adolf Schlatter examines the foundation of the New Testament's theology—Jesus Christ—and unpacks the way the New Testament's authors understood his life, ministry, and work. Written during the height of German rationalism, Schlatter's works demonstrate the resilience of orthodox New Testament scholarship in an age when it had virtually disappeared from the academy.
The Logos editions of Schlatter's New Testament Theology (2 vols.) are enhanced by amazing functionality and features. Scripture and ancient-text citations link directly to English translations and original-language texts, and important terms link to dictionaries, encyclopedias, and a wealth of other resources in your digital library. The Topic Guide lets you perform powerful searches to instantly gather relevant biblical texts and resources. Tablet and mobile apps let you take the discussion with you. With Logos Bible Software, the most efficient and comprehensive research tools are in one place, so you get the most out of your study.
Key Features
Presents a traditional Lutheran understanding of the New Testament
Argues for a traditional understanding of Christ and of the Apostle Paul
Interacts with Protestant liberalism while maintaining orthodox theology
Covers every New Testament writer
Product Details
Title: Schlatter's New Testament Theology
Author: Adolf Schlatter
Translator: Andreas Köstenberger
Publisher: Baker
Volumes: 2
Pages: 912
Individual Titles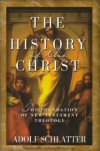 Appearing for the first time in English, The History of the Christ is a translation of Adolf Shclatter's first volume of his New Testament Theology series. This volume allows readers to access the foundational components of Schlatter's understanding of how the New Testament writers thought about Christ, his teachings, and his work on the cross.
Because of his immense, unbelievable learning and his theological insights into the heart of the New Testament message, Schlatter's Theology of the Apostles has been a standard work of New Testament research.
—Martin Hengel, professor, Unversity of Tübingen
We should have listened to Adolf Schlatter's profound and prescient voice more than we did in the twentieth century. This welcome new translation will help us do so in the twenty-first.
—John G. Stackhouse, professor, Regent College
The excellent new translation will gain many new readers for one of the truly classic New Testament theologies. Careful readers will learn again and again from the genius, piety, and passion of this great theologian, especially in the area of Christian ethics.
—Robert Morgan, professor, Oxford University
Even those who disagree with Schlatter here and there will find their understanding of New Testament [t]heology mightily stimulated and enriched.
—D. A. Carson, professor of New Testament, Trinity Evangelical Divinity School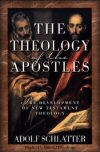 The Theology of the Apostles is the second volume of Adolf Schlatter's two-volume New Testament Theology. Here Schlatter explores how the New Testament writers used Christ's teachings to formulate practical doctrines, and how they drew upon his life and work to establish core theological confessions.
There are certain writers of the past—Augustine, Calvin, Bengel, Westcott, Schlatter—to whom we shall always turn with gratitude for the timeless insights that are to be found in their writings.
—Stephen Neil, senior scholar, Wycliffe Hall, Oxford
Adolf Schlatter was theologically the most important figure in the faculty of Protestant theology at Tübingen in the first third of the [twentieth] century.
—Peter Stuhlmacher, professor, Unversity of Tübingen
Schlatter's writings hold rich potential for summoning serious biblical scholarship back to its classic sources, methods, and aims.
—Robert Yarbrough, professor, Covenant Theological Seminary
About Adolf Schlatter
Adolf Schlatter (1852–1938) was a conservative Lutheran theologian, a lecturer at Berne, and professor of New Testament and systematic theology at Greifswald University and Tübingen. One of the most prolific New Testament scholars of the twentieth century, Schlatter produced more than 400 separate scholarly articles on the New Testament. He was educated at Oxford. Scholar Robert Morgan noted that Schlatter "is perhaps the only 'conservative' New Testament scholar since [Johann Albrecht] Bengel who can be rated in the same class as [F. C.] Baur, [William] Wrede, [Wilhelm] Bousset, and [Rudolph] Bultmann." Schlatter actively opposed the proliferation of theological liberalism in Germany stemming from Enlightenment rationalism, speaking often at conferences and in churches in support of traditional Protestant theology, and was influential on Dietrich Bonhoeffer. His many works include Faith in the New Testament, The Letter of James, and The Letter to the Galatians.
More details about these resources