Lent for Everyone Collection (3 vols.)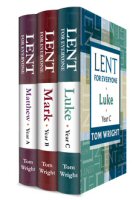 Overview
The Lent for Everyone Collection comprises three volumes of Lenten lectionary resources. Utilizing N.T. Wright's For Everyone Bible translation, this collection covers the three years of the Revised Common Lectionary. Originally begun as a project to encourage Lenten reading in the diocese of Durham, England, the volumes in this collection have become popular resources for a much broader Christian audience. Wright's accessible biblical translations and thoughtful reflections and prayers make this collection a valuable resource for getting the most out of the Lenten season.
With Logos Bible Software, these volumes are enhanced by cutting-edge research tools. Scripture citations appear on mouseover in your preferred English translation. Important terms link to dictionaries, encyclopedias, and a wealth of other resources in your digital library. Powerful topical searches help you find exactly what you're looking for. Tablet and mobile apps let you take the discussion with you. With Logos Bible Software, the most efficient and comprehensive research tools are in one place, so you get the most out of your study.
Key Features
Reading for each day of Lent from N.T. Wright's For Everyone Bible translation
Reflections and prayers for each day
Format suited to group or individual study
Individual Titles

This book gently takes the reader through the designated lectionary readings for every day of Lent and Easter. Each Bible reading is followed by a reflection and prayer that will help the readers ponder the relevance of Matthew's Gospel for their own lives.
Suitable for both individual and group study and reflection, Lent for Everyone: Matthew Year A will allow readers to make Matthew's Gospel their own, thoughtfully and prayerfully, through the Lenten season.
The trouble is that it is so good that the reader will find it hard to stop at the end of each day's reflection, but will want to read on.
—The Church Times

This volume focuses on the Gospel of Mark, taking the reader through the designated lectionary readings for every day of Lent and Easter. The New Testament passages are done by N.T. Wright, and each extract is followed by a freshly written reflection and a prayer that will encourage readers to ponder the relevance of Mark's Gospel for their own lives.
Lent for Everyone: Mark Year B is an ideal study companion that will help to make Lent a period of rich discovery and growth for both individuals and groups.
Like Mark's Gospel, Wright's pace gradually builds up, a massive locomotive steaming towards the 'perfect storm' of Holy Week and Easter, demanding a commitment costing not less than everything: 'We cannot be Easter people if we are not first Good Friday people and then Holy Saturday people.' A fitting end; and beginning.
—The Church Times

The first in a successful three-volume collection to encourage Lenten reading, Lent for Everyone: Luke Year C contains a reading for each day of Lent, chosen from Luke's Gospel, as well as a reflection by N.T. Wright to deepen readers' understanding of the Gospel and its relevance to their lives.
Well worth purchasing, especially since there is enough material here to keep most people going long after Lent.
—The Church Times
About N.T. Wright
N.T. Wright has been named by Christianity Today as one of today's top theologians. He earned a Bachelor of Arts in theology, Masters in Anglican ministry, and DPhil from University of Oxford.
He was a fellow and chaplain at Cambridge from 1978–1981, and then served as assistant professor of New Testament language and literature at McGill University in Montreal. Before becoming a chaplain, tutor, lecturer, and fellow at Oxford in 1986, Wright served as dean of Lichfield Cathedral, canon theologian of Westminster Abbey, and bishop of Durham. Wright is currently professor of New Testament and Early Christianity at St. Andrews University.
Some of Wright's titles, which are also published under the name Tom Wright, include Christian Origins and the Question of God Series, of which four more volumes are expected, and the For Everyone Series. Wright is also known for his scholarly contributions to the historical study of Jesus and the "New Perspective on Paul." The N.T. Wright Collection (48 vols.) combines 48 of Wright's works including the For Everyone Series, and Twelve Months of Sundays: Reflections on Bible Readings series.
More details about these resources