New Beacon Bible Commentary Upgrade 3 Collection (3 vols.)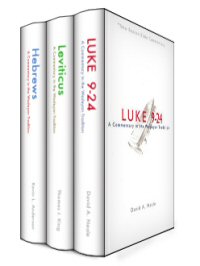 New Beacon Bible Commentary Upgrade 3 Collection (3 vols.)
•
Runs on Windows, Mac and mobile.
Overview
The New Beacon Bible Commentary is an engaging, indispensable reference tool to aid individuals in every walk of life in the study and meditation of God's Word. Written from the Wesleyan theological perspective, it offers insight and perceptive scholarship to help you unlock the deeper truths of Scripture and garner an awareness of the history, culture, and context attributed to each book of study. Readable, relevant, and academically thorough, it offers scholars, pastors, and laity a new standard for understanding and interpreting the Bible in the twenty-first century.
The Logos edition of the New Beacon Bible Commentary is designed to encourage and accelerate your study. These fully indexed texts enable near-instant search results for words, people, places, and ideas, while Scripture references appear on mouseover in your preferred translation. Logos' tablet and mobile apps let you take your study wherever you go. With the most efficient and comprehensive research tools all in one place, you can expand your study with just a few clicks.
Key Features
The Latest scholarship from notable experts in the Wesleyan tradition
Convenient introductory material for each book of the Bible including information on authorship, date, history, audience, sociological/cultural issues, purpose, literary features, theological themes, hermeneutical issues, and more
Clear verse-by-verse explanations offering contemporary Wesleyan understanding derived from the passage's original language
Comprehensive annotation divided into three sections:

Background elements behind the text
Verse-by-verse details and meanings found in the text
Significance, relevance, intertextuality, and application from the text

Insight into theological issues, word meanings, archaeological connections, historical relevance, cultural customs, and more
Expanded bibliography for further study of historical elements, additional interpretations, and theological themes
Individual Titles
The book of Hebrews is often regarded as the most rhetorically accomplished work in the New Testament. Its authorship has been debated since the earliest days of the church, and is considered unknowable my most modern scholars. Written to both Jews and Gentiles, Hebrews calls on Christians to persevere in Christ and expounds on Christ's role as mediator between God and man.
Kevin L. Anderson is assistant professor of New Testament at Asbury College. He holds a PhD from London School of Theology and an MDiv from Nazarene Theological Seminary.

Traditionally ascribed to Moses, Leviticus received its English title from the Greek Levitikon, which means "pertaining to Levites." It is a book about holiness that develops a theology about how humanity relates to God.
Thomas J. King is professor of Old Testament at Nazarene Bible College. He previously served as a Bible lecturer at St. Mary's College of California. He is an ordained elder in the Church of the Nazarene. King earned a BA from Northwest Christian College, an MDiv from Brite Divinity School, and a PhD from the Graduate Theological Union. He is the author of The Realignment of the Priestly Literature in the Prince Theological Monograph Series.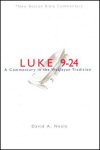 The Gospel of Luke features many well-known narratives that are not found in the other Gospel accounts. Among them are the prodigal son, the good Samaritan, and the story of Zachaeus. David Neale calls Luke's Gospel "the gospel of second chances," as Luke emphasizes Christ's offer of new life, regardless of past sin.
David Neale is vice-president and academic dean at Booth University College in Winnipeg, Manitoba. Previously, he served as vice president of academic affairs at Ambrose University College in Calgary, Alberta. He holds a BA in sociology from Idaho State University, and MA in biblical studies from Fuller Theological Seminary, and a PhD from the University of Sheffield, England.
Product Details
Title: New Beacon Bible Commentary Upgrade 3 Collection
Publisher: Beacon Hill
Volumes: 3
Pages: 915
More details about these resources