Mobile Ed: Elyse Fitzpatrick Bundle (3 courses)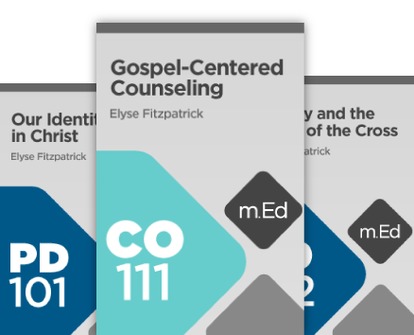 Mobile Ed: Elyse Fitzpatrick Bundle (3 courses)
•
Runs on Windows, Mac and mobile.
Overview
Whether you're the worship pastor or the Sunday school teacher, your ministry requires your unwavering identity in Christ. In these Mobile Ed courses, Elyse Fitzpatrick lays the groundwork to growing this Christocentric identity. Under her direction, you'll learn the importance of building Christ-centered identities in your leaders, your peers, and those whom God has entrusted to you—while at the same time, developing and growing your own. You'll learn the basics of Christian counseling through the ministry of Jesus' work on the cross, and discover the importance of God's Word in relational ministry.
These three courses—in counseling and personal and professional development—build the fundamental character principles every growing and learning Christian must have. Elyse Fitzpatrick brings over 24 years' of biblically-focused counseling to your education, helping you understand the importance of a rock-solid identity in Christ, and teaching you methods for imparting this knowledge to others.
Individual Courses
Learn theological and practical methods for focusing your counseling on Christ's redemptive work on the cross. In this course, Elyse Fitzpatrick shows how the gospel applies in everyday situations and emphasizes the power of God's Word to change lives. This course provides sample case studies that demonstrate how to best counsel and minister to broken and hurting people. Elyse Fitzpatrick imparts how the work of Christ can transform both your life and the lives of those you encounter.
Contents:
What Do You See?
Seeing Your Savior
God's Immeasurable Love
God's Love and Our Hearts
Gospel-Centered Counseling
The Gospel and Our Sanctification
The Gospel and Our Emotions
The Gospel and Our Relationships
God has the power to transform lives through his love. In this course, learn what the Bible says about our identity in Christ, including how we are chosen, justified, adopted, and delivered from darkness. Then examine the implications of our identity in Christ, including what we can believe about ourselves, how we can respond to others, and where we can place our hope. Whether you're a counselor, a pastor, or a new Christian, Elyse Fitzpatrick's lessons will be foundational for helping you cultivate a Christ-centered identity.
Contents:
How Does God Describe You?
Implications of Your Identity in Christ
What is idolatry, and how do we identify it? Elyse Fitzpatrick demonstrates how idolatry can destroy ministries and teaches key steps for leaders to identify idolatry before it takes root. Focusing on God's commands against idolatry in the Old and New Testaments, she illustrates how the worship of idols manifested in the lives of biblical characters. Fitzpatrick also covers how idolatry affects men and women in their unique callings and how Christ empowers us to overcome.
Contents:
You Shall Have No Other Gods Before Me
All People Are Tempted to Idolatry
The Gospel Call: Redeemed
Product Details
Getting the most out of Mobile Ed
Logos Mobile Education is a highly effective cross-platform learning environment that integrates world class teaching with the powerful study tools and theological libraries available in Logos Bible Software. Every course provides links to additional resources and suggested readings that supplement the lecture material at the end of every transcript segment.
About Elyse Fitzpatrick
Elyse Fitzpatrick has been counseling women since 1989. She is a member of the National Association of Nouthetic Counseling, a retreat and conference speaker, and is the head of Women Helping Women Ministries. Fitzpatrick has a certificate in biblical counseling from CCEEF in San Diego and an MA in biblical counseling from Trinity Theological Seminary.
She is the author of more than 15 books, including Love to Eat, Hate to Eat. Fitzpatrick has developed an extensive curriculum in biblical counseling and has trained students in both North and South America.
More details about these resources
Show More