Pre-Vatican II Divine Office and Daily Missal (2 vols.)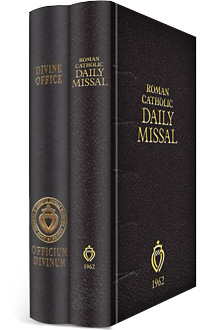 Pre-Vatican II Divine Office and Daily Missal (2 vols.)
Runs on Windows, Mac and mobile.
Your Custom Discount
Reg. Price $49.95
Pre-order Price $39.95
Your Price $39.95
You Save $10.00 20%
Your Price
What's Pre-Pub?
$39.95
Reg.: $49.95
Print: $105.90
Overview
Angelus Press' Daily Missal and Divine Office (2 vols.) contains over 2,000 pages of psalm-based prayers, liturgies, Masses, and devotions of the Catholic Church prior to the Second Vatican Council. These texts provide a key look at Catholic liturgy and prayer during a time of unprecedented change. This unique collection is ideal for devotional studies, liturgical reading, Psalms studies, and much, much more.
Logos gives you unique and intelligent ways to study these texts. With the exegetical and linguistic prowess of Logos Bible Software, every word in every text becomes a link to Latin and English dictionaries, commentaries, and other original-language resources. Study Latin side-by-side with the English text, and pull up your Latin dictionaries to brush up.
Key Features
Presents the missal, breviary, and devotions of the Catholic Church before 1962
Provides over 2,000 pages of prayer and liturgical writings
Individual Titles
1962 Roman Catholic Daily Missal
Publisher: Angelus Press
Publication Date: 2004
Pages: 1,980
After five printed editions, the most complete pre-Vatican II English missal comes to digital! Including everything you'd expect in a personal, portable missal, this comprehensive edition is complete with English (Douay–Rheims) and Latin (Clementine Vulgate) readings, prayers, liturgical calendars, and even the Gregorian notation on the music. Study along with this classic liturgical companion—at Church, at home, and on the road.
Contents
All the Masses of the Liturgical Year according to the Roman Calendar of 1962
Temporal and Sanctoral Cycles and accompanying rites (Blessing of Ashes, Blessing of Palms, Chrism Mass, and the Blessing of Holy Oils, etc.)
Supplements containing the additional Masses for the United States and Canada
Feasts of particular Religious Congregations
Liturgical calendar
Table of movable feasts updated to 2050 AD
Masses for the dead (including infants)
Complete burial service & prayers for the dead
Marriage service
Special commemorations
39 Votive Collects
17 Votive Masses
Common Masses of the saints and the Blessed Virgin
Conclusions of collects
Rite of Baptism
The churching of women
Rite of Confirmation
Rite of Extreme Unction
Various blessings
Vespers for Sundays and feasts
Compline for Sundays
Office of Tenebrae
The Itinerary (Office before a Journey)
Various devotions and prayers including favorite litanies, the Way of the Cross, prayers of the Rosary, and others
Morning and evening prayers
Devotions for Confession
Litany of the Saints
Devotions for Communion
Anthems to the Blessed Virgin
Hymns in honor of Our Lord and Our Lady
An explanation of "The Liturgy or Public Worship of the Catholic and Roman Church"
A summary of Christian doctrine
Kyriale with Tones for the Most Common sets of Masses
Tones for Asperges, Vidi Aquam, and three of the most common Credos—I, III, and IV
The Te Deum
And much, much more!
Divine Office
Publisher: Angelus Press
Publication Date: 2001
Pages: 221
Containing the breviary prayers of the Catholic Church, Angelus Press' Divine Office is the full text of the liturgy of prayers. This is an abridged translation for the most critical hours of the Divine Office prior to Vatican II. Designed for the layperson, it contains the Prime (morning prayer), Compline (night prayer), and Sext (middle-of-day prayer)—and all of the Sunday Hours (Lauds, Prime, Sext, Vespers, and Compline).
Contents
An 11-page introduction explaining the Divine Office and how to pray it, including guidelines on how to interpret the psalms in a Catholic manner
The prayers said before and after reciting the Divine Office
Melodies in Gregorian notation for those who chant the office in common
Timeless Latin with parallel English translations
Product Details
Title: Pre-Vatican II Divine Office and Daily Missal
Publisher: Angelus Press
Volumes: 2
Pages: 2,201