James D. G. Dunn Collection (5 vols.)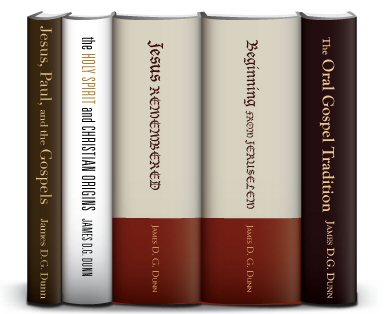 Overview
James Dunn is regarded as one of the most prolific New Testament scholars of the late twentieth and early twenty-first centuries. The James D. G. Dunn Collection brings together five groundbreaking works of New Testament scholarship. Study the origins of the early Christian movement, gain fresh perspectives on the oral tradition of Jesus' teachings, and investigate the early Christians' convictions concerning the Holy Spirit. Scholars, students, and anyone interested in early Christianity will find this collection a valuable addition to their digital library.
In the Logos editions, these volumes are enhanced by amazing functionality. Scripture and ancient-text references appear on mouseover in your preferred versions, and citations link to other resources in your Logos library. Important terms link to dictionaries, encyclopedias, and a wealth of other resources. Study on the go using tablet and mobile apps. With Logos Bible Software, the most efficient and comprehensive research tools are in one place, so you get the most out of your study.
Key Features
Five works of New Testament scholarship
Fresh perspectives on the early Christian movement
In-depth analysis of Paul's life and mission
Product Details
Title: James D. G. Dunn Collection
Publisher: Eerdmans
Volumes: 5
Pages: 3,413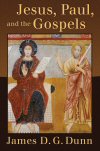 Jesus, Paul, and the Gospels brings together texts from three sets of lectures James Dunn gave in 2009 to Catholic and Jewish audiences in Italy, Spain, and Israel. The resulting book uniquely presents the Gospels to a Jewish audience and Paul to a Catholic audience—all from a scholarly Protestant perspective. Written to introduce well-informed people to unfamiliar topics, this book is ideal for readers and students of various backgrounds both within and beyond the Christian community.
Jesus, Paul, and the Gospels forms both a capstone and an introduction to Jimmy Dunn's groundbreaking works about the beginnings of Christianity. If I had only one volume to put in the hands of someone who asked, 'Where do I begin to read Dunn?' this would be the book.
—Scot McKnight, professor of New Testament, Northern Baptist Theological Seminary
In this clear and insightful book, James Dunn offers a concise yet panoramic view of the origins of the early Jesus movement—a subject in which he has long been a proven master.
—Bruce W. Longenecker, professor of religion and W. W. Melton Chair, Baylor University
Anyone seeking an introduction to Jesus, Paul, the Gospels, and their interconnections will find no better book than this. The fruit of a lifetime of research by a master scholar-teacher, it is vintage Dunn: clear, concise, creative, and credible.
—Michael J. Gorman, Raymond E. Brown Chair in Biblical Studies and Theology, St. Mary's Seminary and University
The Holy Spirit and Christian Origins comprises a selection of original essays written by 27 leading scholars, including Scot McKnight, I. Howard Marshall, and Joel B. Green. This volume probes deep into the nascent Christian communities and their writings and investigates the early Christians' convictions concerning the Holy Spirit. Ranging widely through Scripture and across early church history, many of these essays introduce groundbreaking research in biblical studies, and some engage directly with Dunn's work.
Graham N. Stanton (1940–2009) was professor of New Testament studies at King's College in London.
Bruce W. Longenecker is professor of religion and W. W. Melton Chair at Baylor University.
Stephen C. Barton is reader in New Testament, Department of Theology and Religion, Durham University, UK.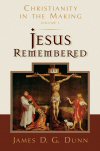 Jesus Remembered presents the lessons to be learned from the quest for the historical Jesus, focusing on the insights gained during this 200-year-old quest and assessing whether or not they are still valid, and, if so, to what degree? This book also argues that the Gospel traditions clearly portray the remembered Jesus, as they display how he impacted his first followers.
For decades James D. G. Dunn has been a leader in serious and balanced study of both Christology and history-of-Jesus research. I have profited greatly from his many books and articles, and I am delighted to read this massive distillation of his many years of reflection and publication on the historical Jesus. I highly recommend Jesus Remembered to all those interested in a thoughtful and methodologically sophisticated approach to the major questions that plague and stimulate historical-Jesus research today.
—John P. Meier, professor of New Testament, University of Notre Dame
Any serious student of the historical Jesus will want to become familiar with James Dunn's thorough and somewhat unique treatment of the subject. Dunn focuses his attention on characteristic features in the early traditions concerning Jesus in order to determine the impact that the latter had on his first followers. The portrait that emerges is both convincing and thought-provoking—an indispensable contribution to an ongoing quest to comprehend the significance of Jesus for the history of Christianity and for modern civilization.
—Mark Allan Powell, Robert and Phyllis Leatherman Professor of New Testament, Trinity Lutheran Seminary
A magnificent achievement. Jesus Remembered is massively thorough and wide-ranging, innovative in its stress on orality, at times provocative, yet also immensely readable and clear. James Dunn's book will undoubtedly shape Jesus study for the next generation and more. This is a 'must' for all those engaged in study of Jesus at whatever level.
—Christopher Tuckett, professor of New Testament, University of Oxford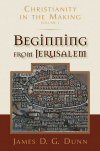 Beginning From Jerusalem: Christianity in the Making, vol. 2
Author: James D. G. Dunn
Publisher: Eerdmans
Publication Date: 2009
Pages: 1,370
Beginning from Jerusalem covers the early days of the Christianity from 30 to 70 AD. After outlining the quest for the historical church (parallel to the quest for the historical Jesus) and reviewing the sources, James Dunn follows the course of the movement stemming from Jesus.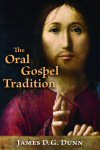 The traditions about Jesus and his teaching circulated in oral form for many years, continuing to do so for decades following the writing of the New Testament Gospels. The Oral Gospel Tradition, a collection of 15 essays by James Dunn, discusses such issues as the role of eyewitnesses and of memory, how the Jesus tradition was shaped by oral usage, and the importance of seeing the biblical materials not so much as frozen writing but as living tradition.
Over many years Jimmy Dunn has alerted us all to the importance of taking seriously the presence of oral tradition in and behind our present Gospels. This volume provides many of his key essays on that broad topic, including a number of responses to critiques by others. As with all of Dunn's work, the argument is invariably readable, persuasive, and compelling. This will be an invaluable resource for all those engaged in study of the Gospels, their sources, and their witness to the person of Jesus.
—Christopher Tuckett, professor of New Testament studies, University of Oxford
This book helpfully brings together a number of significant essays by a leading voice in the study of Jesus, the Gospels, and early Christian tradition. As indicated by the new and very helpful introduction, the collection not only surveys Dunn's own voluminous work on the topic but also serves, in many respects, as a recent history of research, tracing trends in the evolution of study on the media history of early Christianity.
—Tom Thatcher, professor of New Testament, Cincinnati Christian University
For more than 35 years, James Dunn has been a leading voice in New Testament studies regarding the role of oral tradition in the formation of Gospel narratives. This volume affords Dunn the opportunity to respond to criticisms of his various proposals and so to present time-honored ideas afresh for a new generation. Anyone who seeks to understand the Gospels as a living tradition will appreciate this book and benefit from Dunn's rich contributions to the field.
—Mark Allan Powell, Robert and Phyllis Leatherman Professor of New Testament, Trinity Lutheran Seminary
About Jame D. G. Dunn
More details about these resources