Drawn From Shadows Into Truth: A Memoir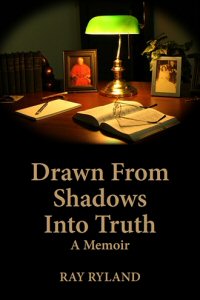 Drawn From Shadows Into Truth: A Memoir
•
Runs on Windows, Mac and mobile.
Your Custom Discount
Reg. Price $12.95
Pre-order Price $10.95
Your Price $10.95
You Save $2.00 15%
Your Price
What's Pre-Pub?
$10.95
Reg.: $12.95
Print: $15.95
Overview
A fascinating autobiography in the spirit of John Henry Newman, Drawn from Shadows Into Truth is the story of how Ray Ryland, a married minister in the Disciples of Christ, came to be an ordained priest in the Catholic Church. This captivating narrative of Father Ryland's quest for Jesus Christ and the Church is a spiritual and intellectual adventure. Follow his story as he moves from a poor Oklahoma farm boy to a naval officer to a Protestant minister to a Harvard lawyer to a married Catholic priest with five children, 22 grandchildren, and three great-grandchildren. Ryland's story will keep you riveted from start to finish.
With Logos Bible Software, it's easier than ever to use this valuable resource. Drawn from Shadows Into Truth integrates seamlessly with your digital library, so you can access it from your desktop, tablet, or smartphone. All Scripture references link directly to the text of the Bible, making your study scripturally sound and rewarding.
Key Features
Discusses Ray Ryland's conversion to the Catholic faith
Highlights an abiding concern for Christian unity
Focuses on the issue of authority
Contents
Part 1: Long Journey Home

Pilgrim Roots
Christian Roots
Off to War.
Vocation Unfolding
Vocation on Fire
Heading for Seminary
Shedding My Unitarianism
My First Ordination
Discovering Anglicanism
More Wakeup Calls
Waning Anglo-Catholicism
Home At Last!

Part 2: Being Catholic

Toward Holy Orders
Reflections on Pilgrimage
Retrospect: Terrains Traversed (1)
Retrospect: Terrians Traversed (2)
Submission to Rome
Does Being Catholic Make a Difference?
No Salvation Outside the Church?
Priestly Celibacy
Praise for the Print Edition
Fr. Ray Ryland's Drawn from Shadows Into Truth combines the fascinating story of how a minister in the disciples of Christ eventually came to the fullness of Christianity in the Catholic Church together with some excellent apologetics. This splendid book will stimulate those who already have the faith and enlighten those seeking for the truth.
—Ian Ker, professor of theology, University of Oxford
One of the most amazing men I've ever known. . . . Full of practical wisdom and profound theological insight, Drawn from Shadows Into Truth is more than a conversion story; it is a testimony to how God's amazing grace empowered a very faithful disciple to become an extraordinarily fruitful apostle. Highly recommended.
—Scott Hahn, founder and president, St. Paul Center for Biblical Theology
I set aside most conversion stories after reading the first few pages, rejoicing to know that the Church has a new member but not rejoicing enough to plow through the rest of the tale. . . . What a delight it is, then, to pick up—and to be unable to put down—such a well written memoir as Fr. Ray Ryland's! . . . I can't remember when I last came across a conversion account that made me wish I had been peering over the author's shoulder the entire time. . . . This is a story of spiritual and intellectual adventure.
—Karl Keating, founder and president, Catholic Answers
Fr. Ryland has been a dear friend and spiritual guide for many years, but hearing more of the details of his journey has reinforced even more his role as a cherished mentor for all of us on the journey home. Drawn from Shadows Into Truth is a captivating (and agonizing) narrative of a man's quest for God and truth—from a poor Oklahoma farm boy to a naval officer to a Protestant minister to a university professor to a Harvard lawyer to a married Catholic priest . . . what a story this is! Get it. Read it. Enjoy it!
—Marcus Grodi, founder and president, Coming Home Network International
Product Details
Title: Drawn From Shadows Into Truth: A Memoir
Author: Ray Ryland
Publisher: Emmaus Road
Publication Date: 2013
Pages: 256
About Ray Ryland
Ray Ryland was an Episcopal clergyman for 13 years and in 1963 was received into the Catholic Church. Twenty years later, he was ordained to the priesthood of the Catholic Church, with a dispensation from the rule of celibacy under the Pastoral Provision.
Ryland served as professor of theology at the University of San Diego and as adjunct professor of theology at Franciscan University of Steubenville. He has been chaplain and board member of Catholics United for the Faith and the Coming Home Network International for over a decade.
Ryland earned his bachelor's degree from Phillips University, his master's of divinity degree from Harvard Divinity School and Union Theological Seminary, his doctorate in religious studies at Marquette University, and he also studied at Columbia University, Virginia Theological Seminary, University of the South, and the University of San Francisco. In 1975, he received his law degree from the law school at the University of San Diego and was admitted to California Bar Association.
Sample Pages from the Print Edition