Moral Perspectives on Society and Politics (11 vols.)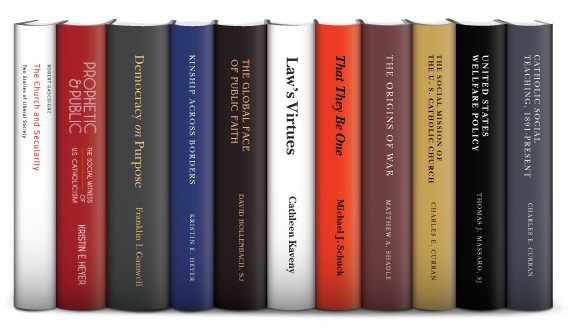 Moral Perspectives on Society and Politics (11 vols.)
•
Runs on Windows, Mac and mobile.
Your Custom Discount
Reg. Price $244.95
Pre-order Price $179.95
Your Price $179.95
You Save $65.00 26%
Your Price
What's Pre-Pub?
$179.95
Reg.: $244.95
Print: $306.45
Overview
Moral Perspectives on Society and Politics explores a variety of relevant social issues and establishes a Catholic perspective on each of those issues. The texts examine Catholic approaches to war, justice, human rights, U. S. welfare policy, and other timely political issues. Ultimately these texts seek to unify and uplift the Church, helping Christianity to see God's will in the midst of issues so rife with political bias.
The Moral Traditions Series by Georgetown University Press places contemporary moral issues in conversation with theologians to engage the church with the world. The texts included in this collection explore the moral traditions of the church and bring historical views into new light. The Logos edition of the Moral Traditions Series is comprised of five collections: Moral Perspectives on Feminism (3 vols.), Moral Perspectives on Sex, Family, and Bioethics (7 vols.), Fundamental Issues in Moral Theology (17 vols.), Moral Theologians Collection (10 vols.), and Moral Perspectives on Society and Politics (11 vols.).
In the Logos editions, these valuable volumes are enhanced by amazing functionality. Scripture citations link directly to English translations, and important terms link to dictionaries, encyclopedias, and a wealth of other resources in your digital library. Perform powerful searches to find exactly what you're looking for. Take the discussion with you using tablet and mobile apps. With Logos Bible Software, the most efficient and comprehensive research tools are in one place, so you get the most out of your study.
Key Features
Provides a Catholic perspective on political issues
Explores issues like war, justice, human rights, and U. S. welfare policy
Examines the Catholic Church's current and historical role in society and politics
Individual Titles
The Church and Secularity argues that the Church can serve liberal societies in a positive way and that its own social identity, rooted in Eucharistic communities, must be bound up with the struggle for human rights and resistance to the commodification of the human in all its forms. Drawing on the theology of St. Augustine and Vatican II, Robert Gascoigne considers the meaning of secularity as a shared space for all citizens, asking how the Church can contribute to human dignity and human rights.
An engaging vision of how the Christian community can help liberal modernity live up to its positive potential. By nurturing the virtues of humility, reverence, and hope among citizens, the church will contribute desperately needed support for human dignity and human rights. A valuable theological contribution to current debates in moral and political theory.
—David Hollenbach, SJ, Boston College
Gascoigne's engagement with contemporary liberal society is both challenging and generous. In a highly accessible and sympathetic way, he presents an interpretation of both the best and worst aspects of liberalism. Theologians may find some of their negative assessments of liberalism challenged by Gascoigne's robust theological vision; whilst those secularists who are keen to marginalize religious voices, should find the theological description of the ills of modern society uncomfortably illuminating.
—Christopher Insole, department of theology and religion, Durham University UK
Robert Gascoigne is a professor and head of the school of theology at Australian Catholic University. He is the author of The Public Forum and Christian Ethics and Freedom and Purpose: An Introduction to Christian Ethics.
Prophetic & Public approaches the relationship between public morality and religious commitment through the example of the Catholic Church. Kristin Heyer looks at two prominent Catholics—Michael Baxter and Bryan Hehir—as a way of discussing norms for practice of public theology. Heyer also analyzes case studies of three U.S. Catholic advocacy groups: The U.S. Conference of Catholic Bishops, NETWORK, and Pax Christi USA. Through her analysis she shows the various ways that the organizations' Catholic identity impacts their social and political efforts. From her investigations come norms that define possibilities and limits for political actions based on religious conviction.
Winner of the 2006 College Theology Society's Best Book Award
Heyer's careful work opens up fresh avenues of conversation about the possibilities and limits of public theology by developing a vision of social witness rooted in the hope of common ground.
—Margaret Pfeil, assistant professor of theology, University of Notre Dame
With careful attention to particular and well-chosen scholarly voices and advocacy groups, the author succeeds in presenting a study that is, as claimed, critical, comparative and constructive.
—David O'Brien, professor of Roman Catholic studies, College of Holy Cross
I have taught and written on many of the issues Heyer covers but have never been able to put together, in such a concise and clear manner, the relevant theory, practice and ethical guidelines. The combination is quite impressive. I would use it in a course I taught on religion and politics and recommend it highly to students.
—John A. Coleman, SJ, Casassa Professor of Social Values, Loyola Marymount University
This is an important book, one that despite U.S. focus would be very useful in other contexts . . . In addition, it is pleasant (and all too rare with academic studies) to find that the book is well written and could be read profitably and without difficulty by nonacademics.
—Theological Studies
Kristin E. Heyer is Bernard J. Hanley Professor of Religious Studies at Santa Clara University.
Democracy On Purpose: Justice and the Reality of God
Author: Franklin I. Gamwell
Series Editor: James F. Keenan
Series: Moral Traditions Series
Publisher: Georgetown University Press
Publication Date: 2001
Pages: 376
Western moral and political theory in the last two centuries has widely held that morality and politics are independent of a divine reality. Claiming that this consensus is flawed, prominent theologian Franklin I. Gamwell argues that there is a necessary relation between moral worth and belief in God. Without appealing to the beliefs of any specific religion, Gamwell defends a return to the view that moral and political principles depend on a divine purpose.
Engaging in a dialogue with such major representatives of the dominant consensus as Kant, Habermas, and Rawls, and informed by the philosophical writings of Alfred North Whitehead, this book makes the case for a neoclassical metaphysics that restores a religious sensibility to our political life.
A most worthwhile addition to any college or university library.
—Religious Studies Review
Democracy on Purpose succeeds in redeeming the claim that metaphysical theism is a necessary basis for political theory, and in showing that 'democracy depends on a divine purpose' favoring justice. This is a uniquely important contribution to political theory and an appropriate follow-up to his redemption of claims for the necessity of metaphysical theism in moral theology.
—Journal of Religion
Franklin Gamwell wrestles with giants. In weaving his powerful argument that democracy and justice must rest on a comprehensive theistic teleology, he engages critically but respectfully with Aquinas, Kant, Reinhold Niebuhr, Habermas, Apel, and Rawls. Gamwell's resulting position is both intellectually and historically engaged.
—Ronald M. Green, Eunice and Julian Cohen Professor for the Study of Ethics and Human Values, Dartmouth College
Franklin I. Gamwell is professor of religious ethics at the University of Chicago Divinity School. His books include The Meaning of Religious Freedom: Modern Politics,Democratic Resolution, The Divine Good: Modern Moral Theory, and Necessity of God
Kinship Across Borders analyzes contemporary US immigration in the context of fundamental Christian beliefs about the human person, sin, family life, and global solidarity. Kristin Heyer expertly demonstrates how current US immigration policies reflect harmful neoliberal economic priorities, and why immigration cannot be reduced to security or legal issues alone. Rather, she explains that immigration involves a broad array of economic issues, trade policies, concerns of cultural tolerance and criminal justice, and, at root, an understanding of the human person.
Winner of the 2013 Third Place Award for Catholic Social Teaching at the Catholic Press Association Book Awards
Kinship Across Borders presents a powerful analysis of the injustice of the current immigration system and an engaging alternative based on human solidarity and Christian commitment. It will inspire action that can make a difference.
—David Hollenbach, SJ, university chair in human rights and international justice, Boston College
Impressive for its interdisciplinary scholarship, powerful stories, and clear argumentation, Kinship Across Borders will prove useful for a wide readership, including politicians, pastoral workers, and students and professionals in the field of theological ethics.
—Anne Patrick, William H. Laird Professor of Religion and the Liberal Arts, emerita, Carleton College
In an immigration debate dominated by economic and utilitarian approaches, Heyer's brilliant work opens up the ethical terrain and reminds us that what we need is not only more information but a new imagination. As she looks at the human costs of the migrant in light of the Christian tradition, she calls us to examine not only how people cross political borders but also how they might cross the walls and barriers that exists in the human heart.
—Daniel G. Groody, CSC, associate professor of theology, University of Notre Dame
Kinship Across Borders is a necessary text for university libraries that maintain collections in Theology, Politics, Law or Philosophy. It should be read by anyone interested in finding solutions to the immigration problems we all face today.
—Catholic Library World
Kristin E. Heyer is Bernard J. Hanley Professor of Religious Studies at Santa Clara University.
The Global Face of Public Faith addresses the hotly debated question of the role religion should play in politics in both the American and international contexts. David Hollenbach, SJ, engages the fear that public religion threatens American democracy and could lead to a global clash of civilizations or new religious wars. Hollenbach argues that Christianity can attain common ground with other religious communities, thus becoming a force for peace and human rights.
. . . Hollenbach presents us with an excellent and finely drawn work on the role of Christian ethics in this debate. When reflection on moral judgment and courage are called for, this work presents a context and a call.
—Gregorianum
These important essays show that no one has a better grasp than David Hollenbach of the significant issues involved in the role of the church and religion in a pluralistic society in the light of both the Catholic tradition and the broad contemporary debate in the United States. We are all in his debt.
—Charles E. Curran
David Hollenbach, SJ, holds the Margaret O'Brien Flatley Chair in Catholic Theology at Boston College, and is the author of several books on ethics, including Catholicism and Liberalism and The Common Good and Christian Ethics.
According to Cathleen Kaveny, the law is best understood as a moral teacher encouraging people to act virtuously, rather than a police officer requiring them to do so. In Law's Virtues Kaveny expertly applies this theoretical framework to the controversial moral-legal issues of abortion, genetics, and euthanasia. In addition, she proposes a moral analysis of the act of voting, in dialogue with the election guides issued by the US bishops. Moving beyond the culture wars, this bold and provocative volume proposes a vision of the relationship of law and morality that is realistic without being relativistic and optimistic without being utopian.
Winner of the 2013 First Place Award for Faithful Citizenship at the Catholic Press Association Book Awards
[Kaveny's] scholarly, thoughtful, well-written, balanced exposition of the complex issue of the role of law and its application to the burning issues of abortion, euthanasia, and genetics is must reading for all those interested in this contemporary discussion.
—Charles Curran, Elizabeth Scurlock University Professor of Human Values, Southern Methodist University
Through an impressive analysis that draws on her scholarly training in law and theology, Kaveny argues for a more nuanced view of how law can function as a moral teacher in a pluralistic society, reminding us that good lawmaking is practical, not merely theoretical, and the laws we make must teach lessons to ordinary people, not saints.
—Veinvent Rougeau, dean, Boston College Law School
Cathleen Kaveny's Law's Virtues offers a lively, carefully nuanced, freshly creative approach to law and morality in a pluralistic society. Here is a major contribution to substantive dialogue and debate on controversial issues, and a welcome model of respect for conversation partners.
—Margaret Farley, Gilbert L. Stark Professor Emerita of Christian Ethics, Yale University School
Moving beyond the 'culture wars' model of political engagement, Cathleen Kaveny digs deep in Law's Virtues to deliver a must read for anyone who cares about the relationship of law and morality in our pluralistic society.
—America Magazine
Cathleen Kaveny is John P. Murphy Foundation Professor of Law and a professor of theology at the University of Notre Dame. She holds a JD and a PhD in religious ethics from Yale University. She is a regular columnist for Commonweal.
That They Be One offers a textually inclusive and topically broad-gauged review of Catholic social teaching in its historical development, with a forthright assessment of its regrettable contradictions as well as of its valuable consistencies.
Schuck's volume will be indispensable for those interested in the theological grounding and coherence of Catholic social teaching.
—America
Michael J. Schuck is an associate professor of theology at Loyola University in Chicago and the former director of the Joan and Bill Hank Center for the Catholic Intellectual Heritage.
In The Origins of War, Matthew A. Shadle examines several sources to better understand why war happens. Shadle retrieves biblical literature and the teachings of figures from church tradition to set the course for the book, then explores the growing awareness of historical consciousness within the Catholic tradition—the way beliefs and actions are shaped by time, place, and culture. He examines the work of contemporary Catholic thinkers like Pope John Paul II, Jacques Maritain, John Courtney Murray, Dorothy Day, Brian Hehir, and George Weigel, and then advocates for constructivism.
Shadle offers a new and potentially fruitful avenue for our understanding of war-and ultimately to the appreciation of a just peace . . . The book may be recommended for programs in peace studies and graduate and seminary libraries.
—Patrick Hayes, Catholic Library World
This book stands apart from other recent books on Catholicism and war by engaging the modern theology of nature and grace as well as the international relations theory of constructivism. All those interested in the theology, ethics, philosophy, and politics of war and peace will find value in Shadle's potent analysis.
—Brian Stiltner, associate professor of religious studies, Sacred Heart University
Matthwe Shadle is an assistant professor of moral theology at Loras College in Dubuque, Iowa
Charles E. Curran explores the social mission of the U.S. Catholic Church from a theological perspective, analyzing and assessing four aspects: the importance of social mission, who carries it out, how it is carried out, and the roles that the Church and individual Catholics play in supporting these efforts. The Social Mission of the U.S. Catholic Church describes the proper role of bishops, institutions, and movements in the Church, but insists that the primary role belongs to all the baptized members of the Church as they live out the social mission in their daily lives.
Winner of the Third Place Award for Social Concerns at the Catholic Press Association Book Awards
Curran has given us a book to motivate and guide us in this mission. Anyone who wants to see how the social teaching of the church can come to life ought to read it.
—America Magazine
Father Curran reminds us that any church that would call itself Catholic must first preach and practice justice.
—U. S. Catholic
Thoroughly researched and documented, featuring reliable judgements at every turn, this volume belongs in every Catholic library. Displaying a lively style of presentation and extremely clear organization, this eminently readable work deserves a wide audience.
—American Catholic Studies
A work of fine scholarship that skillfully ranges over a complex set of topics. It is clearly and accessibly written and geared toward a general theological readership.
—Missiology
Father Curran opens up the trajectories of the social mission of the Catholic Church over the last 300 years with the goal of clarifying the theological and ecclesial challenges before us at the present time. A 'must read' for Catholics who would venture into the fray of public policy debate.
—Marvin L. Mich, STD, director of social policy, Catholic Family Center
Charles E. Curran is the Elizabeth Scurlock University Professor of Human Values at Southern Methodist University. He has served as president of three national societies: the American Theological Society, the Catholic Theological Society of America, and the Society of Christian Ethics. He has written or edited more than forty books, including The Origins of Moral Theology in the United States.
The Welfare Reform Act of 1996 drastically changed the delivery of social services in the United States for the first time in sixty years. More than a decade later, according to Catholic social ethicist Thomas Massaro, a disturbing gap exists between the laws we have enacted as a nation and the moral concerns we profess as a people.
Honorable Mention for the 2008 Social Concerns Award at the Catholic Press Association Book Awards
[A] valuable resource in setting out what religious social ethics require of a more just welfare policy.
—Politics and Religion
This new volume should set moral theology on a new course with its detailed integration of Catholic social teaching and the concrete realities of welfare policy in America.
—John T. Pawlikowski, OSM, Catholic Theological Union
The distinctiveness of this text is that it constitutes an excellent case study of how to connect the ethical principles of a faith-based tradition to a specific public policy.
—John Francis Burke, professor of political science, University of St. Thomas
This volume thoughtfully blends a discussion of Catholic social teaching and American social welfare politics, in an effort to explain the relationship between doctrine, episcopal advocacy, and national policymaking. It is well written, thoroughly researched, and rich in its content. United States Welfare Policy makes an important contribution to the fields of policy-making, legislative politics, Christian ethics, and moral theology, and it should be of interest to specialists across those fields.
—Elizabeth Oldmixon, associate professor of political science, University of North Texas
Thomas J. Massaro, SJ, is a Jesuit priest of the New England Province and an associate professor of moral theology at Weston Jesuit School of Theology in Cambridge, Massachusetts. He is the author of Living Justice: Catholic Social Teaching in Action and coeditor of American Catholic Social Teaching.
Charles E. Curran offers the first comprehensive analysis and criticism of the development of modern Catholic social teaching from the perspective of theology, ethics, and church history. Curran studies the methodology and content of the documents of Catholic social teaching, generally understood as comprising twelve papal letters beginning with Leo XIII's 1891 encyclical Rerum novarum, two documents from Vatican II, and two pastoral letters of the U.S. bishops.
Intended for scholars and students of Catholic social ethics, as well as those involved in Catholic social ministry, this volume will also appeal to non-Catholic readers interested in an understanding and evaluation of Catholic social teaching.
[Curran] is a master teacher whose writing gives wonderfully clear expression to the careful, comprehensive, and yet critical approach he brings to theological ethics.
—Journal of the American Academy of Religion
Curran's strongest book in years. It is a fresh, original, and balanced analysis, one that shows Curran's careful scholarship and discerning judgments in a striking way. It may create more controversy for Curran, but its existence is an argument for academic freedom as well as the values promoted in Catholic social teaching. It is a welcome addition to Curran's mature work and deserves wide attention inside and outside the tradition in which he writes.
—Journal of Religion
This work by Charles E. Curran is scholarly, accessible, and committed. The presentation of the content and methodologies of Catholic social teaching is energetic and insightful. His own proposals regarding both possible future developments and the resolution of existing tensions are constructive and engaging.
—Irish Theological Quarterly
[A] valuable contribution to the study of Catholic social thought that will be informative to the historian and moral theologian alike . . . insightfully conveys both the strengths and limitations of a major strand of Christian ethical deliberation.
—American Catholic Studies
Charles E. Curran is the Elizabeth Scurlock University Professor of Human Values at Southern Methodist University. He has served as president of three national societies: the American Theological Society, the Catholic Theological Society of America, and the Society of Christian Ethics. He has written or edited more than forty books, including The Origins of Moral Theology in the United States.
Product Details
Title: Moral Perspectives on Society and Polics
Series Editor: James F. Keenan
Series: Moral Traditions Series
Publisher: Georgetown University Press
Volumes: 11
Pages: 2,888
About James F. Keenan
James F. Keenan has been a Jesuit of the New York Province since 1970 and an ordained priest since 1982. He is a member of the board of directors for the Catholic Theological Society of America, a fellow of the Institute for Advanced Studies in Humanities at the University of Edinburgh, and a fellow of the Center of Theological Inquiry at Princeton. He has published numerous articles in scholarly journals including Theological Studies, Journal of Moral Theology, and the Asian Christian Review. His published books include The Ethics of the Word: Voices in the Catholic Church Today, Moral Wisdom: Lessons and Texts from the Catholic Tradition, and Goodness and Rightness in Thomas Aquinas's Summa Theologiae.