Baker Studies in Counseling Collection (9 vols.)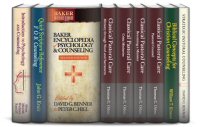 Baker Studies in Counseling Collection (9 vols.)
•
Runs on Windows, Mac and mobile.
Overview
The Baker Studies in Counseling Collection brings together nine volumes as a resource for biblically sound counseling. Seamlessly integrating theology and modern psychology, this collection is a treasury of insight into pastoral care and the nature of a counseling relationship. You'll also learn about Christian perspectives on, and applications of, psychology, and dive into Scripture that comforts and inspires those in crisis. Christians in the helping professions will find these volumes useful in developing a counseling approach that's congruent with their faith.
The Logos Bible Software edition of the Baker Studies in Counseling Collection is designed to encourage and stimulate your study and understanding of Christian counseling. Scripture passages link directly to your English translations and original-language texts, and important counseling concepts link to dictionaries, encyclopedias, and a wealth of other resources in your digital library. In addition, you can perform powerful searches by topic and find what other authors, scholars, and theologians have to say about crisis, psychology, and pastoral care.
Key Features
Biblically sound principles for Christian counseling
Guides to pastoral care
Practical applications for those in the helping professions
Individual Titles
This explanation of classic theory features many relevant essays on persons, ideas, and applications. Not only is the text organized according to introductory counseling courses, but it is also a reference tool of enduring value.
Paul D. Meier is a nationally recognized psychiatrist and the founder of Meier Clinics, with over thirty clinic programs located throughout the country.
Frank Minirth is a diplomat of both the American Board of Psychiatry and Neurology and the American Board of Forensic Medicine. He holds doctoral degrees in both theology and medicine. Dr. Minirth has been in private practice in the Dallas area since 1975. He has degrees from Arkansas State University, Arkansas School of Medicine, and Dallas Theological Seminary. He is president of the Minirth Clinic, P.A., in Richardson, Texas, and consultant to the Minirth Christian Program at Green Oaks Behavior Healthcare Services. He is also adjunct professor in the Pastoral Ministries and Counseling Department at Dallas Theological Seminary. Dr. Minirth is heard nationally on radio and television, and he has authored or co-authored approximately 60 books, including the best-sellers Happiness Is a Choice, Love is a Choice, and Love Hunger.
Frank B. Wichern is a clinical psychologist in Richardson, Texas.
Donald E. Ratcliff is Price-LeBar Professor of Christian Education at Wheaton College. He has authored several books and academic papers in the field of child development.
Quick Scripture Reference for Counseling
Author: John G. Kruis
Publisher: Baker
Publication Date: 1994, 1997
Pages: 256
Quick Scripture References for Counseling is a handy reference tool for counselors, pastors, and teachers that lists applicable Scripture on a wide range of 93 topics, including adultery, alcohol, bitterness, church discipline, depression, fear, homosexuality, lust, mixed marriages, priorities, temptation, waiting on the Lord, and many others. This tool has been widely used to help assist those with emotional and spiritual needs and in preparation for sermons and classes.
John G. Kruis was a pastor and the founder of the Biblical Counseling Center in Jenison, Michigan.
Baker Encyclopedia of Psychology and Counseling
Editor: David G. Benner and Peter C. Hill
Ediion: 2nd
Publisher: Baker
Publication Date: 1999
Pages: 1,278
The Baker Encyclopedia of Psychology and Counseling incorporates the latest findings from the most capable authors on key topics, issues, and movements in the field of psychology. With over 1,400 entries (articles and cross-references), this massive volume has everything the Christian psychologist or counselor needs to identify disorders, trends, techniques, and other essential concepts. Each article has been reviewed for the second edition to reflect the current literature in the field.
An all-star cast of Christian psychologists offer state-of-the-art synopses of their field's major concepts, theories, and therapies. A valuable resource for any Christian student, scholar, or practitioner of psychology.
—David Myers, professor of psychology, Hope College
A classic has just become better! The substantial content of this new edition will make it an even more useful treasure-house of information for the Christian mental health professional.
—James R. Beck, Denver Seminary
The second edition of The Baker Encyclopedia of Psychology and Counseling , written from a Christian perspective, is a great resource and reference work. Editors David Benner and Peter Hill are to be commended for a job well done!
—Siang-Yang Tan, professor of psychology, Fuller Theological Seminary
The 2nd edition of The Baker Encyclopedia of Psychology and Counseling is a comprehensive compendium of knowledge about psychology written by noted experts. Coverage is up-to-the-minute. This will be an invaluable reference book for years. I heartily recommend it to practicing mental health professionals, academicians, trainees, and libraries.
—Everett L. Worthington Jr., professor of psychology, Virginia Commonwealth University
I have always held this work in the highest regard and consider it to be one of the decade's most invaluable resources. It is exceptionally comprehensive, and the second edition even surpasses the first. What I particularly value about the encyclopedia is that it is a phenomenal resource for integrating psychology and theology. The contributors are all outstandingly integrative and not only present the facts about psychology but critique these facts forthrightly and helpfully. Any Christian concerned for the truth about the human condition, not just those in the helping professions, will find this outstanding publication a great resource. I certainly have. Aside from its value to Christians I believe the encyclopedia is also a great resource for all psychologists and counselors. In fact I have recommended it to some of my non-Christian contacts on several occasions.
—Archibald D. Hart, professor of psychology, Fuller Theological Seminary
Since 1985 The Baker Encyclopedia of Psychology and Counseling has been the single-volume reference for a comprehensive treatment from a Christian perspective. With this second edition the best is now better. David Benner and Peter Hill are pillars of academic integrity (and endurance) in the integration field.
—Gary W. Moon, president, Psychological Studies Institute
The Baker Encyclopedia of Psychology and Counseling is a must-have reference tool for Christian counseling professors, clinicians, pastors, and students.
—Timothy Clinton, president, American Association of Christian Counselors
The Baker Encyclopedia of Psychology and Counseling is a must for any person involved in pastoral or Christian counseling. Not only does this second edition contain what one would expect in an encyclopedia, but it also includes articles to bless and equip the counselor. . . . I heartily recommend this valuable tool. It is a must for any serious counselor's library and will be of use for many years to come.
—Tom Gill, Ministries Today
The Baker Encyclopedia of Psychology and Counseling factually presents the major current findings in the field, treated comprehensively from a Christian point of view.
—Journal of Christian Healing
David G. Benner (PhD, York University; CPsych, College of Psychologists of Ontario) is professor of psychology at Redeemer College. Dr. Benner serves as chief psychologist for a children's mental health center and is the founding director of the Institute for Psychospiritual Health. He has written numerous books, including Strategic Pastoral Counseling and Care of Souls.
Peter C. Hill (PhD, University of Houston) teaches psychology at Grove City College. He has published a number of scholarly articles.
Ministry through Word and Sacrament reviews the range of pastoral task: pastoral care through preaching and worship, pastoral care through the ministries of baptism and Eucharist, the pastor as educator of the soul, the teaching office, the office of administry (i.e., of that which moves towards ministry), and the nurturing of Christian community in mission to the world.
Thomas C. Oden is Henry Anson Buttz Professor of Theology at the Theological School, Drew University. He received his PhD from Yale University.
Crisis Ministries tackles crucial situations in which pastors are often called to respond to urgent and specific challenges: care of the sick, the management of pain, the struggle with the meaning of suffering, pastoral visitation of families, interpersonal crises, conflict resolution, care of the emotionally ill, alcoholism, vocational counseling, suicide counseling, premarital, marital and family counseling; care of the poor, care for the terminally ill, and care for the dying and the grieving.
Thomas C. Oden is Henry Anson Buttz Professor of Theology at the Theological School, Drew University. He received his PhD from Yale University.
Becoming a Minister is concerned with the person and self-understanding of the caregiver. It discusses the call to the caring office, the way this inner sense of calling is affirmed in ordination, orders of ministry, set-apartness, and the shepherding metaphor. This is followed by discussions of authorization to servant ministry; the purpose of ministry; the relation of the general ministry of the whole church to the sacred or ordained ministry; the orders of diakonos, presbuteros, episkopos; women in ministry; and preparation for ministry through study and spiritual formation.
Thomas C. Oden is Henry Anson Buttz Professor of Theology at the Theological School, Drew University. He received his PhD from Yale University.
Pastoral Counsel deals directly with the nature of the counseling relationship, the metaphors of soul care (from medicine, guidance, and education), the elements of a therapeutic relationship, the timing of good counsel, pastoral discernment, language and silence in counsel, truth-telling and deception, admonition and discipline, care of the conscience, anticipations of modern psychotherapy by classical writers, and dynamics of the self-alienating will.
Thomas C. Oden is Henry Anson Buttz Professor of Theology at the Theological School, Drew University. He received his PhD from Yale University.
In Biblical Concepts for Christian Counseling, William Kirwan sounds a clarion call for a thorough integration of psychology and theology and demonstrates how biblical principles should be the cornerstone of any healthy Christian counseling ministry.
Worthy reading for anyone who is seriously interested in relating psychology to Christian theology and who is deeply concerned to develop an approach to counseling congruent with Christian truth. The author has done his homework, integrating careful theological reflection with solid psychological theorizing and clinical experience. The result is a most significant contribution to the development of a truly Christian psychology.
—David G. Benner, distinguished professor of psychology and spirituality, Psychological Studies Institute
Dr. Kirwan draws from Scripture, clinical experience and psychological literature in his exposition of the counseling theory and practice which he has developed. In this easy-to-read volume Scriptures come alive, and relate as never before to our experiences as broken selves in a broken world. Moreover, Kirwan brings to light insights from contemporary psychology and from Christian thinkers. . . . Biblical Concepts challenges many of our notions and attitudes, daring us to be more biblical in our preaching and counseling.
—John W. Sanderson, professor emeritus of biblical theology, Covenant Theological Seminary
William T. Kirwan (PhD, St. Louis University; DMin, Union Theological Seminary) is a licensed psychologist at Psychiatric Associates in St. Louis as well as an ordained minister for an Evangelical Presbyterian Church.
Since its publication a decade ago, Strategic Pastoral Counseling has been a standard text for pastoral counseling classes and a practical resource for parish clergy. This user-friendly book has been thoroughly revised and now includes two new chapters. Benner includes helpful case studies, an appendix on contemporary ethical issues, and extensive chapter bibliographies. Benner maintains that clergy are uniquely positioned in their pastoral roles to combine the therapeutic approach of modern counseling with the framework of classic Christian soul care. This practical handbook will be a useful guide for any pastoral counseling ministry.
A model for strategic pastoral counseling that is brief and time limited (usually five sessions), bibliotherapeutics, wholistic, structured, spiritually focused, and explicitly Christian. Pastors and church leaders involved in counseling ministries will benefit greatly from reading it.
—Siang-Yang Tan, Fuller Theological Seminary
Pastors operate within a different paradigm than the private counselor. David Benner's book bridges this gap and offers the pastor a model of counseling that is sensitive to the peculiarities of pastoral ministry.
—Rod Wilson, Regent College
When it comes to counseling, most pastors feel that the contents of their counseling toolboxes are severely limited. Benner's revision of Strategic Pastoral Counseling should help with this predicament. This book is not just another reprint from a decade ago. There are many updates and significant revisions. One of the most beneficial changes is the expanded vision of the role of the pastoral counselor. . . .There is much in Benner's book to encourage and empower pastors.
—Bryan N. Maier, Trinity Journal
David G. Benner is distinguished professor of psychology and spirituality at Psychological Studies Institute, Atlanta, GA. He is the author or editor of more than 15 books.
Product Details
Series: Baker Studies in Counseling Collection
Publisher: Baker
Volumes: 9
Pages: 3,289