Wipf & Stock Christianity and Culture Collection (6 vols.)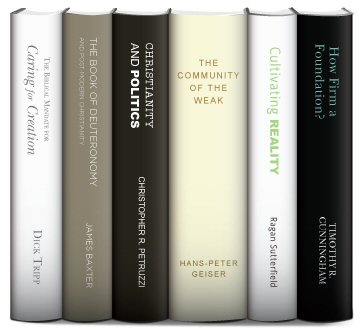 Wipf & Stock Christianity and Culture Collection (6 vols.)
•
Runs on Windows, Mac and mobile.
Your Custom Discount
Reg. Price $114.95
Pre-order Price $79.95
Your Price $79.95
You Save $35.00 30%
Your Price
What's Pre-Pub?
$79.95
Reg.: $114.95
Print: $155.00
Overview
The Wipf & Stock Christianity and Culture Collection provides six volumes engaging contemporary cultural issues. The topics covered range from agrarianism and our relationship to the earth, to politics, postmodernism, and Christian Reconstructionism. These texts ground their arguments in Scripture to gain spiritual footing in these culturally relevant debates, and ultimately suggest Christianity's position and goals as it interacts with these issues.
Logos Bible Software amplifies the usefulness of these texts by integrating them with your entire digital library. Use the Topic Guide to instantly gather all relevant study materials, and study more efficiently with dictionaries, encyclopedias, and theological resources at your fingertips. Each of these texts is fully searchable and you can conveniently mark locations you want to remember with clippings, bookmarks, and highlights. Use Logos mobile apps to take your books with you and stay in the conversation. With Logos Bible Software, you can study Christianity and culture like never before.
Key Features
Six texts engaging contemporary cultural issues facing Christianity
Discussions of contemporary spirituality and post-modern Christianity
Examinations of Scripture, Christianity, and creation
Individual Titles
"Dick Tripp, in this very comprehensive expression of the biblical mandate of caring for God's creation, has provided Christians with a detailed biblical approach to the growing crisis in our environment, its causes, the role of the Christian church, and the challenge that lies before us all. Dick's work provides the biblical and spiritual motivation we need to move forward at this critical time. Readers of this well-researched and intelligently argued resource will be given an irresistible biblical vision and mandate to redeem what is being despoiled."
—From the foreword by Archbishop David Moxon
Dick Tripp (MA, Cambridge) is a retired Anglican clergyman who has worked in parish ministry in the Diocese of Christchurch, New Zealand.
James Baxter argues that while post-modern culture increasingly identifies as "spiritual but not religious," Christianity as a whole has either continued to preach the same message of sin and judgment, or else turned to feel-good messages to align more with this contemporary spirituality. Baxter suggests that in order for Christianity to regain its former vitality, it must turn to its roots and consider God's dream for his followers. The Book of Deuteronomy and Post-modern Christianity pairs the ancient wisdom of Deuteronomy with post-modern Christianity to illuminate the relevance of the teachings of Moses and Jesus.
James Baxter offers a popular exposition of the book of Deuteronomy. In doing so, he latches on to the dynamism of Deuteronomy and links it to the new forms the church is now to take. I am pleased my own work has been a resource and impetus for his work.
—Walter Brueggemann, William Marcellus McPheeters Professor of Old Testiment Emeritus, Columbia Theological Seminary
James Baxter (PhD in chemistry, McGill University) is a teacher and university administrator.
As the bride of Christ, the body of Christian believers has been called to serve him. One aspect of this calling is that we are God's instrument to change the world. This book addresses the question of how Christians should go about facilitating that calling.
Politics is the process through which some people attempt to prevail over others for the control of government. Is that what Christ wants for his holy people, or is the lure of politics an attempt to bring us into Satan's world?
Christianity and Politics presents a logically developed analysis of this question using the Bible, history, and modern theories of economics and political science. Christians from all political and theological backgrounds are likely to find that this book changes their thinking about the church and political involvement.
Christopher R. Petruzzi is a professor at California State University, Fullerton's Mihaylo School of Business and Economics. He was previously a professor at the University of Pennsylvania's Wharton School and at New York University's Stern School.
The Community of the Weak: Social Postmodernism in Theological Reflections on Power and Powerlessness in North America
Author: Hans-Peter Geiser
Publisher: Wipf & Stock
Publication Date: 2013
Pages: 554
The Community of the Weak presents a new kind of jazzy fundamental theology with a postmodern touch. Using jazz as a metaphor, Hans-Peter Geiser writes ethnographically messy texts out of the personal windows of lived experiences, combining fragments of autobiography with theological reconstruction. Comparisons of North American and European developments in contemporary systematic theology serve as Geiser's hermeneutical horizon to juxtapose two continents in their very different contexts. The Community of the Weak proposes a systematic and fundamental theology that is jazzy, global, and narrative, all deeply embedded in pastoral ministry, to tell its postmodern story.
With extraordinary erudition Hans-Peter Geiser plumbs the wounds of modernity found in the bodies of the weak. His is an extraordinary reimagining of the task of Christian theology . . . This is a work that draws deeply on profound pastoral experience that refuses to give us a happy ending. That refusal turns out to be crucial for helping us appreciate how theology may be best understood if it draws on music—and in particular jazz—as its inspiration.
—Stanley Hauerwas, Gilbert T. Rowe Professor of Theological Ethics, Duke University
Hans-Peter Geiser (PhD, University of Lausanne and MDiv, Fuller Theological Seminary) is a Swiss pastor and community theologian working across the Atlantic between North America and Europe for the global project, Urban Spirit, on new models of Gen-X churches and communities.
Cultivating Reality: How the Soil Might Save Us
Author: Ragan Sutterfield
Publisher: Wipf & Stock
Publication Date: 2013
Pages: 130
We have been a part of a centuries-long push to build a new tower of Babel—an attempt to escape our basic dependence on the dirt. This escape has resulted in ecological disaster, unhealthy bodies, and broken communities. In answer to this denial, a habit of mind formed from working close with the soil offers us a way of thinking and seeing that enables us to see the world as it really is. This is agrarianism. In Cultivating Reality, Ragan Sutterfield guides us through the agrarian habit of mind and shows Christians how a theological return to the soil will enliven us again to the joys of creatureliness.
Like tenacious alfalfa roots, which reach deep into the ground and transfer essential nutrients to the soil's surface, Ragan Sutterfield digs deep into the subsoil of agrarian thought, Christian faith, and his own experience as a farmer, and brings up life-giving nourishment for all to share. In this world of smartphones and dumbed-down culture, Cultivating Reality points us toward those habits of mind that deepen our relationship with the world, with God, and with each other. Here's to 'the priesthood of all farmers' and 'the farmerhood of all peoples.' Take this book, and eat.
—Fred Bahnson, author of Soil and Sacrament: Four Seasons, Five Gardens, and the Search for a New American Spirituality
Sutterfield wants to cure our rapacious apathy toward reality by infecting us with an agrarian mind. His comprehensive argument exposes just how fantastical it is to ignore food and farming as matters of faith. Like farming, this book is also 'a dance of effort and grace'—at once conservingly creative, strenuously imaginative, a disciplined and artful cultivation of our capacity to recognize with equal clarity the idols eviscerating us and the gifts by which we are sustained.
—D. Brent Laytham, dean of the Ecumenical Institute of Theology, St. Mary's Seminary
Ragan Sutterfield is a writer, teacher, and agrarian in Arkansas. He is the author of Farming as a Spiritual Discipline, as well as numerous articles on food, faith, and ecology. He is also a contributor to the book Sacred Acts: How Churches Are Working to Protect the Earth's Climate.
How Firm a Foundation?
Author: Timothy R. Cunningham
Publisher: Wipf & Stock
Publication Date: 2013
Pages: 214
Christian Reconstructionists have recently argued that obedience to and promotion of all divinely unamended Mosaic civil laws remains the Christian's new covenant duty. How Firm a Foundation? tests the most thorough statement of the Reconstructionist view—as presented by the late Greg Bahnsen in his Theonomy in Christian Ethics— against Scripture and the Westminster Confession. Cunningham argues that the Reconstructionist ethical perspective is unbiblical, unconfessional, and ultimately unhelpful, while the historic Protestant position expressed in the Westminster Confession of Faith remains the biblical and useful perspective Christians need to guide contemporary uses of the Mosaic judicial laws.
I am deeply impressed by [Cunningham's] accomplishment. Without question, [he has] gone far beyond what others have done who engaged the Theonomists from a biblical and theological perspective. Greg Bahnsen's disciples will certainly attempt to refute [this] work; but, as I see it, the case [it] make[s] is unanswerable.
Dr. John R. De Witt, former professor of church history and systematic theology and colleague of Greg Bahnsen
Timothy R. Cunningham holds a diploma in Christian Studies from Regent College and is a freelance writer in Vancouver, Canada.
Product Details
Title: Wipf & Stock Christianity and Culture Collection
Publisher: Wipf & Stock
Volumes: 6
Pages: 1,354