Beating the Bounds: A Symphonic Approach to Orthodoxy in the Anglican Communion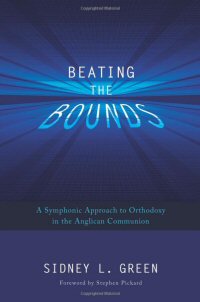 Beating the Bounds: A Symphonic Approach to Orthodoxy in the Anglican Communion
•
Runs on Windows, Mac and mobile.
Your Custom Discount
Reg. Price $23.95
Pre-order Price $17.95
Your Price $17.95
You Save $6.00 25%
Your Price
What's Pre-Pub?
$17.95
Reg.: $23.95
Print: $31.00
Overview
Using the organizational structure of classical symphony, Sidney Green examines the historical development of orthodoxy and heresy in the Christian church and applies it to the confessional approach of the Global Anglican Future Conference (GAFCON). Drawing examples from early church history, the Reformation, and the contemporary church, Green examines how the concept of boundaries and the exercise of ecclesiastical authority have been applied in the past. He also addresses contemporary attempts to respond to the postmodern paradigm which have produced a neo-dynamic view of orthodoxy, including radical ideas in the area of sexuality.
Beating the Bounds recognizes an active dynamism in Anglican orthodoxy as conservative minorities attempt to impose their views on the Communion. In light of this dynamism, Green discusses the distinctives of Anglican ecclesiology and suggests that ecclesiology is the outward expression of the theology behind Anglican orthodoxy. He goes on to examine current efforts to bring harmony in place of dissonance, culminating in the suggestion of an Anglican Covenant. Centered on the primacy of love, Green offers other possible ways to move forward.
With the Logos edition, Beating the Bounds is enhanced by valuable functionality. This volume automatically integrates with your entire Logos library, making it a useful reference tool. Citations and references to other texts you own become links. All Scripture references appear in your preferred translation on mouseover. Instantly gather all relevant study materials with the Topic Guide. Use Logos mobile apps to take the conversation with you. With Logos Bible Software, you have all the tools you need to maximize your study.
Key Features
Presents contemporary Anglican Theology
Analyzes key controversies in the Anglican Communion
Suggests ways the church can move forward
Contents
Acknowledgments
Foreword
Prologue
Introduction: Beating the Bounds—the Rise of GAFCON
Movement One: The Church in Conflict
Movement Two: The Church Thinking (Adagio—Theme and Variations)
Movement Three: The Church as Anglican (Minuet and Trio—Scherzo)
Movement Four: The Church as Community (Allegro Molto—Presto)
Coda Finale: Conclusions
Cadenza: A Personal Statement
Bibliography
Subject/Name Index
Praise for the Print Edition
Sidney Green offers an exhaustively researched, carefully considered, and eminently readable introduction to the current state of the worldwide Anglican Communion. The author is candid in stating his position and drawing on his own experience, acknowledging where his thinking has changed. This book is essential reading for anyone wanting to understand contemporary Anglicanism.
—Duncan Reid, honorary research associate, Melbourne College of Divinity
Beating the Bounds is an impressive and imaginatively constructed study of orthodoxy and heresy in the worldwide Anglican Communion. Sidney Green tackles controversial issues relating to ecclesiastical authority with elegance, clarity, and theological acumen, drawing not only from his wide experience as an Anglican minister, but also from his own musical background. His original framework of a symphonic structure—complete with a jazz coda—makes this an extremely readable book. I recommend it highly.
—Graham Buxton, director, Gaeme Clark Research Institute
Product Details
Title: Beating the Bounds: A Symphonic Approach to Orthodoxy in the Anglican Communion
Author: Sydney L. Green
Publisher: Wipf & Stock
Publication Date: 2013
Pages: 280
About the Author
Sidney L. Green (ThD, Tabor College, Adelaide) is an Anglican priest who has ministered for over forty years in a wide range of parishes and school ministry in the UK and Australia.
Sample Pages from the Print Edition