Wipf & Stock Studies in Soteriology (2 vols.)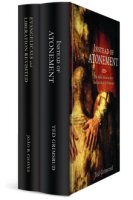 Wipf & Stock Studies in Soteriology (2 vols.)
•
Runs on Windows, Mac and mobile.
Your Custom Discount
Reg. Price $37.95
Pre-order Price $27.95
Your Price $27.95
You Save $10.00 26%
Your Price
What's Pre-Pub?
$27.95
Reg.: $37.95
Print: $49.00
Overview
This collection presents two volumes offering new perspectives on soteriology. In Evangelicals and Liberation Revisited, João B. Chaves analyzes evangelical-liberationist interactions, ultimately arguing that Latin American liberation theology and North Atlantic evangelicalism complement one another. Through an analysis of the Bible's salvation story, Ted Grimsrud's Instead of Atonement encourages readers to replace a traditional logic of retribution with a logic of mercy. Wipf & Stock Studies in Soteriology encourages theological dialogue on these important issues. Join the discussion on these developments with these cutting-edge volumes.
In the Logos editions, these volumes are enhanced by amazing functionality. Scripture citations link directly to English translations, and important terms link to dictionaries, encyclopedias, and a wealth of other resources in your digital library. Perform powerful searches to find exactly what you are looking for. Tablet and mobile apps let you take the discussion with you. With Logos Bible Software, the most efficient and comprehensive research tools are in one place, so you get the most out of your study.
Key Features
Presents recent work on evangelical-liberationist interactions
Offers a fresh perspective on atonement
Encourages theological discussion
Individual Titles
Evangelicals and Liberation Revisited: An Inquiry into the Possibility of an Evangelical-Liberationist Theology
Author: João B. Chaves
Publisher: Wipf & Stock
Publication Date: 2013
Pages: 154
In Evangelicals and Liberation Revisited, João Chaves analyzes instances of the evangelical-liberationist interaction and examines the generally suspicious responses given to Latin American Liberation Theology (LALT) by North Atlantic Evangelicals. João Chaves argues convincingly that if evangelicals think about both liberation theology and their own theological commitments critically, they will be able to recognize that LALT can be an indispensable ally in their commitment to following God.
Can Latin American liberation theology and North Atlantic evangelicalism complement one another? Yes, says this Brazilian evangelical theologian in this succinct and incisive analysis. Chaves' sensitive reading offers a crisp history of liberation theology, breaks down misconceptions, and offers exciting new possibilities of weaving together two seemingly disparate perspectives. This book makes a great contribution that richly repays exploring.
—David E. Garland, dean and professor of Christian Scriptures, George W. Truett Theological Seminary, Baylor University
The good news of salvation and liberation lies at the heart of the gospel. Both evangelicals and liberationists concerned with the message of liberation and salvation should be, in spite of differences, conversation partners. This book creates an important contribution to starting such a dialogue, and as such, is a must-read for both evangelicals and liberationists.
—Miguel A. De La Torre, professor of social ethics and Latino/a studies, Iliff School of Theology
João Chaves builds a bridge that needed to be built—between liberation theology and evangelical theology. Each has much to gain from the other once obstacles of misunderstanding are removed, and that is exactly what João Chaves does in this short, clear, and needed book.
—Brian McLaren, author, A New Kind of Christianity
It is often assumed that liberation theology, as developed in Latin America, has nothing in common with evangelical theology. João Chaves, however, suggests there is scope for sympathetic dialogue between the two. Because they share a concern for social transformation, they may even be compatible.
—David Bebbington, professor of history, University of Stirling
In a lucid and enjoyable text, João Chaves revisits the debate between evangelicalism and liberation theology, making a strong case against hypothetical incompatibility between these two schools. Drawing on a vast number of sources and rejecting common stereotypes, Chaves points to the existing plurality and relevant developments in both camps, highlighting nuanced approaches that bring evangelicalism and liberation theology closer to each other.
—Raimundo C. Barreto Jr., director of the division on freedom and justice, Baptist World Alliance
João B. Chaves is adjunct faculty at the Baptist University of the Américas, San Antonio, Texas. He has degrees in cross-cultural studies, biblical studies, and theology. A native Brazilian, João lives in South Texas with his wife, Paula, and their kids, Jonathan and Rebecca.
Instead of Atonement: The Bible's Salvation Story and Our Hope for Wholeness
Author: Ted Grimsrud
Publisher: Wipf & Stock
Publication Date: 2013
Pages: 280
Instead of Atonement traces the Bible's main salvation story through God's liberating acts, the testimony of the prophets, and Jesus' life and teaching. It then takes a closer look at Jesus' death and argues that it gains its meaning when it exposes violence in the cultural, religious, and political powers. God's raising of Jesus completes the story and vindicates Jesus' life and teaching.
The book concludes that the Bible's main salvation story provides a different way, instead of atonement, to understand salvation. In turn, this biblical understanding gives us theological resources for a mercy-oriented approach to responding to wrongdoing, one that follows God's own model. Ultimately, Instead of Atonement argues for a logic of mercy to replace a logic of retribution.
Against the assumption that Torah and the Prophets display a God of retribution, Grimsrud shows that both picture God as merciful. Rather than dying because God demanded retribution for sin, Jesus died because the powers that opposed him—law, temple, empire—demanded retribution for breaking their rules. Many such challenges to the presumed biblical view of retribution make Instead of Atonement a welcome addition to recent arguments rejecting the prevailing acceptance of divine violence.
—J. Denny Weaver, author, The Nonviolent Atonement
In the last quarter century, the theology and ethics of retributive justice have come under long-overdue critical scrutiny. Practical experiments in peacemaking and restorative justice are challenging conventional wisdom, animating social imagination, and inspiring radical revisions of traditional atonement soteriology. Ted Grimsrud—one of our most reliable first-world theologians—provides the most concise, readable, and compelling summary to date of the biblical case for the 'turn to restorative justice.' This book will help empower a revolutionary reclamation of a healing Christian faith for our violent times.
—Ched Myers, author, Binding the Strong Man
Ted Grimsrud is professor of theology and peace studies at Eastern Mennonite University.
Product Details
Title: Wipf & Stock Studies in Soteriology
Authors: João B. Chaves and Ted Grimsrud
Publisher: Wipf & Stock
Volumes: 2
Pages: 434