Wipf & Stock Christian Life Collection (3 vols.)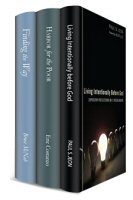 Wipf & Stock Christian Life Collection (3 vols.)
•
Runs on Windows, Mac and mobile.
Your Custom Discount
Reg. Price $42.95
Pre-order Price $29.95
Your Price $29.95
You Save $13.00 30%
Your Price
What's Pre-Pub?
$29.95
Reg.: $42.95
Print: $54.00
Overview
In the Wipf & Stock Christian Life Collection, you'll find a variety of rich, practical, and accessible texts on living a life that honors God. These three volumes cover multiple facets of Christian living. Those interested in serving the poor more effectively, working in urban ministry, restarting their spiritual journey, or simply living intentionally before God, will find helpful insights in these volumes. Included in this collection is pastor and scholar Eric Costanzo's analysis of the teachings of John of Chrysostom, which draws helpful parallels between the world of the early church and our world, illuminating how we can better approach the problem of poverty. You will also find practical teaching on living a more purposeful Christian life in the areas of devotion, prayer, and mindfulness in books by pastors Paul S. Jeon and Bruce McNab.
In the Logos editions, these valuable volumes are enhanced by amazing functionality. Scripture citations link directly to English translations and original-language texts, and important terms link to dictionaries, encyclopedias, and a wealth of other resources in your digital library. Perform powerful searches with the Topic Guide to instantly gather relevant biblical texts and resources. Tablet and mobile apps let you take the discussion with you. With Logos Bible Software, the most efficient and comprehensive research tools are in one place so you get the most out of your study.
Key Features
Offers practical guidance for those looking to re-start their spiritual journey, as well as resources for those ministering to these people
Examines the early Christian practice of almsgiving and provides insights for ministry to the urban poor
Includes devotional verse-by-verse reflections on 1 Thessalonians for intentional Christian living
Individual Titles
Today, many young adults who dropped out of church in high school or college are seeking to reconnect with their faith, and older Christians are feeling a need to turn their own lives around. Finding the Way offers practical food for all Christians hungry for an intimate relationship with God and want to restart their spiritual journey on a path they can see clearly, explain simply, follow faithfully, and share with others. Author Bruce McNab reminds us that we are not lost in a trackless, twenty-first century spiritual wasteland. There is a defined path, the Good Shepherd himself will guide us along the way, and we have companions on the journey. This engaging text calls us to brave the steep, upward journey with Jesus—to rededicate ourselves boldly to the imitation of Christ.
In his own ministry, Bruce McNab has a passion for inviting and reaching young adults in the name of Christ. In Finding the Way, Bruce helps the church find its way back to a generation we have all too often ignored. More importantly, he offers a direct, straightforward, helpful way for all of us to find . . . a vibrant relationship with Christ and Christ's people, the church. Whether used for individual spiritual growth, or for a group seeking the Way together, this book is a wonderful, wise gift to all of us.
—William H. Willimon, professor of Christian ministry, Duke Divinity School
The monks who influenced me most many years ago summed up the Way as a response to "Come home! All is forgiven." Bruce McNab shows us the Way. This book is accessible, generous, and timely, grounded in the tradition and filtered through a lifetime of experience. A wonderful way to get back on track..
—Alan W. Jones, dean emeritus, Grace Cathedral
Finding the Way is a full-bodied exploration of the heart of Christian faith and practice, right down the center of historic Christianity. McNab writes creatively and compellingly, bringing to the forefront the issues that belong at the forefront, and leaving the rest behind. His style is clear and direct, honestly confronting the various realities that have driven so many away from the Church. He writes for those who may have lost their way spiritually but who hunger deeply for a real relationship with God that gives meaning, purpose, and comfort to their lives.
— Kathleen Mulhern, as reviewed on her Dry Bones blog at Patheos.com
Bruce McNab has been an Episcopal priest since 1972. Before retiring in 2011, he was rector of five different parishes and served as a conference speaker and retreat leader for parishes, dioceses, and organizations in the United States and overseas. He holds degrees from Austin College, Princeton University, and the General Theological Seminary. He is also author of Let Your Light Shine.
Urban poverty in the developed world is an ever-present problem, and Christian approaches to poverty throughout history offer a wealth of wisdom. In Harbor for the Poor, urban pastor Eric Costanzo reminds modern readers of the similarities between the world of early church father John Chrysostom (ca. 347–407 AD) and ours today. Through the study of John Chrysostom, whose sermons and writings of John Chrysostom contain perhaps the greatest concentration of teaching on almsgiving in all of Christian literature, Costanzo examines the Christian practice of almsgiving—the consistent practice of giving and sharing resources to meet the needs of the poor. As Costanzo relates, John Chrysostom's teaching was both biblical and practical, and his ministry helped strengthen care for the poor throughout the Roman Empire of late antiquity, making his work a treasury of relevant wisdom for Christians seeking to serve those in poverty today.
Rich in both biblical and patristic reflection, this book is a call for evangelicals to reclaim the ancient Christian practice of almsgiving. The word sounds quaint these days, but Eric Costanzo challenges us to learn again a pattern of life and love that is central to following Jesus Christ. This is a book that admonishes as well as informs.
—Timothy George, founding dean of Beeson Divinity School
Harbor for the Poor highlights the missional character of almsgiving in John Chrysostom's writings with theological sensitivity, ecclesial vision, and pastoral spirit.
—Helen Rhee, associate professor of religious studies, Westmont College
Costanzo and Chrysostom remind us the poor are not our enemy. Instead, the poor are the agents through which we have the opportunity to embrace Christ's command to love "the least of these." John Chrysostom's words echo through history, and Costanzo has amplified them for the modern ear.
—Deron Spoo, lead pastor of First Baptist Church, Tulsa, Oklahoma
Eric Costanzo presents a significantly new analysis of John Chrysostom's teachings on and approach to almsgiving, an aspect central to his theology. While new research on John Chrysostom and poverty has appeared in recent years, this is the first study focused specifically on almsgiving to appear since the brief and somewhat peculiar study published by Otto Plassmann.
—From the foreword, by Wendy Mayer
Eric Costanzo serves as a pastor at First Baptist Church in Tulsa, Oklahoma. Along with teaching, he directs a ministry to the homeless and under-resourced throughout the city. He received his PhD and MDiv from Southwestern Baptist Theological Seminary. He is also an adjunct professor at Midwestern Baptist Theological Seminary.
There is perhaps no Christian virtue more undervalued than intentionality. In this text, pastor Paul S. Jeon discusses how we find ourselves not very different from the world around us, even though we know God calls us to be set apart as followers of Jesus Christ, to live a different kind of life, . Written as a devotional on 1 Thessalonians, this text offers insights on learning to live a life that honors Christ, worked out practically every day. Living Intentionally before God is a summons to redeem the quality of being intentional—living purposefully—in all areas of our lives as we seek to live before God.
Paul S. Jeon (PhD, Catholic University of America) is visiting professor of New Testament at Reformed Theological Seminary (DC), an ordained elder in the Presbyterian Church in America, and lead pastor of NewCity Church. He is also the author of Introducing Romans, Empowered by Joy, To Exhort and Reprove, and True Faith.
Product Details
Title: Wipf & Stock Christian Life Collection
Publisher: Wipf & Stock
Volumes: 3
Pages: 454