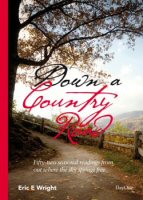 Runs on Windows, Mac and mobile.
Your Custom Discount
Reg. Price $10.95
Pre-order Price $8.95
Your Price $8.95
You Save $2.00 18%
Your Price
What's Pre-Pub?
$8.95
Reg.: $10.95
Print: $13.00
Overview
God has revealed himself in two books: the created universe, which displays God's power, wisdom, and glory; and the Bible, which reveals the fullness of his will for mankind. In Down a Country Road, Eric Wright uses his great love of the countryside to bring these two books together following the pattern of Jesus Christ, who used salt and light, trees and flowers, weather and sheep to illustrate divine truth. These 52 weekly readings, beginning in the autumn, bring to us Wright's detailed observations of nature changing through the seasons and stimulate reflection on a wide selection of biblical truths. Snow and stones, animals and autumn, light and leaves, waves and weeds—along with many other aspects of country life—open windows of insight into eternal realities.
In the Logos edition, all Scripture passages in Down a Country Road are tagged, appear on mouseover, and link to your favorite Bible translation in your library. With Logos' advanced features, you can perform powerful searches by topic or Scripture reference—finding, for example, every mention of "Psalm 139:23" or "conviction."
Key Features
52 seasonal readings
Scripture and prayer for each reading
Spiritual reflections on nature changing through the seasons
Contents
January

Broken Tree
Partridge in a Pear Tree
The Winter Blues
Guilt and Winter Holidays

February

The Neatness Wars
Distinctive Trees—Diverse People
Do Disasters Herald Judgment?
When Plans Don't Work Out

March

Is There a Human Home Instinct?
A Time to Gather Stones
A Gloomy Day in Spring
Giving Thanks for Green

April

Dying Trees
Resurrection Time
Watching for Signs of Spring
When Last Year's Leaves Hang On

May

Same Old, Same Old
The Miracle of a Leaf
A Stinging Spring Day
Honey in a Wounded Giant
The Wind

June

Waves
That Bitter Root
Faith and Sunshine
Crows in Convention

July

Trash on the Trail
The Growth Imperative
Of Butterflies and Noxious Plants
Rain that Hardens

August

The Summer that Wasn't
Little Bandits and a Big Principle
Savouring Summer
Farmer Ants
Birdsong

September

Changing Seasons
Harvest
Facing a Hurricane
Along the River

October

Remembering Sunshine During Rainy Days
Benevolent Autumn Art
Travelling Mice
Woodpecker Wounds

November

Day and Night
Message of the Mountains
Where the Sky Springs Free
Trees for Tomorrow
A November Complaint

December

Winter Rainbow
First Snow
Delayed Harvest
A Crowded Christmas
Tracks in the Snow
Praise for the Print Edition
The sample pieces I have seen of Eric Wright's devotional book, Down a Country Road, reflect Eric's sound biblical understanding and excellent writing style. My own frustration with the simple devotions published in so many booklets and one-year books has made me wish for something, not only longer but also with more depth. A book like the one Eric has proposed would go a long way in filling that void.
—Ray Wiseman, biographer, columnist, and speaker
I am always looking for ways to encourage and build up youth and adult volunteers. Devotional books in particular are helpful. This book is written in chapters that give a little more than the traditional one a day devotional page. This makes it meatier and more fulfilling in particular for the Christian who wants to read more than just a paragraph. . . . This book ties in beautifully with creation . . . well written, interesting, thought-provoking, beautifully illustrated throughout with personal stories well worth the read.
—Deborah Marling, former director, Children's Ministries, Cobourg Alliance Church
God speaks to us in the storm, but more often in the ordinary of every day. Thankfully Eric Wright has been listening. This book is a delightful journey down a road seldom traveled anymore, a road where the simple is profound, where the extraordinary is commonplace, where the most urgent thing we need to do is stop, hear God's voice, and listen.
—Phil Callaway, speaker and bestselling author
Product Details
Title: Down a Country Road
Author: Eric E. Wright
Publisher: Day One
Publication Date: 2008
Pages: 192
About Eric E. Wright
Eric E. Wright studied theology in South Carolina. He ministered in Pakistan for 16 years and became cofounder of the Open Theological Seminary, now serving over 1,500 students. Eric pastored Long Branch Baptist Church in Toronto, served as interim pastor in six other churches, and taught both the history and theology of missions at Toronto Baptist Seminary.
Sample Pages from the Print Edition