The Church and the Twentieth Century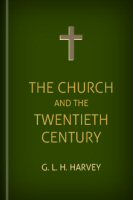 The Church and the Twentieth Century
•
Runs on Windows, Mac and mobile.
$16.00
Reg.: $24.95
Print: $37.75
* Projected price. Future bids may change this price.
Place Your Bid!
Click on the highest price you'd pay. If the final price is lower, that's what you'll pay.
Overview
The Church and the Twentieth Century, a collection of essays written by clergy and distinguished members of the Church of England, discusses the problems the Church faced during the first third of the twentieth century. Percy Dearmer, Norman Sykes, and eight other prominent Anglican thinkers discuss reforms in the Church's doctrine, liturgy, and policy instituted to help it survive that difficult time. The authors represent different points of view, but generally take a liberal stance in hopes of freeing their faith and regaining a foothold against atheism and the metaphysical outlooks that had crept into Western philosophy at the time.
Published in 1936—between the two World Wars—this volume offers unique insights into the grave concerns of the Church as well as the leadership's outlook for its future. Students of religion, students of history, and the faithful of any denomination have much to gain from the perspectives offered in this fascinating historical work.
The Logos version of The Church and the Twentieth Century integrates seamlessly into your personal digital library and allows you to access Bibles, dictionaries, and other reference resources with a click. Read your preferred Scripture translation alongside this text, or use the powerful search features to find similar works by theologians of the twentieth century.
Key Features
Includes 10 essays on reform of doctrine, liturgy, and policy
Presents historically fascinating perspectives on the Church
Offers several points of view from past leaders of the Church of England
Contents
Preface
Foreword by the Bishop of Birmingham
The Ideal of a National Church by Norman Sykes
Towards Prayer Book Revision by H. D. A. Major
Public Worship and the Creeds by Percy Dearmer
The New Catholicism, part 1: Intercommunion by T. G. Rogers
The New Catholicism, part 2: Interchange of Pulpits by C. E. Raven
The Church and Secular Life by A. T. Wilson
Religion and Sex by Douglas White
Anglo-Catholicism and the Twentieth Century by F. L. Cross
Evangelism and the Twentieth Century by L. Elliott-Binns
Nova et Vetera by G. L. H. Harvey
Product Details
Title: The Church and the Twentieth Century
Editor: G. L. H. Harvey
Publisher: Books for Libraries Press
Publication Date: 1936
Pages: 480
Sample Pages from the Print Edition