T&T Clark Studies in Historical Theology (6 vols.)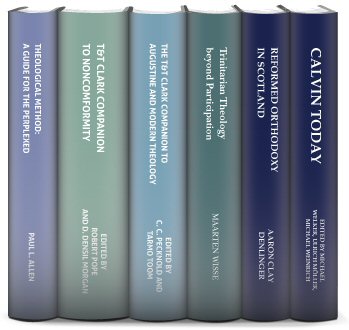 T&T Clark Studies in Historical Theology (6 vols.)
•
Runs on Windows, Mac and mobile.
Your Custom Discount
Reg. Price $139.95
Pre-order Price $69.99
Your Price $69.99
You Save $69.96 49%
Your Price
What's Pre-Pub?
$69.99
Reg.: $139.95
Print: $584.85
Overview
The T&T Clark Studies in Historical Theology collection offers accessible handles on how Christian theology has developed. Beginning with a guide that shows—rather than tells—how history drew the battles lines that characterize modern Christian theology, this collection provides the historical details of major doctrinal disputes. The authors examine two key figures in the history of Christian theology: Augustine, the father of Christianity's Western Manifestation, and John Calvin, the great pioneer of Reformed theology. This collection brings giants of the past into the present to talk through the toughest doctrines.
Logos Bible Software seamlessly connects the text to Scripture references in your preferred translation, as well as original-language texts. The Logos editions provide a rock-solid foundation for discovering doctrine. These fully indexed texts enable instant scouring of encyclopedias, dictionaries, and a wealth of other resources for key concepts appearing throughout your library, making research painless and paper-cut-free.
Key Features
Explains the historical development of Christian theology
Provides a solid basis for a historically-well-informed theology
Brings key figures like Augustine and John Calvin into relevant modern discussions
Individual Titles
Theological Method introduces the reader to the practice of doing theology. Paul L. Allen provides a historical survey of key figures and concepts that bear on difficult issues in Christian theology. Beginning with a description of philosophical themes that affect the way theology is done today, Allen summarizes the various theological methods deployed by theologians and churches over two millennia of Christian thought. The book uncovers patterns in the theological task of relating biblical texts with beliefs and doctrines, according to historically conditioned theological and cultural priorities.
Highlights include a discussion of Augustine's epoch-making De Doctrina Christiana. Also receiving close attention is the relationship between philosophy and theology during the Middle Ages, the meaning of sola scriptura for the Protestant reformers, the methods of key interpreters of doctrine in the nineteenth century and the theological priorities of the "radical orthodoxy" movement.
Paul Allen offers an illuminating set of examples to display—rather than try to explain—how theologians proceed to negotiate the set of questions with which revelation inevitably leaves us. This approach should entice readers to explore one of the exemplars he offers, and so taste themselves how theologians actually operate. The best way to introduce a discipline.
—David Burrell, professor emeritus, University of Notre Dame
Paul L. Allen is an associate professor in the department of theological studies at Concordia University in Montreal.
T&T Clark Companion to Nonconformity
Editors: Robert Pope and D. Densil Morgan
Series: Bloomsbury Companions
Publisher: T&T Clark
Publication Date: 2013
Pages: 640
Protestant Nonconformity—the umbrella term for Congregationalists, Presbyterians, Baptists, Methodists, and Unitarians—belongs specifically to the religious history of England and Wales. Initially the result of both unwillingness to submit to the state's interference in Christian life and a dissatisfaction with the progress of reform in the English church, nonconformity has been primarily motivated by theological concern, ecclesial polity, devotion, and the nurture of godliness among the members of the church. Alongside such churchly interests, Nonconformity has also made a profound contribution to debates about the role of the state, to family life and education, culture in general, trade and industry, the development of philanthropy and charity, and the development of pacifism. In this volume, for the first time, Nonconformity and the breadth of its activity come under the expert scrutiny of a host of recognized scholars. The result is a detailed and fascinating account of a movement in church history that, while currently in decline, has made an indelible mark on the social, political, economic, and religious life of the two nations.
Robert Pope is senior lecturer in applied theology at the University of Wales and a minister of the United Reformed Church.
D. Densil Morgan is professor in the School of Theology and Religious Studies at the University of Wales, and has published on Karl Barth, modern doctrine, and twentieth-century church history.
The T&T Clark Companion to Augustine and Modern Theology
Editors: C. C. Pecknold and Tarmo Toom
Series: Bloomsbury Companions
Publisher: T&T Clark
Publication Date: 2013
Pages: 304
The T&T Clark Companion to Augustine and Modern Theology is both a theological companion to the study of Augustine, and a resource for thinking about Augustine's importance in modern theology. Each of the essays brings Augustinian depth to a broad range of contemporary theological concerns. The volume unveils Augustinian scholarship for a new generation, enabling readers to see the timely significance of Augustine for today. Each essay not only introduces readers to key themes in the Augustinian corpus, but also provides readers with fresh interpretations that are fully conversant with the theological problems facing the church today. Designed as both a guide for students and a reference point for scholars, this volume outlines the frameworks of key Augustinian debates while also pushing toward fresh interpretations of his thought.
This impressive volume bears the fruits of the Augustine renewal of the past 15 years. The editors have gathered together major essays of a uniformly high level. With this book, Augustinian theology as a constructive and ecumenical venture moves to the forefront of the theological scene.
—Matthew Levering, professor, University of Dayton
C. C. Pecknold is assistant professor of historical and systematic theology at the Catholic University of America School of Theology and Religious Studies.
Tarmo Toom is associate professor of Latin patristic studies at the Catholic University of America.
Maarten Wisse develops a critique of dominant trends in contemporary theology through a re-reading of Augustine's De Trinitate. Theological topics covered include: thinking of the relationship between the world and God as participation of the finite in the infinite, Christology as a manifestation of this ontology of participation, the Trinity as a model for our relational mode of being, and deification (theosis) as the purpose of salvation. Key figures such as Wolfhart Pannenberg, Joseph Ratzinger, Denys Turner, John Milbank, Catherine Pickstock and Graham Wardare, are brought into a conversation with Augustine's alternative on these issues.
Wisse's superb study of the Augustinian doctrine of the Trinity both returns the modern reader to a sound interpretation of Augustine's teachings and presents a significant challenge to recent theologies and Christian philosophies that have used social metaphors to press trinitarianism into so-called relational or participational ontologies which have attempted to use the doctrine as a universal toolkit for the reconstruction of Christian doctrine. Wisse offers a cogent critique of these modern alternatives and then effectively interprets Augustine, showing that most of the contemporary critiques of his doctrine have missed their mark. He goes on to develop an Augustinian Trinitarian theology that emphasizes both the mystery of God's triunity and the necessary distinction between God and world at the same time that it builds a full-orbed approach to Christology, Christian anthropology, epistemology, and soteriology on a trinitarian foundation.
—Richard A. Muller, P. J. Zondervan Professor of Historical Theology, Calvin Theological Seminary
Maarten Wisse is assistant professor of systematic theology at VU University in Amsterdam and a research fellow at KU Leuven in Belgium.
Reformed Orthodoxy in Scotland
Editor: Aaron Clay Denlinger
Publisher: T&T Clark
Publication Date: 2014
Pages: 272
The last several decades have witnessed important research into post-Reformation Reformed thought (c 1560–1775). In earlier scholarship, it was common to view orthodoxy—the name commonly applied to Protestant theology during this period—as dry, sterile, speculative, and rationalistic, and to represent it as significantly discontinuous with the more humanistic, practical, and biblical thought of the early reformers. Recent scholars have challenged such views.
Despite the emphasis upon Reformed orthodoxy as an international phenomenon and recognition that Scottish thinkers participated in the same, Scottish theologians have figured minimally in studies of Reformed orthodoxy thus far. Conversely, studies of Scottish theology and theologians during the orthodox period largely overlooked the significant reassessments made of post-Reformation Reformed thought more broadly in recent years. This collection of essays draws attention to the Scottish contribution to international Reformed thought and examines Scottish thinkers and theologians through a lens provided by significant recent reassessments made of Reformed orthodoxy.
Aaron Clay Denlinger is teaching fellow in church history at the University of Aberdeen.
This inspiring collection of essays spells out the relevance of John Calvin's theology for today in three areas: faith, ecumenism, and public responsibility. Concerning faith, Calvin's theology asks how God deals with the persistent presence of human sin. For Calvin, the chief end of life is to know God and devote our life to his glory. The still topical point is that we are freed from our fixation with ourselves, thereby recognizing and living out our true reality in relation to God. Regarding ecumenism, the unity of the Church in Christ is of central importance to Calvin. We must do our utmost to make it visible. In Calvin's view, if there is agreement in the understanding of God and grace, all other differences have no divisive importance. This still characterizes Reformed understanding today. Finally, Calvin posed the question about the church's public responsibility as no other reformer did. This third section reveals the sources of the worldwide impact of Calvin and reformed theology on politics, the law, scholarship, and the organizing of life in society—including civil society.
An international and ecumenical group of world-class theologians explore here from the perspectives of faith, ecumenism, and public responsibility the present significance of Calvin for Reformed theology and the future of the church. This volume demonstrates a relevance of Calvin for all Christians and offers a presentation of ignored aspects of his thought. It is a substantial work that demands attention by those concerned with the history of the church and the application of the church's faith to the contemporary world.
—William G. Rusch, professor of Lutheran studies Yale Divinity School
Michael Welker is professor for systematic theology and director of the Center of International and Interdisciplinary Research at the University of Heidelberg, Germany.
Ulrich Möller is a doctor of theology, and is head of the department for mission, ecumenism, and the church's world-responsibility in the Church Office of the Evangelical Church of Westfalia, Germany.
Michael Weinrich is professor of systematic theology, dogmatics, and ecumenism and director of the ecumenical institute at the protestant-theological faculty at the Ruhr University in Bochum, Germany.
Product Details
Title: T&T Clark Studies in Historical Theology
Publisher: T&T Clark
Volumes: 6
Pages: 2,080