Gregory Jantz Collection (7 vols.)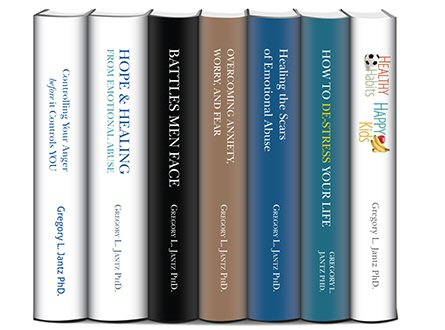 Overview
This collection contains seven books full of professional guidance from award-winning author and licensed counselor Dr. Gregory Jantz. His whole-person approach to treating today's most pervasive problems—emotional abuse, poor self-image, anger, anxiety, and stress—addresses the emotional, relational, intellectual, physical, and spiritual dimensions of each person. He offers compassionate, solution-oriented viewpoints on timely topics, and has a natural gift for storytelling. If you or a loved one has struggled in the past, these books will show you how to overcome those obstacles and look forward to the future with hope. The wisdom of Dr. Gregory L. Jantz will pave the way to renewed physical, emotional, and spiritual health.
Logos Bible Software makes these texts easier to study than ever before. With Logos' advanced features, you can perform powerful searches by topic or Scripture reference—finding, for example, every mention of "faith," or "John 14:27."
Key Features
Presents Dr. Jantz's whole-person approach to treating emotional struggles
Addresses issues faced by men, women, and families
Illustrates lessons with engaging stories
Product Details
Title: Gregory Jantz Collection
Author: Gregory L. Jantz and Ann McMurray
Publisher: Baker
Volumes: 7
Pages: 1,776
About the Authors
Gregory L. Jantz is a popular speaker and award-winning author of more than 25 books. He is the founder of The Center for Counseling & Health Resources, Inc. in Washington.
Ann McMurray has coauthored several books and works at The Center for Counseling & Health Resources, Inc.