T&T Clark Studies in Old Testament Literature and Linguistics (7 vols.)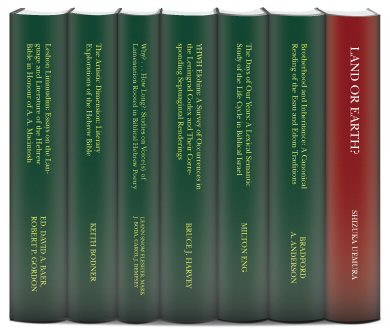 T&T Clark Studies in Old Testament Literature and Linguistics (7 vols.)
•
Runs on Windows, Mac and mobile.
Your Custom Discount
Reg. Price $139.95
Pre-order Price $99.95
Your Price $99.95
You Save $40.00 28%
Your Price
What's Pre-Pub?
$99.95
Reg.: $139.95
Print: $658.89
Overview
This collection of academic monographs from T&T Clark presents careful analyses of various aspects of the Hebrew Bible's language and literature, providing scholars and students with innovative research for a deeper understanding the Old Testament in its literary and linguistic context. Keith Bodner's The Artistic Dimension: Literary Explorations of the Hebrew Bible presents several essays on the importance and application of literary analysis to the Hebrew Bible for a variety of fields including biblical interpretation and textual criticism. In Leshon Limmudim, editors David A. Baer and Robert P. Gordon assemble essays from senior scholars on various topics surrounding the Old Testament's language and literature. Why? . . . How Long? presents exceptional SBL papers on the genre of lamentation. Other volumes present in-depth lexical analyses utilizing advanced linguistic models to shed light on important terms in the Hebrew Bible such as YHWH Elohim, eres, and various expressions within the semantic domain of life cycle terminology.
With the Logos editions, these valuable volumes are enhanced by amazing functionality and features. Scripture and ancient text citations link directly to English translations and original-language texts, and important terms link to dictionaries, encyclopedias, and a wealth of other resources in your digital library. Perform powerful searches with the topic guide to instantly gather relevant biblical texts and resources together, enabling you to jump into the conversation with the foremost scholars on issues within Old Testament language and linguistics. Tablet and mobile apps let you take the discussion with you. With Logos Bible Software, the most efficient and comprehensive research tools are in one place so you get the most out of your study.
Key Features
Academic monographs on Hebrew Bible literature and linguistics
In-depth lexical analyses on important terms and semantic domains
Collected essays from well-known scholars in the field
Individual Titles
Leshon Limmudim: Essays on the Language and Literature of the Hebrew Bible in Honour of A. A. Macintosh
Editors: David A. Baer and Robert P. Gordon
Series: Library of Hebrew Bible/Old Testament Studies (LHBOTS/JSOTS)
Publisher: T&T Clark
Publication Date: 2013
Pages: 288
In this volume, leading biblical scholars present cutting-edge essays on the language, literature, and context of the Hebrew Bible in honor of their friend, mentor, and colleague, Dr. Andrew Macintosh. From the drunken Noah to the inner workings of the Davidic monarchy, from the biblical genesis of humanity to the biblical lexicon of wine-making, senior scholars here present discerning essays that address a wide range of topics in biblical studies which characterizes the career and contribution of A. A. Macintosh.
The Artistic Dimension: Literary Explorations of the Hebrew Bible
Author: Keith Bodner
Series: Library of Hebrew Bible/Old Testament Studies (LHBOTS/JSOTS)
Publisher: T&T Clark
Publication Date: 2013
Pages: 224
This volume presents a collection of essays aimed at further integration of literary analysis in the study of the Hebrew Bible. In three sections, Bodner studies a range of texts in order to illustrate that literary analysis has value for exploring numerous issues in the discipline, including text-critical problems, the Deuteronomistic History, and Chronicles.
Beginning with a discussion of how literary analysis is a vital, yet neglected, component of textual criticism, Bodner then offers a close study of the so-called "ark narrative" of 1 Samuel 4–6. Other areas of the Hebrew Bible are subsequently explored, including a sample of the historiographic material in the Deuteronomistic History and a lengthy text from the book of Proverbs. Part four turns to the often neglected books of 1 & 2 Chronicles, illustrating how the Chronicler's work is a congenial site for literary study. The assembled essays petition for a heightened awareness of the artistic achievement of the Hebrew Bible and illustrate the necessity of literary analysis in biblical interpretation.
Keith Bodner is professor of religious studies at Crandall University in New Brunswick, Canada. He holds PhD degrees in biblical studies (University of Aberdeen) and English Literature (University of Manchester). He serves on the editorial board of the Journal for the Study of the Old Testament, and is a former section chair (Bakhtin and the Biblical Imagination) for the Society of Biblical Literature. His book 1 Samuel: A Narrative Commentary was given the RBY Scott Award from the Canadian Society of Biblical Studies.
Why? . . . How Long?: Studies on Voice(s) of Lamentation Rooted in Biblical Hebrew Poetry
Editors: LeAnn Snow Flesher, Mark J. Boda, and Carol J. Dempsey
Series: Library of Hebrew Bible/Old Testament Studies (LHBOTS/JSOTS)
Publisher: T&T Clark
Publication Date: 2013
Pages: 176
This volume is born out of two years of academic presentations on laments in the Biblical Hebrew Poetry Section at the Society of Biblical Literature (2006–2007). This collection of essays presents new insights into various sections of the Hebrew Bible that contain "voices of lamentation," including passages from poetic and prophetic texts. In addition to providing fresh readings of familiar texts through the lens of lamentation, these papers seek to deepen our understanding of Israel and God as lamenter and lamentee. Under the umbrella of lamentation, such themes are addressed as the unrighteous lamenter and God's acceptance or rejection of lamentation. These scholarly studies on lament texts in the Hebrew Bible enhance our understanding of this ubiquitous genre in the Old Testament.
LeAnn Snow Flesher (MDiv, PhD) is an ordained minister with the American Baptist Churches and is currently working as professor of Old Testament at the American Baptist Seminary of the West in Berkeley, California.
Mark J. Boda is professor of Old Testament at McMaster Divinity College and a professor on the faculty of theology at McMaster University in Hamilton, Ontario. He is also the author and editor of many works.
Carol Dempsey is professor of theology at the University of Portland in Oregon.
This study provides a survey of all occurrences of YHWH followed by an Elohim appositive in the Leningrad Codex and their corresponding Septuagintal renderings. Its primary purpose is to demonstrate how each occurrence of YHWH Elohim, where Elohim is undetermined, could have resulted from changes made to an earlier text.
Harvey begins with a discussion of methodological issues. This is followed by a description of the context of the 887 occurrences of YHWH Elohim in the Leningrad Codex. In addition to breakdowns according to book, syntactic function, and speaker, a summary of corresponding variants in synoptic parallels, the Samaritan Pentateuch, Dead Sea Scrolls, and mediaeval manuscripts is also provided. This is followed by a summary of corresponding Septuagintal renderings. These context descriptions provide the foundation for an analysis of the 38 occurrences of YHWH Elohim where Elohim is undetermined.
Bruce J. Harvey earned his PhD from the University of Cambridge in Asian and Middle Eastern Studies.
This study is an investigation into the lexical meanings of Hebrew terms for the human life cycle in the Old Testament. The investigation differs from previous studies in that the terms are studied as members of the semantic domain of "age," not in isolation from each other. Eng supplements his study with modern linguistic approaches, including syntagmatic and paradigmatic analysis.
Milton Eng is adjunct professor at William Paterson University in Wayne, NJ.
This study offers a canonical reading of the Esau and Edom traditions, examining the portrayal of Esau and Edom in Genesis, Deuteronomy, and the prophetic material. First, Anderson argues that the depiction of Esau and his descendants in Genesis and Deuteronomy is, on the whole, positive. Second, Anderson argues that Edom is portrayed negatively by the prophets for violating their kin and disrespecting the divine appointment of the land to Israel. Finally, Anderson suggests that these traditions have resonance with one another based on recurring literary and theological motifs, heuristically framed as brotherhood and inheritance.
Bradford A. Anderson (PhD, Durham University) is tutor in religious studies at Mater Dei Institute of Education, a college of Dublin City University.
This volume discusses the Hebrew term "eres" which is prominently used in creation and land theologies in the Bible. Uemura examines whether the term signifies 'earth' or 'land' and traces the historical development of its uses in relation to these two meanings. He offers a survey of all of the occurrences of this term, categorizes them, and discusses the problematic instances in all of the surviving Hebrew and Aramaic texts.
Uemura's examination begins with an analysis of the terms under discussion literally and stylistically in order to discern the semantic field of each term, as well as to determine its stylistic idiomatic uses. He discusses the uses of these two terms in ancient non-Jewish circumstances using materials taken from Phoenician, New Punic, Moabite, and Aramaic inscriptions, as well as from an Aramaic papyri from Egypt and Nabataean papyri from Nahal Hever. This study illuminates the cultural background of these terms and sheds light on the biblical worldview of "eres."
Shizuka Uemura was an associate professor at St. Margaret's Junior College in Tokyo, Japan.
Product Details
Title: T&T Clark Studies in Old Testament Literature and Linguistics
Publisher: T&T Clark
Volumes: 7
Pages: 1,728