The Countess of Huntingdon's Connexion: A Sect in Action in Eighteenth-Century England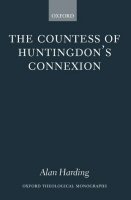 The Countess of Huntingdon's Connexion: A Sect in Action in Eighteenth-Century England
•
Runs on Windows, Mac and mobile.
Your Custom Discount
Reg. Price $39.95
Pre-order Price $29.95
Your Price $29.95
You Save $10.00 25%
Your Price
What's Pre-Pub?
$29.95
Reg.: $39.95
Print: $199.00
Overview
This is the first detailed study of the Countess of Huntingdon's Connexion, an important group in early Methodism. Alan Harding explores how the Connexion developed locally, the identity of its preachers and their training, the religious and social origins of those who joined its congregations, and the relationship between central direction and local initiative. The Countess of Huntingdon's Connexion: A Sect in Action in Eighteenth-Century England examines the Connexion's attitudes toward the Church of England as well as the group's significant contribution to the eighteenth-century Rational Dissent movement. Harding considers the Connexion's relationship with other sections of the Revival, and reflects on the doctrinal issues that divided it from Weleyan Methodism.
In the Logos edition, all Scripture passages in The Countess of Huntingdon's Connexion are tagged, appear on mouseover, and link to your favorite Bible translation in your library. With Logos' advanced features, you can perform powerful searches by topic or Scripture reference—finding, for example, every mention of "the eighteenth-century Revival" or "restoration."
Key Features
Examines the non-Wesleyan elements in early Methodism
Offers general insight into religious activity in late-eighteenth-century England
Contents
The Eighteenth-Century Religious Background
Selina, Countess of Huntingdon: Early Life and the Start of the Connexion
The Life of the Countess of Huntingdon's Connexion
Trevecca College
Doctrines and Divisions
The Connexion, the Church of England, and Dissent
The Connexion in the Last Years of Lady Huntingdon's Life
Praise for the Print Edition
This solidly researched book does much to fill in the gap in knowledge of the 'other Methodism' in the eighteenth century and how it functioned on the ground. It represents the work of hundreds of hours of painstaking research in archives, reconstructing the story of the Connexion from the bottom up.
—American Historical Review
Product Details
Title: The Countess of Huntingdon's Connexion: A Sect in Action in Eighteenth-Century England
Author: Alan Harding
Series: Oxford Theological Monographs
Publisher: Oxford University Press
Publication Date: 2003
Pages: 432
About Alan Harding
Alan Harding is a parish priest in Hertfordshire and was formerly a member of the Senior Civil Service.
Sample Pages from the Print Edition