Durandus of St. Pourçain: A Dominican Theologian in the Shadow of Aquinas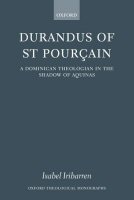 Durandus of St. Pourçain: A Dominican Theologian in the Shadow of Aquinas
•
Runs on Windows, Mac and mobile.
Your Custom Discount
Reg. Price $39.95
Pre-order Price $29.95
Your Price $29.95
You Save $10.00 25%
Your Price
What's Pre-Pub?
$29.95
Reg.: $39.95
Print: $155.00
Overview
The fourteenth-century controversy between the Dominican Durandus of St. Pourçain and his order plays a central role in explaining the later success of Thomism. Durandus' independent approach earned him two censures from Dominican authorities, as he appeared to jeopardize the order's sense of doctrinal identity. Through a close examination of the relevant theological issues, this book follows the course of the controversy to reveal the significant role which Franciscan theology played in the Dominican interpretation of Aquinas. This challenges the commonplace portrayal of early Thomists as a homogenous group, as it reveals the Franciscan contribution to the shaping of a Dominican intellectual tradition.
In the Logos edition, all Scripture passages in Durandus of St Pourçain are tagged, appear on mouseover, and link to your preferred Bible translation. With Logos' advanced features, you can perform powerful searches by topic or Scripture reference—finding, for example, every mention of "conflict" or "recension."
Key Features
Explores the background of the Durandus controversy
Deals with the course of the controversy proper
Focuses on the polemical exchange between Durandus and Hervaeus
Considers the first recension of Durandus' commentary
Contents
The Doctrinal and Philosophical Background

Prolegomena: The Fourth Lateran Council and Its Tradition
Aquinas on the Trinity
Varieties of Distinction

The Controversy

Hervaeus Natalis' Commentary on the Sentences
The "opinio singularis": The First Recension of Durandus of St. Pourçain's Commentary on the Sentences
Hervaeus' quodlibetal disputations
Durandus' Response: The Paris Quodlibets
The Censure
The Aftermath of the Censure
The Corrective
The Second Censure and the "Thomist Turn"
The Final Recension of Durandus' Commentary
Product Details
Title: Durandus of St. Pourçain: A Dominican Theologian in the Shadow of Aquinas
Author: Isabel Iribarren
Publisher: Oxford University Press
Publication Date: 2005
Pages: 336
About Isabel Iribarren
Isabel Iribarren is a junior research fellow in theology at St. John's College in Oxford.
Sample Pages from the Print Edition