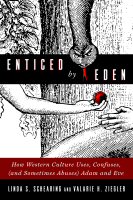 Runs on Windows, Mac and mobile.
Your Custom Discount
Reg. Price $19.95
Pre-order Price $15.95
Your Price $15.95
You Save $4.00 20%
Your Price
What's Pre-Pub?
$15.95
Reg.: $19.95
Print: $24.95
Overview
Sex, seduction, and the perfect marriage. Though it may not have been the intent of Genesis 1–3, the biblical first couple has been used for generations to sell consumable goods and strange ideologies—both salacious and holy—to willing western masses. Linda Schearing and Valarie Ziegler argue that Adam and Eve have become archetypal figures for secular and religious society alike as they are transplanted from their ancient garden to a more modern Eden, often with eyebrow-raising consequences.
Finding common ground between both religious and secular recastings of Adam and Eve, Schearing and Ziegler offer page-turning evidence of just how ubiquitous the first couple has become. From online dating services and promises of God-ordained romance, to the advertising and selling of games, bathroom fixtures, and even risqué bloomers, Adam and Eve are a hot commodity in modern culture. These strange, confusing, often humorous, and sometimes shocking accounts testify to the myriad of ways in which Genesis 1–3 has been recycled and recreated in the popular imagination, and moreover, in promotion of the Western worldview.
In the Logos edition, all Scripture passages in Enticed by Eden are tagged, appear on mouseover, and link to your favorite Bible translation in your library. With Logos' advanced features, you can perform powerful searches by topic or Scripture reference—finding, for example, every mention of "honor" or "Genesis 2:18."
Key Features
Explores Genesis 1–3
Discusses cultural transformation
Examines gender hierarchy
Contents
Recreating Eden

Someday My Prince Will Come: When Eden Becomes Camelot
This One Shall Be Called Soul Mate (Or Will She?!): Adam, Eve, and Online Dating
Adam as Alpha Male: Christian Domestic Discipline and the Erotics of Wife Spanking

Recycling Eden

Laughing at Adam and Eve: Humor and Gender Stereotypes
And You Thought the Fruit Was Tempting?: Adam, Eve, and Advertising
Ecstasy in Eden: The Sexploitation of Adam and Eve
Praise for the Print Edition
. . . hilarious but always thoughtful, this is a wonderful read, a worthy addition to the literature of religion and culture.
—Publishers Weekly
An analytical, often hilarious and occasionally touching, look at the first couple's continuing influence in our culture.
—Greg Carey, professor of New Testament, Lancaster Theological Seminary
A fascinating look at how the story of Adam and Eve in the Garden still influences our culture, from the Christian wife-spanking movement and online dating to Madison Avenue advertising and the jokes we love to tell. Oh my!
—Betty A. DeBerg, professor of religion, University of Northern Iowa
A very engaging and readable book. Through their exploration of Christian and secular appropriations of the Eden narrative within the context of contemporary American advertising, dating websites, humor, and the sex industry, Schearing and Ziegler offer a thought-provoking contribution to ongoing studies of the Bible in popular culture.
—Caroline Blyth, lecturer in biblical studies, School of Theology, University of Auckland
Product Details
Title: Enticed by Eden: How Western Culture Uses, Confuses, (and Sometimes Abuses) Adam and Eve
Authors: Linda S. Schearing and Valarie H. Ziegler
Publisher: Baylor University Press
Publication Date: 2013
Pages: 230
About the Authors
Linda S. Schearing is an associate professor of Hebrew Scriptures in the Department of Religious Studies at Gonzaga University in Spokane, Washington.
Valarie H. Ziegler is a professor of religious studies at DePauw University.