Ministry and Mission Collection Upgrade (2 vols.)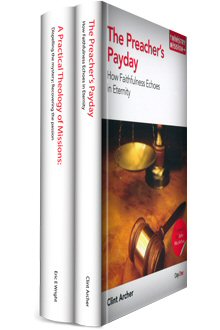 Ministry and Mission Collection Upgrade (2 vols.)
•
Day One 2010–2012
Runs on Windows, Mac and mobile.
Your Custom Discount
Reg. Price $26.95
Pre-order Price $21.95
Your Price $21.95
You Save $5.00 18%
Your Price
What's Pre-Pub?
$21.95
Reg.: $26.95
Print: $33.00
Overview
The Ministry and Mission Collection Upgrade (2 vols.) seeks to enhance the process of ministry through personal biblical application. When you understand the fascinating truths about your reward in eternity and apply basic missionary principles to every day, you'll alter your ministry, your preaching, and your life. This collection, inspiring you to lead like Christ by imitating his preaching and character, will challenge you to seek God's Word and wisdom in every direction of leadership. Whether you're a pastor, youth leader, student, missionary, or new Christian, you'll find this collection useful as you learn what it takes to be an effective leader in all areas of ministry.
With the Logos Bible Software edition, you have unprecedented access to resources that offer relatable and insightful material to aid you in your study of Christian leadership. Logos' powerful search tools help you locate the specific material relevant to you, whether it's textual or topical. Hours of biblical research can be accomplished with a click. With near-instant searching, instantly viewable Scripture references, a vast library of resources, and much more, Logos is the perfect software to expand your understanding of the Word.
Key Features
Discusses the theory and practice of missions
Suggests ways to strengthen the theological roots of missionary effort
Explores the truth about eternal rewards
Individual Titles
What is the church's work of missions, and how should we carry it out? In this thorough study, Eric Wright roots missions solidly in the biblical text while giving modern, real-life examples of how missionary principles can be applied practically. He covers subjects such as missions and God's kingdom, the validity of mission boards, the role of providence, the necessary spiritual gifts, the multi-ethnic nature of ideal churches, how to avoid dependency, and the priority of church planting versus humanitarian ministries. This book reverses the drift away from theology into pragmatics, without denying the importance of a dynamic methodology that responds to changing conditions. Regular snapshots of missionary life as it is being or has been played out in real situations ground the whole book in reality.
A good understanding of biblical theology provides the basis for effective cross-cultural missionary work in A Practical Theology of Missions . . . I highly recommend his effort.
—Rudolph H. Wiebe, lecturer, Toronto Baptist Seminary
This book is the climax of Eric Wright's full life as missionary, pastor, and author . . . It distills decades of missionary experience and research, reflection, and devotion. The book is thorough and balanced, and yet it is an inspiring book to read.
—Geoff Thomas, pastor, Alfred Place Baptist Church, Aberystwyth, Wales, UK
Eric E. Wright studied theology in South Carolina. He ministered in Pakistan for 16 years and became cofounder of the Open Theological Seminary, now serving over 1,500 students. Eric pastored Long Branch Baptist Church in Toronto, served as interim pastor in six other churches, and taught both the history and theology of missions at Toronto Baptist Seminary.
What are eternal rewards? What does it mean that teachers will incur a "stricter judgment?" Will all believers be equal in heaven? How does my present life affect my eternal rewards? The Bible is frank about the wonderful promises of receiving rewards for faithfulness, as well as the chilling reality of forfeiting rewards for negligence of God's gifts. The teaching ministry comes with a special opportunity for reward and a heightened responsibility for faithfulness.
In this engaging book, Clint Archer explores the compelling truth about eternal rewards. He guides us on a biblical tour of the doctrine, as well as connecting the dots for everyday practice and application to the teaching ministry. Whether you are a fulltime pastor, lay leader, Sunday school teacher, or Bible study facilitator, the knowledge in this book will impact the way you view your part in God's kingdom and the awesome responsibility you have as a keeper of souls.
This book breathes excellence. It is thoroughly biblical, much needed, and very readable. I commend it highly.
—Erroll Hulse, editor, Reformation Today
My prayer is that this book will motivate pastors and church leaders to store up treasure in heaven.
—John MacArthur, pastor, Grace Community Church, Sun Valley, CA
Anyone who is in the position of biblical instruction will be motivated by this excellent resource. It is clear, convicting, and will renew your vigor to tell others what the Bible means.
—Rick Holland, senior pastor, Mission Road Bible Church, Prairie Village, KS
Clint Archer is a graduate of the Master's Seminary and holds degrees in divinity, theology, and expository preaching. Since 2005, he has been the pastor of Hillcrest Baptist Church in South Africa. Clint is an enthusiastic blogger and has a passion for short-term missions. He has taught the doctrine of eternal rewards at churches, seminaries, and conferences in eight countries.
Product Details
Title: Ministry and Mission Collection Upgrade
Series: Ministry and Mission
Publisher: Day One
Volumes: 2
Pages: 528