Sam Storms Collection (7 vols.)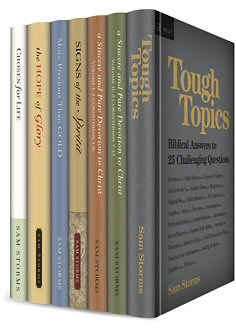 Overview
The Sam Storms Collection includes devotional and meditative guides for studying several books of the Bible, including Corinthians, Psalms, and Colossians. Celebrated author Sam Storms urges readers not only to enter into the Bible but to take the next step toward knowing God and his Word. Dive into provocative questions of Christian theology (and their biblical answers) in Tough Topics, or explore the process of Christian conversion in Signs of the Spirit, a companion guide to Jonathan Edwards' classic, Religious Affections.
The Logos edition of this collection integrates instantly into your digital library. Save time in your devotionals with powerful search features, linked definitions dictionary tools (so you never have to look up a word), and automatic syncing across devices, so you don't waste time hunting for where you left off.
Key Features
Daily devotional guides through Colossians, Psalms, and Corinthians
Storms' interpretation and analysis of Jonathan Edwards' Religious Affections
Biblical answers to Christianity's toughest questions
Product Details
Title: Sam Storms Collection
Author: Sam Storms
Publisher: Crossway
Volumes: 7
Pages: 2032
Individual Titles
About Sam Storms
Sam Storms spent 38 years in ministry as a pastor, professor, and author. He was visiting associate professor of theology at Wheaton College from 2000 to 2004, and is currently senior pastor at Bridgeway Church in Oklahoma City. He's a graduate of The University of Oklahoma (BA), Dallas Theological Seminary (ThM), and The University of Texas (PhD).