Academic Studies on the New Testament (7 vols.)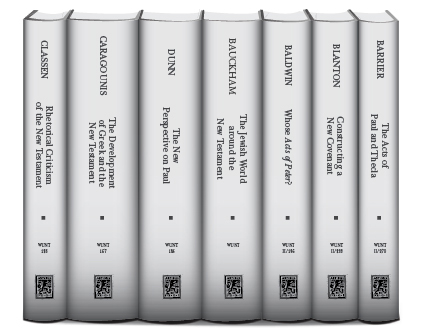 Academic Studies on the New Testament (7 vols.)
•
Runs on Windows, Mac and mobile.
Overview
This collection of academic texts on the New Testament provides unique insights into the interpretation and context of the New Testament—especially Pauline literature. With key theologians like James D. G. Dunn, Richard J. Bauckham, and Carl Joachim Classen exploring the methodologies and interpretive approaches to the New Testament, this collection provides trusted scholarship and advanced research for your New Testament studies. This collection is absolutely essential for anyone interested in the discussion on the New Perspective on Paul, Second Temple Judaism, or early Christian apocryphal literature.
The Logos edition of these volumes connects these texts to a world of research. Explore Greek words and meanings using any of your Greek dictionaries, and follow cross-references and citations to their sources. Compile bibliographies for your study using the bibliographies in these texts with just a few clicks, and Logos even imports citations when you copy and paste from Logos to your preferred word processor.
Key Features
Presents new methodologies for interpreting the New Testament
Explores different forms of Greek for a fuller understanding of New Testament interpretation
Studies extrabiblical literature to bring context to biblical literature
Product Details
Title: Academic Studies on the New Testment
Publisher: Mohr Siebeck
Volumes: 7
Pages: 2,880