Growing in Christ Collection (2 vols.)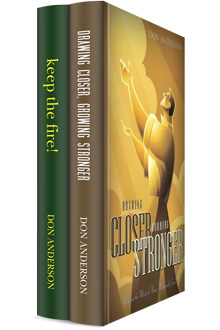 Growing in Christ Collection (2 vols.)
•
Runs on Windows, Mac and mobile.
Your Custom Discount
Reg. Price $16.95
Pre-order Price $13.95
Your Price $13.95
You Save $3.00 17%
Your Price
What's Pre-Pub?
$13.95
Reg.: $16.95
Print: $22.00
Overview
Growing older happens regardless of our will, but growing in Christ requires our voluntary effort. The Growing in Christ Collection provides real spiritual insight on maturing our relationship with Christ regardless of age. With a practical mix of Scripture and examples set by Christians who have gone before us, learn how to feed your ageless soul the life-giving Words of Christ, and leave a legacy that inspires future generations to pursue Christ with all they have.
The Logos edition of these two important volumes helps you to study them like never before. Logos remembers where you left off, so you don't have to, and provides an easy-to-navigate table of contents with every resource. Read them on your computer or mobile device, where you can adjust the text to a size comfortable for you—and access it where ever you like.
Key Features
Powerful examples from spiritual leaders on growing your relationship with Christ
Helpful insights to living faithfully in your senior years
Useful methods for setting spiritual goals
Individual Titles
Drawing from 40 years of Christian growth, inspirational Bible teacher Don Anderson shares his insights with everyone who longs to grow in Christian maturity. His use of metaphors—taken from the lives of soldiers, athletes, and farmers—make these lessons memorable and useful for the challenging realities of life.
The time to plan for a godly senior life is long before you get there. Whether you are in your midlife years or have already reached senior adulthood, Keep the Fire! will explore relevant issues such as:
Embracing a passion for living—and serving the Lord—throughout the years to come
Setting 10 biblical goals for your 50s, 60s, and beyond
Identifying the steps for leaving a worthwhile legacy for those you love
As we grow in age and maturity, the world calls us to slow down. Yet God calls us to press onward and keep the fire!
Keep the Fire! kindles a radiance that reveals the true value of piling up birthdays. Unlike candles on a cake this flame lights the inner spirit of the elder laureate with eternal hope.
Product Details
Title: Growing in Christ Collection
Author: Don Anderson
Publisher: Don Anderson
Volumes: 2
Pages: 541
About the Author
Don Anderson is a popular guest speaker at churches, para-church organizations, conferences, and retreats. His refreshing style and unique insights, as shown in many of his books, effectively communicate the timeless truths of Scripture and their application to everyday life.