Bill Hull Discipleship Collection (4 vols.)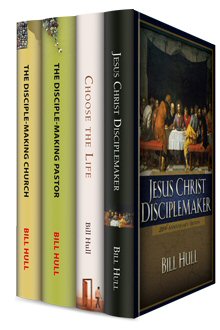 Overview
What is the Great Commission and what does it entail? While many respond to the call to "make disciples of all nations" (Matt. 28:19), they tend to overlook the call to "[teach] them to obey everything I have commanded you" (Matt. 28:20). In this collection, evangelist Bill Hull shares personal reflections—from the past 30 years in church discipleship—and biblical perspectives on disciple-making.
This collection equips church leaders with a training manual for effective contemporary discipleship. Hull defines what it means to be a Christ-follower and shares the importance of building—or transforming—a disciple-making church. He analyzes the pastor's role in making disciples, lays out the foundations for growing a disciple's commitment, and shares both the obstacles and positive changes a disciple-making church will encounter.
This collection will enhance your understanding of discipleship and bring you and your church new and exciting ways to fulfill the Great Commission. All Scripture passages link to your favorite Bible translation in your library. With Logos' advanced features, you can perform powerful searches by topic or Scripture reference—finding, for example, every mention of "spiritual formation" or "leadership."
Key Features
Analyzes the church's role in discipleship
Equips leaders with the right tools for disciple-making
Includes the author's personal experiences as a discipleship evangelist
Product Details
Title: Bill Hull Discipleship Collection
Author: Bill Hull
Publisher: Baker
Volumes: 4
Pages: 1,072
About Bill Hull
Bill Hull is a writer and discipleship evangelist, as well as the founder of T-Net International, a ministry devoted to transforming churches into disciple-making churches. He has spent more than 20 years as a pastor and is the author of several books, including Christlike: The Pursuit of Uncomplicated Obedience.
More details about these resources