Small Groups with Purpose Collection (2 vols.)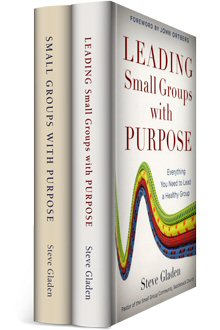 Overview
In the Small Groups with Purpose Collection, pastor of small groups, Steve Gladen, equips new and seasoned leaders with the strategies for planting and growing healthy and balanced small groups. Gladen presents his personal secrets, failures, and lessons in growing small groups. His expert and biblical advice shows the importance of small groups in the church community—whether small or large.
This collection will enhance your understanding of small group leadership and bring you and your church new and exciting ways to build community. All Scripture passages link to your favorite Bible translation in your library. With Logos' advanced features, you can perform powerful searches by topic or Scripture reference—finding, for example, every mention of "spiritual formation" or "Acts 5:42."
Key Features
Presents proven, biblical strategies for growing small groups
Shares personal small group triumphs and defeats
Includes assessment questions at the end of each chapter
Individual Titles
Make small groups work in your church! Small groups are a vital way to build community. This practical book walks you through the questions you need to answer to develop your own intentional small group strategy. Because it is built on principles and not methods, this step-by-step process can be implemented successfully in any size church. Each chapter ends with a list of questions for you to answer to help you assess your current situation and your desires for the future.
Saddleback's brilliant pastor of small groups shares the biblical strategy, the secrets, the failures, and the lessons behind the remarkable growth of our small groups.
—Rick Warren, founder and senior pastor, Saddleback Church, Lake Forest CA
You absolutely must put a copy of Steve Gladen's book into the hands of your small group leadership. The wisdom he shares here is a gift.
—Carl George, founder, Consulting for Growth, Inc.
Whether your church is pioneering a new approach or you've been at it for years, this book has insight for establishing a sound approach to small group ministry, built on Steve's extensive experience. You will find his book practical and encouraging.
—Ed Stetzer, president, LifeWay Research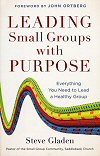 For the new small group leader, the seasoned leader who feels their small group lacks purpose, or the leader who is itching to move their small group to the next level, Leading Small Groups with Purpose is the road map to follow. Every chapter includes ideas that you can implement immediately, as well as ways to shape your small group over time. With Steve Gladen's expert help, you will define success clearly, develop a personal leadership plan, invite members into your group, and help members fulfill the Great Commission and the Great Commandment.
This is the one book that you simply must get into the hands of every one of your small group leaders.
—Rick Warren, founder and senior pastor, Saddleback Church, Lake Forest CA
When it comes to small groups, Steve is not just a theoretical expert, he is a consummate practitioner. Groups have the power to change lives; this book has the power to change groups.
—John Ortberg, senior pastor, Menlo Park Presbyterian Church, Menlo Park, CA
I wish this book was in the hands of every small group leader in America. An essential for all of us committed to transformation.
—Chip Ingram, senior pastor, Venture Christian Church, Los Gatos, CA
An incredible resource filled with practical insights and time-tested wisdom on how to lead a group to be effective and balanced. Don't miss it!
—Jud Wilhite, senior pastor, Central Christian Church, Las Vegas, NV
About Steve Gladen
Steve Gladen has been pastor of small groups at Saddleback Church since 1998. He oversees more than 3,500 adult small groups at Saddleback and loves seeing a big church become small through true community developed in group life. He is the coauthor of 250 Big Ideas for Purpose Driven Small Groups, Building Healthy Small Groups in Your Church, and Don't Lead Alone.
More details about these resources