How to Read the Bible Collection (4 vols.)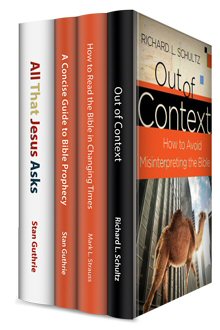 How to Read the Bible Collection (4 vols.)
•
Baker 2010–2013
This product is no longer available for purchase.
Overview
How do biblical prophecies impact today's world? How can modern-day Christians correctly interpret and apply Scripture? The How to Read the Bible Collection presents four volumes on reading Scripture in its original contexts to apply its wisdom to contemporary living. It analyzes almost 300 questions asked by Jesus throughout the New Testament and introduces 60 Bible prophecies' ancient and present-day significance. The collection illustrates the pitfalls of misinterpretation and shows Bible readers how they can avoid misreading and misapplying Scripture.
Whether you're a student, a pastor, or a layperson, the How to Read the Bible Collection provokes you to read the Bible honestly—to let it surprise, challenge, and correct you as you apply the many steps of interpretation. By using the tools included in this collection, you'll approach Bible study with more depth and understanding. Integrate the practical methods found in this collection with your preferred Bible, the Passage Guide, and the other Bible-study tools in Logos Bible Software—and then dive into Bible study with a vast knowledge base right before your eyes.
Key Features
Emphasizes the importance of understanding the Bible in its original contexts
Illustrates various ways Scripture has been misinterpreted
Shows how to apply Scripture's wisdom in the modern context
Product Details
Title: How to Read the Bible Collection
Publisher: Baker
Volumes: 4
Pages: 976
Resource Type: Topical