Ken Sande Peacemaker Ministries Collection (2 vols.)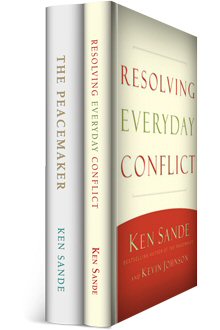 Ken Sande Peacemaker Ministries Collection (2 vols.)
•
Baker 2004–2011
Runs on Windows, Mac and mobile.
Overview
Relational discord is inevitable. Whether you're facing a conflict with a coworker, friend, or family member, or you're looking for tips to avoid future conflicts, this collection covers all the bases. Ken Sande, founder of Peacemaker Ministries, lays out practical, biblical, and concise principles for conflict resolution. He shows how to put out fires ranging from simple personal disputes to complex legal conflicts, and how to reconcile those conflicts so they bring about long-term unity and harmony.
The Logos Bible Software edition of this collection is designed to encourage and stimulate your understanding of conflict resolution. Scripture passages link directly to your English translations, and important concepts link to the dictionaries, encyclopedias, and a wealth of other resources in your digital library.
Key Features
Provides practical and biblical tips for conflict resolution
Addresses various types of conflicts and how to resolve them
Emphasizes harmony and unity
Individual Titles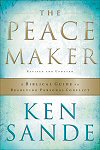 Jesus said, "Blessed are the peacemakers." But it often seems like conflict and disagreement are unavoidable. Serious, divisive conflict is everywhere—within families, in the church, and out in the world. And it can seem impossible to overcome its negative force in our lives.
In The Peacemaker, Ken Sande presents a comprehensive and practical theology for conflict resolution designed to bring about not only a cease-fire but also unity and harmony. Sande takes readers beyond resolving conflicts to true, life-changing reconciliation with family members, coworkers, and fellow believers.
Biblically based, The Peacemaker is full of godly wisdom and useful suggestions that are easily applied to any relationship needing reconciliation. Sande's years of experience as an attorney and as president of Peacemaker Ministries will strengthen readers' confidence as they stand in the gap as peacemakers.
'Blessed are the peacemakers,' said Jesus. With crystal clarity this manual lays before us the wisdom that leads humble souls into that blessing.
—J.I. Packer, Board of Governors' Professor of Theology, Regent College
Of people alive and writing today, I know of no more reliable guide for peacemaking in church and family than Ken Sande.
—John Piper, associate pastor for preaching and vision, Bethlehem Baptist Church
The Peacemaker is a practical and faithful primer for how obedience to God's Word can change deadlock into restoration in families, churches, workplaces, neighborhoods, and even prisons.
—Charles W. Colson, founder, Prison Fellowship
Ken Sande challenges us to act redemptively in a culture of enmity and shows us how to do this in our relationships with one another. A modern classic!
—Timothy George, executive editor, Christianity Today
The Peacemaker is a rich source of practical, biblical guidance for resolving every type of conflict.
—Tony Evans, senior pastor, Oak Cliff Bible Church
It is the sort of book that will remind every Christian reader that God, before all, is in the business of reconciliation, and that the servant is not greater than the master.
—D. James Kennedy, pastor, Coral Ridge Presbyterian Church
The best guidebook I've ever seen on how Christians should resolve conflicts. Every pastor ought to read this book and share it with the leaders of the church. It ought to be a textbook in every Bible school and seminary.
—Warren Wiersbe, author, Be Series
When The Peacemaker was first published in 1991, it set the standard for biblical, God-honoring conflict resolution. Now in its third edition, [it] freshly presents the fruit of [Sande's] 20-plus years of faithful conflict resolution ministry within the Christian community. The choicest of that fruit is to be found in chapters 5 through 7, which have been updated and reworked, as well as a new appendix on how to create a 'culture of peace' in the local church. Here you will find a theology of conflict resolution even richer than that presented in the previous editions. . . . he illustrates with fresh examples of resolving conflict in the family, church, and workplace. . . . provides additional helpful insights into how we can gently and lovingly help others see their part in conflict situations and lead them to forgiveness and reconciliation. . . . the new appendix on developing a 'culture of peace' is an article that every church and Christian should read and heed if they want to be blessed. I highly recommend this 'new and improved' version as a staple in the theological arsenal of every believer, particularly those in church and ministry leadership.
—Dennis Rainey, president, FamilyLife

Everyone encounters conflict—whether it be with a coworker, family member, friend, or complete stranger. And yet, we all desire harmony in our relationships. Resolving Everyday Conflict is a practical, biblical, and concise guide to peacemaking in everyday life that can turn your troubled relationships into peaceful ones.
With the proven advice found in this book, authors Ken Sande and Kevin Johnson show you how to achieve not only a cease-fire but also unity and harmony. Their biblical guidance will take you beyond resolving conflicts to true, life-changing reconciliation with family, coworkers, and fellow believers.
Kevin Johnson is the creator of the first-of-its-kind Pray the Scriptures Bible and the bestselling author or coauthor of more than 50 books and Bible products for adults, students, and children. With a background as a youth worker, senior nonfiction book editor, and teaching pastor, he now leads Emmaus Road Church in metro Minneapolis.
About Ken Sande
Ken Sande is founder of Peacemaker Ministries and president of Relational Wisdom 360. He regularly conciliates business, family, and church disputes, and serves as a consultant to pastors and attorneys as they work to resolve conflicts outside the courtroom. Sande conducts seminars on biblical conflict resolution and lives in Montana.
More details about these resources